Bunk beds are super versatile. Their versatility, coupled with the ability to help you effectively manage space makes them very valuable. As a result of their versatility and fun nature, bunk beds are great for kids.
Unfortunately, these bunk beds could use better designs to make them safer and more comfortable. Most inexpensive metal bunk beds available on the market usually have bare ladder rungs that could also be slippery when children climb. 
Apart from facing the risk of falling, these ladder rungs hurt the feet of children every time they make the climb. If this best describes your situation, you are not alone.
How to Make Bunk Bed Ladders More Comfortable
As a concerned parent, you may be wondering what you can do to make the bunk bed ladder more comfortable. We've got you covered. In this post, we will look in depth at ways in which you can ensure the improved comfortability of your child while climbing their bunk bed ladder.
1. Provide Additional Grip Using Treads, and Pad the Ladder
When it comes to climbing bunk bed ladders, slipping is usually one of the most popular ways things go wrong. To remedy this, treads are to be used to increase the amount of friction, and reduce the chances of slipping while climbing.
In addition, padding the ladder will increase the ease and comfort while climbing. On average, rubber treads are considered to be a lot easier to replace after a while. They are also super durable and are capable of lasting a while. However, you can get both rubber and leather treads on the market for a price. 
Cost of Rubber Treads for Bunk Bed Ladders
You can get a rubber tread for your bunk bed ladder anywhere from $15 to $30. These rubber treads usually measure about 120 to 150mm in width and 25 to 38mm in length. It is useful in providing a non-slip surface that improves safety for young children. 
How to Install Rubber Treads 
The process of installing this rubber tread on a bunk bed ladder includes opening the packaged seal and placing the treads on the steps of the ladder. Try to gauge the part of the step that is mostly like to be stepped on while climbing.
While most treads already come with adhesives that would be used in the installation, you can also use glue to seal the rubber tread to the step.
2. Cover the Bunk Bed Ladder with Pool Noodles
You should invest in a bunk bed ladder cover despite its steep price. However, if you want a cheaper option, crafting your pool ladder cover is a great alternative. It could be a fun hobby that you spend some time doing which will also save you some money.
You should note however that because it is the far cheaper option, homemade pool noodle covers are less durable and tend to suffer worse wear and tear over time. 
How to Craft Your Homemade Pool Noodle Cover 
To be able to craft your pool noodle cover for bunk bed ladders, you will need tools such as high-quality pool noodles, scissors, glue, or duct tape. To begin, purchase a pool noodle wide enough to cover each step of the ladder.
Then proceed to cut the pool noodle lengthwise or horizontally with a pair of scissors. Proceed to then cover each step with the cut-up pool noodle. You can use either glue or duct tape to close each end of the covers.
Cost of Crafting Pool Noodle Covers 
Throughout the process of making your pool noodle cover, you may run an overall cost ranging from $4 to $7. Purchasing the pool noodle from any store will cost you around $4, the cost of the formic sheet, glue, and tape could be around $3. 
How to Design Pool Noodle Covers
Bunk beds are usually for kids, decorating the pool noodle cover will make it easier for kids to use the ladder cover. To achieve this, decorate the covers using colorful duct tape, or wrap the covers using bright formic sheets.
If you go for the latter, you are to ensure that the sheets will offer anyone climbing with enough grip and anti-slip features. You can also let the kids design the covers with their favorite stickers to make them more colorful. Wrapping the covers with duct tape will make it much easier to handle and maintain steadiness. 
3. Utilize the Anti-Slip Tape to Make Bunk Bed Ladders More Comfortable
As you may already have guessed from the name, the anti-slip tape is used to make ladder rungs less slippery thereby reducing injuries that are a result of slippery metal surfaces. You can use the anti-slip tape for different surfaces such as pedals, stairs, scolding, ramps, ladders for the attic, kitchen, etc. 
As a result of the unique adhesives used in this product, the anti-slip tape is suitable for even moisture-prone surfaces and surfaces with high temperatures. These tapes are also equipped with a neon strip placed centrally and vertically as well as on the sides.
These neon strips could also serve as a better visual aid for your child every time they climb the bunk bed ladder, especially at night. This tape is thick enough to balance any unevenness on the surface of the ladder.
How to Install an Anti-Slip Tape 
Before you proceed to install this anti-slip tape on the ladder, first clean the ladder properly with any alcohol cleaner. If the surface still has dust or debris, the tape won't stick properly. Ensure you install the tape at an optimal temperature of 50 Fahrenheit to ensure a perfect stick.
Record the measurements of the ladder steps and cut the tape according to the different sizes. Proceed to apply the tape to the steps of the bunk bed ladder while simultaneously removing the liner. Without removing the liner, the tape will not stick to the ladder effectively. After this process, press a lightweight hammer on the steps to seal it in.
Cost of Installing an Anti-Slip Tape 
To successfully install an anti-slip tape can cost anywhere from $7 and $15 on Amazon.
4. Cover the Ladder with Ladder Rung Covers with High-Traction
If you are searching for an alternative to anti-slip tape, then ladder rung covers with high tractions are a great alternative. They usually come in two forms; channel-shaped and half-round. More professionally done ladder rung covers are usually fitted on materials like metal, stainless steel, fiberglass, wood, aluminum plate, and galvanized steel ladders. 
How to Install a Ladder Rung Cover 
If you are an amateur at ladder rung covers, you may not be able to properly install one of these. It is more likely that you will need the help of a professional to be able to fix them properly. This is a result of the different tools needed to get the job done.
Some of these tools include nuts, tapcon, sikaflex adhesive, pop rivets, and self-drilling screws. While purchasing a rung cover, ask about the instructions for installation, and determine if you are willing to pay for the services of a professional to get the job done.
Cost of Covers for Your Ladder Rung 
These accessories can be a little pricey as they go for anywhere from $20 to $31. 
5. Install Ladder Cushions All Around the Sides 
Apart from slipping from the steps of the ladder, there is also the danger of losing grip on the handles and corners while climbing. This is where these ladder cushions come in. They make climbing the rails a lot more comfortable. They work effectively even at high temperatures and significantly increase safety. 
How to Install These Ladder Cushions
To be able to install the cushions, you first need to measure the rungs of the ladder and cut the cushions according to the required size.
Next, you will need to trim the cushions lengthwise. To seal the end, use quality glue or tape to ensure it is held in place. To then install the cushions on the handles, you need to cut the cushion according to the size handles.
Detach the ladder from the bed and slide the cut out onto the handles. Seal the ends and do the same for all sides. In the end, no part of that bunk bed ladder should be slip prone.
Cost of Installing the Ladder Cushions
Purchasing a commercially sold cushion should cost you around $18. 
Conclusion 
Apart from being very useful, bunk beds are also dangerous. Every year numerous accidental injuries as a result of bunk bed ladders are reported. By utilizing the tools and guidelines listed above, you can significantly reduce the risk of accidents and ensure your kids are comfortable when climbing.
You must ensure your kids climb the ladder safely at all times, maintaining necessary points of contact. Although there might be no risk of slipping, you must still observe other basic ladder safety measures as there are other dangers that these bunk bed ladders present.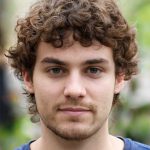 Joseph is the owner of LadderGeek. He is a home remodeling enthusiast. He has created this blog to share some of his knowledge on Ladder and accessories.