When it comes to ladders, Little Giant Ladders are some of the most versatile ladders available. With the ability to convert into multiple shapes, they make a great choice for any job. But what if you want to make your Little Giant Ladder even more versatile? One way to do that is to add a leveler to it. 
So can you add a leveler to Little Giant ladder? The answer is yes, you can add a leveler to a Little Giant Ladder. There are several models of the Little Giant Ladder that come with adjustable feet for safe and secure leveling on uneven surfaces. Additionally, there are also specialized levelers available for purchase that can be attached to any model of Little Giant Ladder for added stability.
What is a Leveler? 
Well, if you know what a Leveler is then you can skip this section. But for those who don't know, let me explain. A leveler is a small attachment that is added to a ladder to help keep it steady and level when placed on uneven surfaces. It typically consists of two flat pieces of metal connected by a hinge that can be adjusted to fit the angle of the surface. This is a great way to make sure that your ladder is secure and will not move or slip when in use. 
What is the Advantage of Adding a Leveler to a Little Giant Ladder? 
Adding a leveler to your Little Giant Ladder has a couple of great benefits. First, it will increase the stability of the ladder when placed on uneven surfaces. This is especially important if you plan on using the ladder on a job site or in an area where the ground is not completely flat. Second, it is a convenient way to make sure that the ladder is level and secure, reducing the risk of an accident. 
Little Giant Ladder models that come with Ratchet Leveler
There are some Little Giant Ladders that come with the leveler. 
All the models(Model 17, Model 22, Model 26) of the Little Giant Epic Ladder come with the Ratchet Leveler. 
All the models(Model 13, Model 17, Model 22, Model 26) of the Little Giant Velocity Ladder come with/without Ratchet Leveler.
Here is a table for better understanding on which models come with/without leveler.
| | |
| --- | --- |
| Little Giant Ladder Models | Comes with/without Ratchet Leveler? |
| Epic | With Leveler |
| Velocity | With/Without Leveler |
| Conquest 2.0 | Without Leveler |
| Dark Horse 2.0 | Without Leveler |
| Skyscraper | Without Leveler |
| King Kombo 2.0 | Without Leveler |
| Flip-N-Lite | Without Leveler |
If the model you are going to purchase doesn't come with a leveler you can always attach an extra one. 
Steps for Installing a Leveler to a Little Giant Ladder
Installing a leveler to your Little Giant Ladder is a relatively simple process. Here are the steps you will need to follow: 
1. Gather Materials: Before you start, you will need to make sure you have the right materials. You will need a leveler, screws, and a screwdriver. 
2. Secure the Leveler: Once you have the materials, attach the leveler to the ladder. Make sure to secure it tightly with the screws. 
3. Adjust the Leveler: Finally, adjust the leveler to fit the angle of the surface. This will ensure that it is level and secure when in use. 
Does Little Giant Velocity have levelers?
Yes and no. The Velocity ladder comes with/without leveler. 
How do you level a Little Giant ladder?
If you're looking for a way to get the job done safely and efficiently, then you might want to consider investing in a Little Giant ladder. These ladders are designed to provide maximum versatility and stability when you need it most. However, before you can start using your new ladder, you'll need to learn how to level it properly. The following steps will help you level a Little Giant ladder correctly and safely: 
1. Start by placing the ladder on a flat surface with its feet spread out wider than shoulder width apart. Make sure that all of the legs are touching the ground evenly and that none of them are resting on an uneven surface or tilted back too far. 
2. Once your ladder is set up, use a level tool to check if each leg is even with the ground. If one of the legs is slightly higher than the others, make sure to adjust it until all four legs are perfectly even with one another. 
3. After your ladder is leveled, double-check that it's secure by pushing down on each leg firmly and verifying that they don't move when pressure is applied. Also make sure that the feet are securely in contact with the floor so that they don't slip when you start climbing up or down the ladder. 
4. Finally, make sure that there's no debris or other objects blocking your path as this could cause instability and make it difficult for you to climb up and down without slipping off balance or losing your grip on the steps or rungs of your Little Giant ladder. 
By following these simple steps, you can easily level a Little Giant ladder and get started working safely and efficiently in no time at all!
How do you use the leg leveler on a Little Giant ladder?
Step 1: Identify Where the Leg Levelers are Located The leg levelers on a Little Giant ladder are located at the ends of each leg. Each leg has two holes located near its base, with one hole slightly higher than the other. Depending on the model, there may be two or four leg levelers. 
Step 2: Attach the Leg Leveler To attach the leg leveler, place it in the lower hole and turn it clockwise until it is secure. If your model has additional leg levelers, repeat this process for each one. 
Step 3: Adjusting the Leg Leveler Once all of the leg levelers are attached, you can adjust them to create an even surface. To do this, turn the adjustable knob counter-clockwise until you reach your desired angle. Make sure to check that all of your legs are set at an equal angle before continuing to use your ladder.
Do you need leg levelers on the ladder?
If you're considering the purchase of a ladder, you may be wondering whether or not leg levelers are necessary. After all, it's an added expense that could easily be avoided. The answer to this question is "it depends." While leg levelers aren't essential for every ladder, they can provide a number of benefits that make them worth considering.
First and foremost, leg levelers are incredibly useful for ensuring that your ladder is properly leveled on uneven surfaces. Whether you're working on your roof or a sloping driveway, having adjustable legs can make all the difference in terms of stability and safety. Not only will this help ensure that your ladder remains upright and safe to use, but it can also save time as you won't have to constantly adjust it.
Leg levelers can also make using your ladder more comfortable and efficient. When you're working at an angle or trying to reach something high up, having adjustable legs means you don't have to climb higher than necessary or stretch uncomfortably. This makes the job much easier and safer since there's no need to strain yourself unnecessarily.
Finally, leg levelers can help protect your property from damage caused by an unbalanced ladder leaning against it. Without adjustable legs, your ladder could slide out of position or gouge into siding if it's not set up correctly. With leg levelers, however, the risk of accidental damage is minimized as you can easily adjust the feet until the ladder is perfectly balanced before setting it down.
While leg levelers aren't an absolute necessity when purchasing a ladder they do offer several advantages that should not be overlooked – especially if you plan on using the ladder in uneven areas or for jobs that require precision and balance. If you decide to go with a model without them just make sure you take extra care when setting up your ladder each time so as to avoid any potential safety concerns or damage to property.
How do ladder levelers work?
Ladder levelers are a useful tool for anyone who needs to use a ladder for their job or even just for around the house. They allow you to adjust the height of your ladder quickly and easily, ensuring that it is perfectly level regardless of the terrain or surface you are working on. But how do they work?
The simplest ladder leveler consists of two adjustable parts: a base plate and an extension arm. The base plate is attached to the bottom of the ladder and adjusts up or down depending on the ground surface you're working on. On top of this base plate is an extension arm that has several adjustment points along its length, allowing you to raise or lower it as needed. 
When installing a ladder leveler, simply place the bottom end of the extension arm into one of the holes in the base plate. When adjusting it, it's important to make sure that each leg of your ladder is at an equal height from the ground, creating a perfect level platform. Once all four legs are in place, tighten them up with screws so they stay secure and don't move when climbing up or down your ladder.
You can also find more advanced versions of ladder levelers that feature built-in locking mechanisms which prevent any accidental movement once adjusted. These are especially useful if you need to leave your ladder unattended for any period of time while working on something else. 
No matter what kind of work you're doing, using a ladder leveler is essential for safety reasons – after all, no one wants to risk slipping and falling off an unleveled ladder! With these helpful tools available, there's no reason why anyone should ever have to worry about climbing onto an unsafely positioned piece of equipment again!
How do you level a ladder on a slope?
Having a ladder on a slope can be dangerous, especially if it is not properly leveled. Fortunately, there are several easy methods to make sure your ladder is level and secure when working on a sloped surface. This article will provide some helpful tips on how to safely level your ladder on a slope.
The first and most important step is to use the right type of ladder for the job. Ladder manufacturers have specific models that are designed for use on slopes and other uneven surfaces. These ladders come with adjustable legs which allow you to adjust the height of each leg so that the ladder can be leveled on the slope.
The next step is to make sure the ladder feet are in contact with the ground at all times. If they are not, they could slip or slide down the slope while you are using it. To ensure this doesn't happen, use wood blocks or other objects that have a flat surface underneath each leg of the ladder. This will help keep it firmly in place even when used on an incline or decline.
You should also check for any rocks or debris that may be present in your work area before setting up your ladder. Anything that could potentially cause instability should be removed from beneath your feet before you start climbing up the ladder. Additionally, make sure there is no soft soil or mud around where you will be working as this can cause instability too.
Finally, always wear protective clothing when working with a ladder on a slope – particularly if it's wet outside! Safety goggles, shoes and gloves are essential for keeping yourself safe in case of an accident, and sturdy boots will help ensure you don't slip while climbing up or down your ladder. 
By following these simple steps, you can easily level your ladder on a slope and ensure safe and successful DIY projects!
Conclusion 
Adding a leveler to your Little Giant Ladder is a great way to make it even more versatile. It will help increase stability and reduce the risk of accidents when you are working on uneven surfaces. With a few simple steps, you can install a leveler to your ladder and make sure it is secure and level when in use.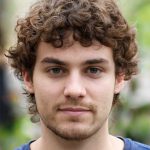 Joseph is the owner of LadderGeek. He is a home remodeling enthusiast. He has created this blog to share some of his knowledge on Ladder and accessories.