When we talk about the best shoes to be used on a ladder, we refer to shoes that promote the safe usage of ladders.
The design of a great ladder work shoe is one with standard safety grooves on the bottom sole that functions to provide the wearer with a non-slip grip while working on the ladder.
Irrespective of whichever ladder you decide to use, safety must be prioritized, and the first way to do this is with the right shoes.
Before using just any shoe to work on your ladder, you should find out the relevant details about the shoe you intend to use, and its suitability for that task. Additionally, you should be aware of the features that the right shoe for standing or working on a ladder must have.  
What Type of Shoes Should You Wear when Climbing a Ladder?
Ladder safety experts have advised that it is not safe to climb a ladder with your bare feet, sandals, or flip-flops. Then what type of shoe is okay you might wonder? While it is dangerous for you to climb your ladder without a shoe, climbing with the wrong shoe may just cause the same injury.
Typically, you should only stand or climb a ladder with solid, slip-resistant shoes that have heavy rubber soles that will offer sufficient grip on the ladder while you climb.
Shoes with leather soles may cause slips or feel unstable when climbing on a wet ladder. You must ensure you select shoes designated for just ladder work. Shoes that are a perfect fit and possess a shank to keep them rigid.
Which Shoes Are Best for Hard Work?
The general idea regarding shoes for hard work is that these shoes must be comfortable and lightweight. They shouldn't be too loose that they could fall off your feet but they should have enough room for you to wiggle your toes without fear of being bruised or cramped.
You also want a shoe that is stable enough since you will most likely be on the move throughout your working hours. Some shoes to look out for include; Giant Romeo Work Shoes, Indestructible Steel Toe Shoes, Work Athletic Construction Shoes, etc.
Why Do My Feet Hurt After Standing on A Ladder?
The most common injury that you may suffer after prolonged ladder use is Plantar Fasciitis. This is an inflammation of the bottom of the foot and may affect the muscles connecting the heel to the toes.
This injury usually occurs as a result of using the wrong shoes when you climb ladders or climb with a tight-fitting shoes. Usually, this pain starts after rest, or when you begin walking on level ground.
In the event this persists, you should contact a health professional to confirm the diagnosis and begin treatment procedures. 
Are Ladders Bad for Your Feet?
If used right, ladders generally should not cause any injuries to your feet. This is why you must adhere to ladder safety protocols on or around your ladders. Apart from preventing slip and trip accidents, proper use of the ladder will prevent injuries like Plantar Fasciitis. Here are some tips that can help. 
Avoid overextending your reach while you stand on your ladder. Overstretching while on your ladder makes the ladder unstable and as such makes you even more unbalanced raising the risk of ladder accidents or injuries. Applying pressure on your toes or feet when you stretch will raise the risk of Plantar Fasciitis. Instead, you can come down, readjust the ladder and then climb back up.
You shouldn't also stand on the first three steps of the ladder as this will greatly increase the instability of the ladder. Falling from that height can sprain your ankle or heel leading to immense pain. Teetering at the ladder top will also increase the amount of pressure you exert on your toes. 
What's the Purpose of A Shank in Your Shoe?
Apart from the structural benefits of shanks, these shoe accessories also play an important role in supporting your foot while you walk. When your shoe is missing a strong shank, your shoe will be able to flex past the limit it should.
While this may be useful in comfortable athletic shoes to help you flex properly during workouts or sports, you may need to opt for a rigid boot that will provide shock absorption to ensure that the bones of your feet are not abraded or susceptible to excess vibration. 
Adequate support is needed for your feet if you intend to walk on uneven ground or climb a ladder. This is why occupations like wildland firefighters, painters, or loggers utilize boots with shanks to be able to work effectively. 
What Should You Do to Maintain Your Balance when Climbing a Ladder?
To ensure you maintain balance while climbing your ladder, you must first utilize the right shoe for your ladder. The right work shoe has enough grip and can maintain your balance while you make the climb.
Additionally, you must maintain at least 3 points of contact while you climb. According to ladder safety training, you must ensure at least two hands and a foot, or two feet, and one hand must be kept firmly on the ladder to maintain balance and stability on the ladder.
We have compiled a list of top brands that are suitable for ladder work. But first, you must know what to look for when you shop.
Buying Guide – How To Choose the Best Shoes for Standing on A Ladder
There are several aspects to consider when searching for the right shoe for standing comfortably on a ladder.
First and foremost, you have to look past the fact that the shoe may be a perfect fit when deciding on the show to buy. While it may be tempting to make a fashion statement, there are other more important features to prioritize. 
We have compiled a compact list that will reveal important features that you must pay attention to if you are to stand comfortably while working on your ladder.
The list outlined below will ensure you don't waste money buying shoes over and over again.  Instead, by prioritizing these features, you will get great value for your bucks. Let's get started!
Durability 
This is perhaps one of the most important features to prioritize to be cost-effective. Even if you get a shoe that meets all the desired qualities in terms of safety and comfort, buying a new pair every week or month will become frustrating.
Modern technology used in shoe production is being utilized to improve the quality of the shoes and to make them even more durable.
Stability
Stability is the key feature that these shows must possess to be useful for ladder work. Workers generally rely on the stability of the shoe on a ladder to determine if it would be suitable for a work environment.
Typically, shoes that utilize a rubber sole offer that unique feature. These shoes provided support when used on a ladder protecting the wearer from slipping.
Additionally, shoes with rubber soles are more suitable to be used under rainy conditions. These rubber soles are also capable of protecting against slipping on a wet ladder. 
Breathability
As a person who may spend a fair amount of time standing or working on a ladder, going for a breathable shoe is the smart option. It is advisable to get a shoe with mesh material covering the upper part as this will ensure that when you climb a ladder or get down from one your feet have access to fresh air as they are pressed against the top part of the shoe. 
These shoes created with mesh material for the top layer are breathable because of the tiny holes in the mesh fabric that can either let in air or dispel air whenever you need it to. Also, the higher the breathability of a shoe, the more difficult it is for odor-causing bacteria to thrive. 
Composite Toe
It is usually dangerous being up on a ladder. You'll be suspended a couple of feet above the ground without access to your toolbox, so you must take a couple of important tools with you.
Apart from slipping, another major danger your feet face is having those tools drop on them. This is why composite toe technology is so important. This technology protects your toe from heavy tools dropped on it.
When you intend to work on a ladder for a long time, you will want a shoe that gives your feet an additional resting environment. This is also due to the composite toe technology. It also allows people with narrow feet to enjoy balance and comfort while on a ladder. 
Review of The Top 7 Best Shoes for Standing on A Ladder
Dr. Martens 1460 Ladder Working Boots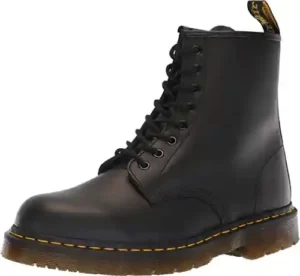 Best known for its composite toe technology 
Buy Now From Amazon
Review
Comfortability
If you have ever wondered what the most comfortable ladder shoes looked like, you might want to take a look at the unisex ladder boots from Dr. Marten. Apart from being super comfortable and efficient, these shoes are also budget-friendly. 
Another interesting feature that this shoe possesses that makes it a great choice is the anti-fatigue feature that this shoe offers. Even after using it for hours, you will not feel the dangerous fatigue on your feet.
Versatile
These shoes possess a modern synthetic sole design that makes them suitable for rocky and wet working conditions. They can maintain stability and grip despite the conditions they are being used in. When measured, the opening of this synthetic shoe is about 13 inches.
And so, this shoe is compatible with different foot types. For wide, to medium to narrow feet, this shoe provides impressive balance and efficiency that is unmatched by any other ladder shoe in its price range. 
Stability 
When you perform a task like painting or roof repair, you go in with the mind of spending a few hours, making micro movements and gestures, and working with tools. This shoe ensures you maintain your balance through it all. With added shoe technology to maintain balance, you are guaranteed a 100% safe experience. 
Quality Design
The upper part of this shoe is made with slip-resistant technology. The material for the upper part is full grain leather and it's resistant to water and oil. 
Composite Toe
The full grain leather protects your toes and feet from falling tools or an accidental stump against an object. It gives you overall comfort, a feeling of stability, endurance, and efficiency. 
Pros
Treads are re-engineered to promote comfort and prevent slipping 
Waterproof and oil resistant 
Super stable and efficient 
Composite toe technology 
Cons
Weight of up to 4 lbs
Utilizes a synthetic sole
---
ROCKROOSTER Ladder Boots for Men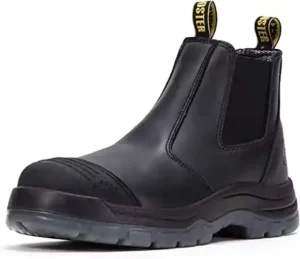 Best known for its quality design
Buy Now From Amazon
Review
Comfortability 
Many ladder enthusiasts prefer the Rockrooster shoe over other conventional shoes for its comfortability factor. It comes with a standard TPU outsole. The digital outsole of this shoe also makes it great for absorbing impact and shock that may result from climbing and working on a ladder for long hours.
The only downside that this shoe might present is the soft toe design that doesn't offer your feet 100% protection against falling objects.
Quality Design
The shoe comes equipped with an outsole made of rubber, with obvious treads that give this shoe an added non-slip feature. If you also intend to work in an area that may present some risk of electrical hazard, these shoes will offer adequate protection as the rubber soles are resistant to electricity. 
Durability 
These amazing shoes for climbing ladders offer users sufficient ladder grip. The materials used in its production include full-grain leather for the upper section of the shoe. This is the main reason for its durability and longevity. 
Pros
Leather upper technology 
Safety toe made of steel
Work shoes up to 6 inches
Durable and efficient 
Cons
Absence of composite toe technology 
---
Carhartt Rugged Flex Women Ladder Work Shoes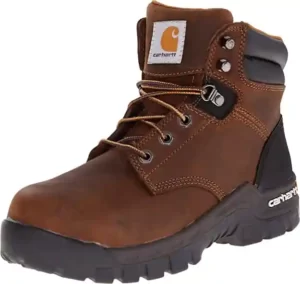 Best known for its waterproof design
Buy Now From Amazon
Review
Versatility 
While there might be a lot of ladder working shoes out there, there's a reason why this Carhartt women's ladder work shoe is a personal preference for many. The rubber sole of this shoe is suitable for a multi-positional ladder for both type 1a and type 1aa. 
Comfortability 
The six-inch height of the boot protects not just your feet but also your ankle from heavy objects that may fall on it. The unique lacing option on this boot offered only by the manufacturers of this boot offers the user added comfort irrespective of the size of their foot whether narrow or wide.
The insoles are removable and this ensures that you do not develop blisters and foot pain after a while. The shoe tongue is made wide enough so as not to hurt any type of feet, whether narrow or wide. 
Durability 
This boot is incredibly durable and efficient as a result of its Goodyear welt construction technology. The shoe's heel is equipped with gel inserts that not only promote the comfort of the user, but also the overall foot stability.
The tarsal and metatarsal of the feet do not suffer unnecessary pressure as the shoe tongue is wide enough to ensure enough support is offered to the feet while walking on different terrains.
Pros
Very durable 
Easy to clean 
Comfortable on ladders
Cons
Relatively heavy on the feet
Not waterproof 
---
Timberland Pro Boots for Men for Ladder Work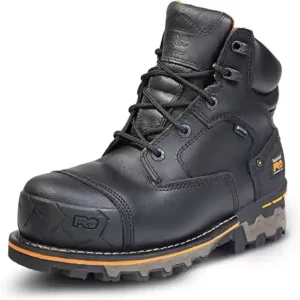 Best known for its stability
Buy Now From Amazon
Review
Durability 
This shoe is made with military-grade technology and is made using 100% full-grain leather. This makes it super durable and very easy to clean when it gets dirty. If you intend to use this show under rainy conditions, the standard synthetic outsole will prevent your feet from getting wet.
Composite Toe
This shoe is also equipped with composite toe technology. This ensures your toes, feet, and heel are protected while you work on your ladder.
Irrespective of where you decide to work while standing on your ladder be it at home, the office, or a construction firm, you do not have to worry about any added danger on your toes as the rubber toe cap design is added to offer maximum security.
It is also equipped with a rubber sole that ensures your foot remains flexible all the duration of the climb, or when you stand.
Comfortability 
The rubber sole available on this shoe provides additional traction thereby ensuring your feet do not slip when you stand and work on a ladder under wet conditions. If you also decide to clock in for long hours, the rubber sole on the shoe will give the plantar portion of your feet added protection against pain.
Easy to Maintain
Lastly, who wouldn't like a shoe that isn't a hassle to clean and maintain? Nobody wants to spend time cleaning a shoe over and over again only for it to get dirty quickly. Luckily, this shoe comes equipped with an outsole rug that is self-cleaning making it easier to get rid of mud and dirt from your shoe.  Additionally, the oil-resistant feature of this shoe makes it even easier to clean.
Pros
Resistant to oil
Free from electrical hazard 
Lightweight 
Easy to clean and maintain
Rubber toe caps
Cons
It may be considered heavy by some wearers
---
Irish Setter 83605 Men's Ladder Work Shoes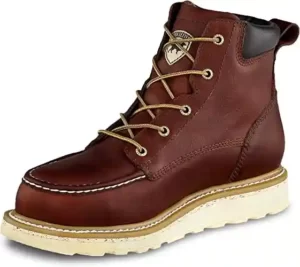 Best known for the provision of comfort
Buy Now From Amazon
Review
Quality Design
Next on this list is this 6-inch Irish shoe that is great for working on a ladder in an area filled with electrical wires and has a high risk of electrical shocks. The outsoles and insoles of this shoe are heat resistant and so will protect your feet from temperatures up to 475°F.
Comfortability 
When working on a ladder on a construction site, comfort and stability are two very important features that you must prioritize. For workers with wide feet, this shoe offers great balance and comfort. Also, workers with narrow feet can get a kick from rocking these when standing on ladders. 
Durability 
When buying the right shoes, going for a pair from a reputable brand is usually a great idea. This is because shoes from a well-known manufacturer will most likely last longer than shoes from a random brand.
Luckily, the Irish are no strangers to the show community and so their shoes are known for being durable, with a long lifespan. Amazingly, this Irish shoe features a rubber EVA outsole of the utmost quality that is padded to protect your feet from any ridiculous amount of heat. 
Composite Toe 
The main reason why these work shoes are super easy to clean is because of the presence of full-grain leather. The shoe also includes a steel toe cap that utilizes composite technology to protect your toes from falling objects.
Pros
Outsole with heat resistance 
Rubber sole for extra grip
Comfortable fit for different types of feet
Lightweight design 
Cons
Some features may lose efficiency over time
---
Georgia Giant Romeo Men's Slip-On Ladder Work Shoe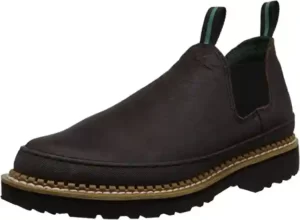 Best known for giving value for your money
Buy Now From Amazon
Review
Comfortability 
It is no news that Georgia's shoes are among the leading shoe manufacturers for decades now, for good reason.
Little wonder why Georgia's Romeo non-slip shoe made this list. To improve the comfortability of this shoe, the manufacturers have made the toe cap slightly wider. This will prevent cramping of the toes, bruises, and blisters of the feet.
The overall comfort of this shoe is a true testament to the capability of Georgia in the shoe business. From little tweaks to improve comfortability to big changes like a padded collar that offers your feet a comfortable position of rest when you climb or descend a ladder. 
Easy to Maintain 
This shoe also comes with an oil-resistant bumper guard that makes cleaning this shoe a lot easier. If you are worried about oil paint ruining your shoes when you paint with your ladder, then you would be pleased to know that this shoe does not absorb oil molecules thereby making it a lot easier for the shoe to be cleaned.
The shoes also come with modern cushioning technology on the soft tongue and midsole that ensures that your feet, plantar, or ankle do not become sore throughout the duration you're on the ladder.
Durability 
When you factor in the fact that these shoes are made using Goodyear's welt construction, it makes sense that the comfort, stability, and endurance of these shoes are next to none.
The design of the upper part includes a full-grain leather material that protects your toes against oil or chemical spills. Additionally, the upper part makes this shoe all the more durable. This shoe can withstand severe wear and tear and so can serve you for a long time.
Pros
Durable and comfortable 
Stylish and fashionable 
Rubber sole with enough sole
Fitted with full grain leather 
Cons
---
HANDMEN Ladder Work Boots for Men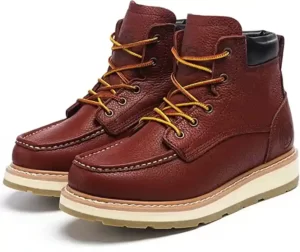 Best known for durability 
Buy Now From Amazon
Review
Durability 
When the manufacturers of these shoes claimed that their shoes were perhaps the most durable work shoes ever made, many doubted at first but over time many workers have figured out their claim is reality. These shoes are guaranteed to maintain their look and integrity even after a long while. 
Composite Toe 
These shoes are fitted with composite technology that ensures safety around wet ladders. These shoes are also water, heat, oil, and acid resistant and so provide your feet with protection against any attack from any of these. 
Anti-Slip Technology 
These shoes are mainly used by construction workers and so it makes sense for them to be infused with an anti-slip technology that will protect workers against slipping. Also, the sole of this shoe perfectly grips the ladder and prevents unwanted slips.
Quality Design
The tedious process of selecting the right design for a ladder work shoe that will serve its purpose has been made easier using modern technology.
The manufacturers have employed COOLMAX technology in the manufacturing process to ensure the soft tongue of the shoe perfectly accommodates the top layer of your feet. The base and sides of this shoe were made to support your feet using PORON XRD support. 
Pros
Goodyear welt construction 
Weather, acid, and heat resistant 
Equipped with COOLMAX technology and PORON XRD support 
Protection against electrical hazards
Easy cleaning when needed
Cons
---
Conclusion 
When you pick out shoes for ladder work, it should be shoes that offer stability, comfort, and conducive working conditions.
Getting the right shoes that guarantee safety and optimal performance when working or standing on a ladder will prevent injuries to the heel or toes that could result in worse injuries.
You can take your pick of the litter from the list we've compiled above. This list includes only significant brands that have managed to make a name for themselves in the shoe community.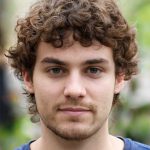 Joseph is the owner of LadderGeek. He is a home remodeling enthusiast. He has created this blog to share some of his knowledge on Ladder and accessories.