A bass boat is a very important boat when it comes to fishing bass however, some users have wondered what kind of ladders would work effectively with the bass boat.
So, what if you need to go underwater to fix the boat engine, or what if you run into trouble with a fishing net. Or even simply getting down from your boat.
One way or the other you would one day need to use a ladder on your bass boat.
Best Bass Boat Ladders – Reviews and Top Picks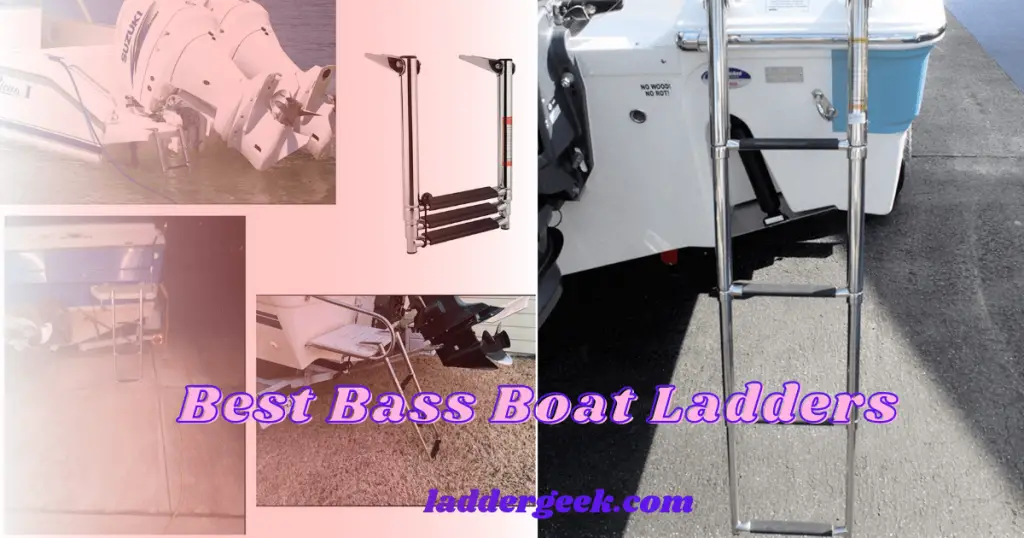 In this article, I am going to write a review of some of the best bass boat ladders I've been fortunate enough to experience on a bass boat.
The type of ladder you use on your bass boat is what will determine if you will be safe from ladder-prone accidents or not. Now let's get into the review.
1. Amarine Telescoping Boat Ladder
Best known for its Heavy-duty proof load feature and affordability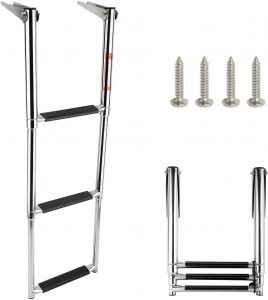 Reviews
The Amarine telescoping ladder is one of the best in the bass boat ladders market, it is extremely safe and users can rest assured that they can easily climb up and down even while they are wet because of its great grip.
This ladder was made with 316 stainless marine-grade steels. This feature ensures that it is a heavy-duty ladder that can carry the weight of the heaviest weighing swimmer or boat owner you can think of.
It has three flexible mounting rungs that have a 270-degree swinging ability. This ability enables the ladder to swing downwards and outwards. It also keeps the ladder from hitting the hull of the boat.
The mounting rungs also come with protective slip-proof plastic that further protects users against slips and falls. This protective cover also improves the grip of the ladder. It has superior quality and is durable.
It is easy to install, to use, and it is one of the most comfortable boat ladders I have ever used or seen on a boat.
The only bad side I experienced was during the installation stage, although it is easy to use after installation, the ladder has to be installed with installation hardware that you have to go look for on your own or purchase as a piece of different equipment.
It is affordable with an average purchasing price of $40 – $50, it is probably going to be the most affordable bass boat ladder you would ever find.  
Pros
Easy to install and use
Great to use on bass boats
It is quite affordable
It has a 270-degrees swing ability; outwards and downwards swinging motion
3 flexible mounting rungs
It comes with a protective plastic slip-proof cover
It is a heavy-duty ladder; and can carry heavy pounds users, even users around 300 pounds  
Cons
Users have to search for the installation hardware
It cannot be used for pontoons    
Buy Now From Amazon
---
2. Hoffen Telescopic 4 Step Ladder
Best known for its tensile strength and heavy-duty feature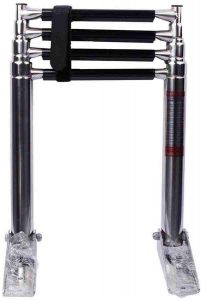 Reviews
The Hoffen telescoping stainless steel ladder is among the strongest boat ladders in the boat market today. It is made with marine-grade stainless steel and this gives it amazingly long shelf life.
The ladder can support a user's weight capacity of over 900 pounds. That is a very impressive load-carrying capacity for a bass boat ladder.
Unlike the first ladder reviewed, the Hoffen ladder is pretty easy to assemble but it may take varying times for different users. The ladder rungs have a small angle that makes climbing up and down the ladder a little bit easier for users.
This ladder is just a little bit more expensive than the previous ladder I reviewed, costing between $60 – $65. It comes with a black covering with a quality vinyl property that prevents users from slipping and falling.
The ladder has very functional ladder brackets that protect the boat from the ladder bumping into the boat's platform.
This part of the ladder has a foldable feature that makes it easy for the ladders to be folded across the platform of the boat.
Pros
A strong and sturdy ladder
Very easy to use
Affordable
Has a high load-carrying capacity of 900 pounds; heavy-duty ladder
Made with the durable stainless-steel material
It has a protective vinyl material to protect against slips and falls
Angled and foldable design to prevent bumps into the platform and transom
Cons
Due to the variation in the thickness of the boat or hull, installation time may be tiring for some users
Buy Now From Amazon
---
3. Rage Powersports Harbor Mate
Best known for its amazing functionality with smaller boats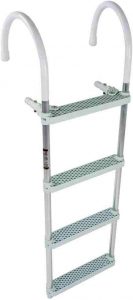 Reviews
The rage Powersports Harbor Mate Boat ladder made this list because of how versatile it has proved to be. The ladder is a foldable ladder that easily replaces the versatility of rope ladders used as boarding ladders for a long time.
The design is simple and minimal, it is easy to store away unlike most boat ladders. It has a weight carrying capacity of 300 pounds even though the ladder itself is pretty lightweight.
It is made with anodized aluminum material and this is hugely responsible for its lightweight yet 300 weight carrying capacity.
Anodized aluminum is a strong, sturdy, and durable material. The ladder has two varieties of 3 or 4 ladder rungs that users can choose from.
This ladder is resistant to the sunlight that the boat will inevitably be exposed to while out in the waters.
It is safe and flattens when users step on the rungs, this design acts as a preventive measure against slips and falls, also, the rungs have a serrated porous design that acts as the friction between the wet feet of the user and the ladder.
This ladder costs between $70 – $90, the most expensive we have reviewed so far.
Pros
Ladder rungs have flat, serrated designs that prevent slips and fall
300-pound load carrying capacity
Simple and minimal design
It has a foldable feature
It is easy to store away
The rungs of the ladder are designed and flattened to protect against slips and falls
It has a variety of 3 or 4 ladder rungs option for users to choose from
It is primarily designed to be used on smaller boats
Resistant to the sun; sun washing
Cons
Because it is lightweight, it tends to move around a lot with the movement of the boat
It's one of the most expensive bass boat ladders I have ever reviewed
Buy Now From Amazon
---
Related: Best Ladders for Tracker Boats
---
4. Sea Sense Boat Ladder
Best known for its extendable features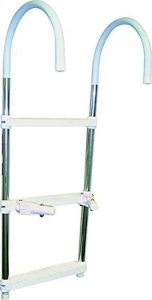 Reviews
The Sea-Sense boat ladder is widely known to be a safe ladder for everyone to use. It can be used for a wide variety of boat types and the reason is because of a very versatile feature it possesses, that distinguishes it from other ladders.
The ladder rungs can be extended to suit several boat types, it also has a curved hook end at the top of the ladder that allows users to hook it safely onto the ladder. This is one of the best bass boat ladder.
It is made with heavy-duty aluminum materials that make the ladder a strong and sturdy one. It has a weight carrying capacity of about 250 pounds. It is easy to use and because of the hook feature, it is easy to install on the boat.
It is basically used as the extension ladder of the boating world. This ladder is ideal for bass boats and not just that it is perfectly ideal for people who intend to go snorkeling and skiing.
This boat ladder is probably one of my personal favorites on this list.
Believe me, when I say this, it is an amazing choice for boat owners who are into any type of water sport.
The ladder rungs are resistant to sunlight and are designed with plastic. The price range of this boat is between $45 – $50, which is very affordable pricing for the benefits that come with it. The only thing I didn't love about the ladder was its weight capacity.
The maximum weight capacity is 250 pounds, which can be quite limiting for users who weigh over that.
This was not a problem for me though and it wouldn't be a problem for users that weighs less than that or around that.  
Pros
It has a weight carrying capacity of 250 pounds
Ladder rungs and bars are made with a classic, beautiful design that is resistant to sunlight
Extendable ladder legs
Installs quickly and easily with an arched hook at the top of the ladder
It is used for a wide variety of boats
It is made with strong, sturdy, and durable aluminum material
Cons
The weight carrying capacity is limited to users who weigh less than or exactly 250 pounds
Buy Now From Amazon
---
5. M2599 Marine MFRS Stainless-Steel Inboard Boat Ladder
Best known for its telescopic, stainless-steel material and great warranty deal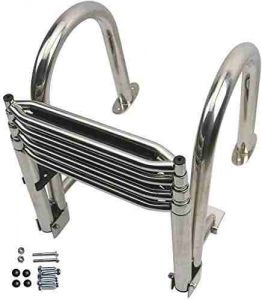 Reviews
This is the best boat ladder for bass boat. This ladder is made with a marine stainless-steel material that I consider an extremely good quality. The ladder is a heavy-duty ladder that has a weight carrying capacity of about 400 pounds.
The stainless steel makes it easy to maintain. The ladder has a slide feature that can push up the rungs closer together to save space and make it easier to store away.
The ladder rungs are wide and comfortable to climb up and down the boat with. The handrails of the ladder are long and strong for support and extra safety.
In truth, the whole ladder is strong, sturdy, and durable.
Let's not forget about the warranty plan, tell me if you know any other boat ladder with an amazing warranty plan like this.
This ladder offers you a 3 years warranty plan. I've never seen anything like this before, it's like a dare – daring you to complain about the quality of their ladder.
I had no complaints by the way. The supportive design of the ladder makes installation on boats very easy.
This ladder, however, has got to be the most expensive on this list, costing about $140 – $150.  
Pros
It is strong, sturdy, durable
It is very easy to maintain
Made with stainless-steel marine materials
It is a heavy-duty ladder with a weight carrying capacity of 400 pounds
Easy to install
3-years warranty plan
Telescopic wide ladder rungs
Cons
The ladder is not suitable for pontoons
It is on the pricey side for a boat ladder but it is totally worth the money spent on it
Buy Now From Amazon
---
Related: Best Inflatable Boat Ladders
Buyer's Guide for Bass Boat Ladders
There are certain things you have to watch out for when you want to buy a ladder for your bass boat. They include;
Ladder Material
The ladder material is hands down one of the most important things you have to know. The material will determine if the ladder is strong and durable, it will determine the weight carrying capacity of the ladder.
Some ladders are resistant to sunlight and protect the user against slips and fall even when in the water or the user is wet. This is because of the ladder material.
The Size of The Ladder
The size of the ladder will determine if the ladder will have 3 or 4 ladder rungs and how long the handrails will be.
The Price/budget
As always, your budget is one thing you'd have to consider before purchasing a boat ladder. The ladder will determine the type you eventually will go for.
Installation and Ease of Use
You wouldn't want to purchase a ladder that you will eventually struggle to install on your boat. Some ladders are easy to install, some are harder.
Ladder Design
I have used some boat ladders that gave me hell when trying to store them because of how unmanageable they are when not in use.
Some manufacturers have made their designs more ergonomic with the likes of foldable ladders or ladders with slide functions.
Essentially, the design of the ladder will ultimately determine if using the ladder will be easy or hard.
Editor's Choice Best Ladder for Bass Boats          
In this review, I would have to say that the bass boat ladder that I consider the best on this list is the M2599 Marine MFRS Stainless-Steel Inboard Boat Ladder.
The boat is great for a number of reasons including the fact that it is easy to maintain, the slide function of the ladder allows the rungs to be compressed for easy storage.
The ladder might be a bit expensive for a boat ladder but it is worth its money's worth. It is right up there among the expensive boat ladders I have ever had to use. It costs about $150.
However, it has a three-year (3) warranty offer users rave about. It is a heavy-duty ladder that can carry a load capacity of up to 400 pounds.
It is great for users involved with water sports or for the purpose of this article, bass hunting. It has 4 telescopic ladder rungs that provide enough width for maximum comfort and safety.
It is easy to install because of its supportive design.
Conclusion
If you own a boat, you need a boat ladder, no questions asked. No matter what you think or how buff you are, boats are not designed to be climbed over or tumbled over.
Get a boat ladder. It will help you gain easy access into and from your boat. Bass fishing has never been better with the help of these ladders.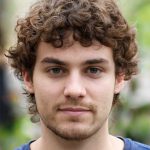 Joseph is the owner of LadderGeek. He is a home remodeling enthusiast. He has created this blog to share some of his knowledge on Ladder and accessories.