If you enjoy going out on the water recreationally, then you will most likely need an inflatable boat. These are becoming increasingly popular as many people begin picking up more aquatic recreational activities.
When you're out in deep waters, it could get really difficult climbing back into your inflatable boat without a little assistance. This is where inflatable boat ladders come in. They help you climb back safely onto your inflatable boat without eventually tipping the boat or causing it to capsize.
While the market for inflatable boat ladders is still growing, it can be particularly difficult to get quality products that match certain specifications. This is why we're here to help.
Review of the Top 3 Best Inflatable Boat Ladders
Pactrade Marine Inflatable Folding Ladder for Boats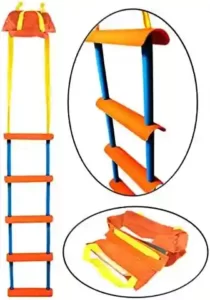 Best known for its Length
Buy Now From Amazon
For people who regularly venture out in very deep waters, this inflatable boat ladder is just right for you. This five-step ladder is easy to install and allows users to climb up fairly easily. 
Durability
Looking at the track record of durability this ladder possesses, it is no shock that it's one of the user's favorites. It is sturdy all around and can easily be relied on. Each step of this ladder is equipped with a firm grip and anti-slip technology to ensure users do not slip while climbing. 
Load capacity
According to the manufacturers of this product, this inflatable boat ladder is capable of supporting a weight of up to 260 pounds. This means most people will be able to climb onto the boat without tipping the whole boat over. 
Design
This ladder has a unique colorful design. It is designed with bright orange and yellow colors which enhances the user's ability to locate the ladder while being underwater. This ladder also comes with some improved features and unmatched quality. 
Length
This ladder has an impressive length that most people consider its selling point. On the flip side, many people also consider its length to be a disadvantage. Some people experience wobbling while climbing the ladder as a result of its length being unadjustable. 
Pros
Is designed with bright orange and yellow colors that improve the ability of users to see it out on the water
Suitable for most kayaks and inflatable boats available on the market
The five-step ladder is long enough to help people that are far down in deep waters
Comes equipped with a convenient storage bag to aid compact storage
The ladder is capable of supporting up to 260 pounds
Cons
Ladders may be too long for some users and they may wobble and lose balance while climbing
Buy Now From Amazon
---
LFUTARI 4 Step Boat Rope Ladder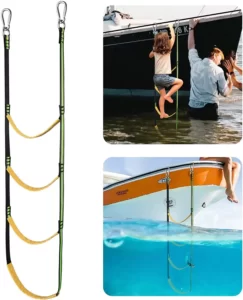 Best known for its Load capacity
Buy Now From Amazon
Going through the features of this ladder will blow you away. Many users have commented on its surprisingly sturdy nature and effectiveness. 
Quality material
This ladder is made from extremely lightweight material that is protected against harmful UV rays. Its modern design is foldable and can be easily taken onto the boat, stored, and brought out easily whenever it is needed. 
Safety
You do not have to worry about safety with this ladder as it is designed in such a way that shows safety was prioritized. Each step has been designed using anti-slip protection, and manufacturers guarantee optimum safety provided it is used the right way.
Durability 
One very important selling point of most inflatable boat ladders is durability and strength. This ladder does not lack in both aspects. It is super durable and can support a maximum weight of 400 lbs. This ladder will serve you for a long time without snapping or tearing after a short while.
Easy to use
This inflatable boat ladder is super easy to install and comes with just what you need to install it. It possesses two strong hooks which you can easily install in seconds without breaking a sweat. You also do not require any external tools in the installation process.
After usage, you can easily fold it and store it. This ladder is not only limited to inflatable boats. You can also attach this ladder to any previous ladder as a means to add extra steps to that ladder.
Pros
The four-step ladder is long enough to be effective in getting you onto inflatable boats
It can be easily installed onto any handle or rail that is present on the sides of the inflatable boat
The ladder is available in different colors to aid visibility 
This ladder is easy to install and takes up very minimal storage space
The ladder is sturdy and reliable
Cons
Rope ladders can be left to hang on by the side of the inflatable boat
Buy Now From Amazon
---
Hoedia Rope Ladder for Inflatable Boat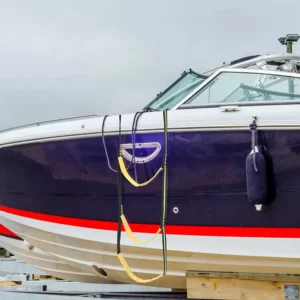 Best known for its durability
Buy Now From Amazon
Durability
This inflatable boat ladder is made from only the best of materials. It is made from high-quality polyester which makes it very strong, durable, long-lasting, and UV resistant. This ladder is great for inflatable boats as you are guaranteed only the best.
Load capacity
There are many aspects of this ladder that make it capable of supporting heavy weights. Its stainless steel lock which accounts for most of its high strength intensity, the reinforced rope body, and the joint of the ladder that is capable of being folded in three layers which makes it more stable.
Unique quality design
This inflatable boat ladder is made with unique parts that you can't get on just any inflatable boat ladder. The rope body is made of luminous material, which means finding the ladder in your boat or under at night will not be a problem. The manufacturers included this luminous feature to help people who wish to go out onto the water at night find their way back to the boat. 
For protection, the manufacturers have included a non-slip material that is easy to grip and hang on to while you climb. This ladder is also very lightweight and portable when compared with other inflatable boats with ladders.
When folded, this ladder is even smaller in size than other ladders and so is super convenient and easy to transport and store. Its practical design makes it suitable for inflatable boats, jet skis, kayaks, or canoes.
Pros
Lightweight and easy to store and transport 
Practical useful design for a range of activities
Sturdy and durable
Available in various colors
Luminous design to aid visibility at night
Resistant to UV Rays
Cons
Many users question its ability to support very heavy weights
Buy Now From Amazon
---
Why Do You Need to Buy an Inflatable Boat Ladder?
For so many people going out in deep waters, climbing back into an inflatable boat should be a walk in the park. The reality is a sharp contrast. Even for the most physically gifted people with more than average strength in their upper body, getting into an inflatable boat may still be difficult. This is because the boat is designed in such a way that is difficult for humans to climb into.
In addition, most inflatable boats are very light and can easily topple over if the weight applied to one side increases. This is why inflatable boat ladders are very useful. They are designed to help you climb into the inflatable boat easily without any hassle.
These ladders can also be used to help drowning people get onto the boat. These ladders are super light and strong and can easily be deployed to help people hang on and make their way onto the boat.
Buying guide – How to Choose the Best Inflatable Boat Ladder
Buying an inflatable boat ladder can be a daunting task, especially as it is still a relatively untapped market with not so many notable brands releasing products. However, of the few that have, you can still pick the best inflatable boat ladders to purchase.
For any inflatable boat ladder on the market to be deemed effective, it must be able to extend far below the water level to be able to rescue any drowning person. And so, the best inflatable boat ladder for you will largely depend on several factors like the space or room you have available on your inflatable boat, the weight requirements of your boat, and how large your inflatable boat is.
All the products listed in this post should be examined for the following criteria. This will inform you whether the inflatable boat ladder you are about to buy is a high-quality product, or if it's something that may not offer you as much value as you paid for it over time.
1. Space
The harsh reality is inflatable boats have limited space. It is already a struggle fitting the required number of people on the boat, including a ladder that will take up so much space on the boat will lead to even greater discomfort.
When you are shopping for a good inflatable boat ladder, ensure you get one that does not take up too much space and includes special features to make storage a lot easier. Seeing as you may also need to carry more equipment or gear onto the inflatable boat, getting a ladder that can be easily folded and stored away when not in use is key. 
2. Durability 
When buying any equipment, especially one that could save a life, you must prioritize durability and longevity above other secondary features. A good ladder should be able to last a long time and still maintain its integrity and strength all through the years.
You also want to avoid ladders that will begin to tear, crack or break after supporting heavy weights. The best way to buy a durable ladder is by paying close attention to the material used in making the ladder. This will give you a good idea of how much the ladder can weigh, and how long it'll last.
3. Load capacity 
While you are out in deep waters far away from the nearest land or ship, the last thing you want is an inflatable boat ladder that is not capable of lifting you onto the boat. This is why you must pay close attention to the load capacity of inflatable boat ladders before buying them. You do not want a ladder that will snap in the middle of climbing leaving you stuck in the water.
The trick to getting it right is selecting a ladder that is capable of supporting the weight of the heaviest person that might get onto it. That way, you do not have to worry about the ladder not being able to support the weight of a person at any time.
4. Length
Length is an important aspect of inflatable boat ladders that you can't ignore. With inflatable boat ladders the longer the better. The ladder should be able to go way below water level and be long enough for somebody far away from the boat to reach and be safely guided back to the boat.
You don't want a short ladder that may be difficult to reach and as such defeat its very purpose. Also, you should not get a ladder that is too long as it can make you wobble while climbing.
5. Easily attachable 
A good inflatable boat ladder must be easy to attach to different types of inflatable boats and kayaks. It must have an easy-to-install feature which should be easy for you to do without consulting the manual.
In emergencies, you may not have enough time to go through complex processes while installing the ladder, so you need to get a ladder that satisfies these criteria.
Conclusion
Every inflatable boater must always head out to deep waters with a safety kit. These ladders must be included in the safety kit to help rescue any passenger that may drown. It also doesn't hurt to have a spare ladder in case an unfortunate event happens that leaves you short of one ladder. 
If you must head out to deep waters, you must prioritize safety above all else. If you are not capable of installing the ladder by yourself, carefully look through the instructions or have an expert on board.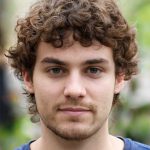 Joseph is the owner of LadderGeek. He is a home remodeling enthusiast. He has created this blog to share some of his knowledge on Ladder and accessories.