The Christmas season is here again and everyone is scrambling to complete their Christmas decorations. Trying to hang Christmas lights around the Christmas tree or decorate the entire house with it, for very enthusiastic Christmas-season lovers.
However, reaching certain heights might be a problem, you may have worried about hanging the Christmas lights around the house or the roof of the house or lining them on the walls. Worry no more, there are very easy solutions to your problem – ladders.
Top 3 Best Ladders for Hanging Christmas Lights
In this article, we will go over some of the best ladders you can safely and conveniently use to hand your Christmas lights. These ladders are tried and trusted and they are also very accessible to any user.
1. Louisville FE3228 Fiberglass Extension Ladder
Best known for its heavy-duty capacity and impressive length

Review
The Louiseville fiberglass extension ladder is one of the best ladders out there, making it a naturally perfect fit for hanging Christmas lights during the festive season.
The ladder has an impressive 28 feet in length and it has a Type IA capacity, hence its orange color indicates that it is a heavy-duty ladder that can be used for several different tasks around the house.
The ladder has a weight carrying capacity of 300 pounds, it is strong, sturdy, and durable. The ladder is entirely made with fiberglass, making it a very safe ladder to use when trying to connect electrical wirings around the house, like Christmas lights.
The height of this ladder ensures that you would be able to reach even the roof of your buildings if that is where you've decided to hang your Christmas lights. The ladder comes with a rung lock and a steel-plated swivel safe shoe. The ladder has smooth finishes and it is very safe for users.
This ladder is on the expensive side however, this is quite understandable because it is produced by one of the best ladder manufacturers in the world.
The ladder is made with premium materials that ensure users have a safe, strong, and durable ladder. The ladder can be used inside the house but it is primarily decided to be used outside.
Pros
Incredible height of 28 feet
Type IA heavy-duty capacity ladder; 300 weight carrying capacity
Made with safe fiberglass materials for hanging Christmas lights without conducting electricity
It has a patented rung latch lock
It has a steel-plated swivel safety shoe
A strong, sturdy, and durable ladder
Great quality ladder
Under ANSI and CSA safety codes
Available in different sizes
Cons
This ladder is quite expensive at about $580
Buy Now From Amazon
---
2. Yvan Telescopic Ladder
Best known for its one-button retraction functionality and heavy-duty capacity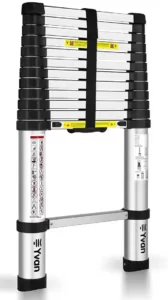 Review
The Yvan telescoping ladder is a 12.5 feet height ladder that is amazing for hanging Christmas lights in the house and around the house.
This ladder is made primarily with aluminum materials, it has a weight carrying capacity of 330 pounds. The ladder can be retracted into a folded position of a very short length where it can be carried around in your car.
The ladder can be compressed into this position by the push of just one button, making storage pretty easy. It is made with good and premium materials that make it a strong, durable, and reliable material.
It comes in different sizes and it is perfect for hanging Christmas lights around the house or inside the house. It is easy to store, has an intelligent retraction mechanism, however, you would have to be careful while using the ladder so you don't mistakenly press the button while being used.
Even though this is not likely to happen if you are careful enough, it can cause some form of injury if it does happen.
The ladder itself is lightweight despite it being a heavy-duty ladder, it is also easy to use and sturdy on the ground. It is not nearly as expensive as the last ladder reviewed, it costs about $150.
Pros
It is affordable
It has a one-button ladder retraction function (intelligent locking mechanism)
It is available in different sizes
It is easy to use, store away, and carry around in your car
Strong, safe, and sturdy ladder
It is a heavy-duty ladder with 330 pounds load carrying capacity
Made with premium quality aluminum materials
Cons
You would have to be very careful not to initiate the one-button retraction function while it is being used and cause an accident
Buy Now From Amazon
---
Read More: Xtend and Climb Ladder Reviews
---
3. Werner 6-Foot Step Ladder
Best known for its safety platform design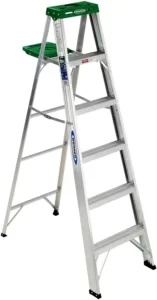 Review
The Werner 356 step ladder is a 6 feet ladder that is primarily used inside the house. If your purpose is to hang the Christmas light on your walls in or around the house, then this ladder is for you.
It is made with great aluminum materials and it has a weight carrying capacity of 225 – 250 pounds.
Like every step ladder, it is safe, sturdy, and reliable and its aluminum materials make it a strong ladder. It is a lightweight ladder that doesn't cost an arm and a leg at about $70 – $95, making it the most affordable ladder reviewed in this article.
The top of the ladder has a platform to keep things while using the ladder to work. In this case, the platform ladder is going to help you hold the extra Christmas lights while hanging some on your house.
The ladder is easy to store away and easy to transport from one place to the other. This is the best ladder for hanging Christmas lights.
Pros
The weight carrying capacity is between 225 – 250 pounds
It is very affordable
It is a safe, sturdy, and reliable ladder
It has a platform design
Easy to store and transport
The ladder is lightweight
Made with amazing aluminum materials
Cons
It has the least weight capacity on the list
Not as durable as the other ladders reviewed on this list
Buy Now From Amazon
---
What to look out for in a ladder for hanging Christmas lights
There are certain things to watch out for when you intend to purchase a ladder to hang your Christmas lights around the house or anywhere else for that matter.
Weight of the ladder
Weight carrying capacity or duty rating of the ladder
Size or length of the ladder
Ease of use
Strength and sturdiness of the ladder
Budget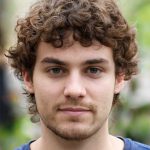 Joseph is the owner of LadderGeek. He is a home remodeling enthusiast. He has created this blog to share some of his knowledge on Ladder and accessories.