Xtend and climb ladders are telescopic extendable ladders that have a distinct collapsible feature that sets them apart from other ladders in the market. Xtend and climb ladders can be bought in a variety of ladder stores like Lowes and Amazon.
The xtend and climb ladder also has a designated website called xtend and climb telescopic ladders. I've found that people typically refer to ladders that can be extended and collapsed as an xtend and climb ladder and they are usually extension ladders. In this article, I will be reviewing some of the best xtend and climb telescopic ladders in the market today.
Best Xtend and Climb Ladder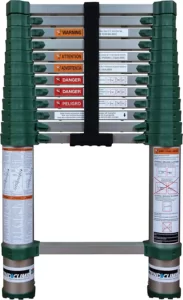 Best known for its extendable and collapsible, and no-pinch feature  
Buy Now From Amazon
Review
Popularity
The xtend and climb telescoping ladder is one of the most popular in the telescopic ladder market today because its most basic feature is present right there in its name; xtend and climb. These are typically extension ladders that are retractable and collapsible.
No-pinch smart lock
The ladder has a lock by the foot that locks into place when it is extended to ensure no-pinch safety for users. The ladder is also designed with an angled thumb release to ensure proper hand positioning.
Ergonomic and efficient design
This ladder is designed with efficiency in mind, it can be stored away very easily and it occupies very little space because of its collapsible and retractable feature. The ladder is also designed with an integrated carrying handle for users' ease and it also acts as a duty closure strap.
Materials
The ladder is made with premium aerospace-engineered aluminum alloy that gives it the needed strength and stamina it needs to withstand 250 pounds weight. The ladder finishing was also made with anodized clean touch and it makes cleaning easy for users.
Pros
ANSI and OSHA standards compliant
250 pounds weight carrying capacity
No-pinch smart lock design
Angled thumb release design
Aerospace-engineered aluminum alloy materials
Easy to store
Ergonomic, telescopic, and portable design
Collapsible and retractable ladder design
Sturdy and strong ladder
Cons
Quite expensive
Be careful when collapsing the ladder or you might get pinched despite the smart lock design
Buy Now From Amazon
---
Alternatives to Xtend and Climb Ladder
Yvan Telescoping Ladder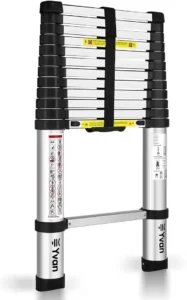 Best known for its telescoping feature and multifunctionality
Buy Now From Amazon
Review
Technology
This ladder is designed with a one-button retraction functionality, this function affords the user the convenience and ease of simply clicking on a button, and the ladder descends smoothly and easily into a folded position or unfurls into an unfolded position.
It also has an intelligent locking design, this function gives the ladder an internal structural design to have an intelligent locking mechanism on each of the ladder rungs with the use of a red button located underneath the ladder rungs.
This intelligent function can also be used to adjust the height of the ladder to the preference of the user. The collapse of the ladder rungs is smooth and fluid and completely safe for users.
Quality
This ladder is made with premium aluminum alloy materials with oxidized surfaces, which gives the collapsible ladder a long-lasting feature. The plastic parts of the ladder are made with reinforced nylon fiber to ensure that the 250 pounds weight carrying capacity of the ladder is fortified.
Versatile functionality
The maximum height of the Yvan ladder is 12.5 feet and the ladder can be used for chores and tasks around the house.  
For home use, it is typically used to paint the walls, change light bulbs, and clean the windows or gutters, as it's a relatively very high collapsible extension ladder. The ladder can also be used for commercial purposes like some type of industrial and manufacturing use.
Design
The ladder is designed to be an ergonomic piece of equipment with collapsible and retractable features. The ladder is lightweight and very easy to carry and saves storage space.
It is can fit almost anywhere around the house including under the bed, behind the wardrobe, etc. Essentially, the ladder provides a very convenient use for people.
Safety
This ladder was designed to be very compliant with recommended safety standards for the assured safety of users.
Pros
Safety compliant
Intelligent technology-infused locking mechanism
Ergonomic, telescopic, and portable design
Made with quality oxidized aluminum alloy materials
Versatile with a multi-functional design
One button retraction technology functionality
Lightweight, easy to use, and store away
Collapsible and retractable ladder design
250 pounds weight carrying capacity
Cons
Quite expensive
Cannot be used for heavy-duty work
Buy Now From Amazon
---
ALPURLAD Telescoping Ladder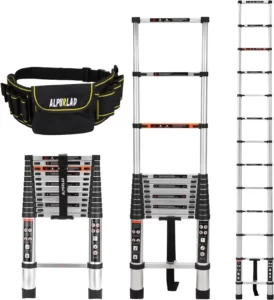 Best known for its telescopic multi-functionality and its weight carrying capacity
Buy Now From Amazon
Review
Material
The Alpurlad telescoping ladder is made with thick non-marking telescopic aluminum tubes. When aluminum material is non-marking, it means that it doesn't get scratches and markings on its body after usage.  
The thickness of these tubes is about 1.33MM each and this is considered one of the best in the market yet. This also affords the ladder noticeable longevity compared to its peers in the market.
Strength and height
The aluminum tubes of the ladder are overlapped in each section of the telescopic ladder. The tubes are as high as 17cm, a few inches higher than other telescopic ladders, and the longer the tubes are overlapped with each other, the stronger the ladder is and the less likely it is to break.
Every part of the ladder is made with strong and premium materials that ensure added strength and ladder fortitude. Even the ladder parts made with plastic materials are made with high tenacity nylon plastic materials.
Design
This ladder is designed to have two black locks on each side of its pedals, these locks are considered to be safer than the one-button retraction function in some telescopic ladders.
The ladder is also designed to be collapsible and retractable with the locks. Its collapsible design makes it very easy to use and store away when not in use. The rungs of the ladder are designed with anti-skid treatment to prevent slips and falls.   
Pros
Can withstand high temperature
Anti-slip ladder rungs
Overlapped aluminum tubes
Made with premium non-marking aluminum tube
Strong ladder
Multi-lock design
Ergonomic, telescopic, and portable design
Collapsible and retractable ladder design
Easy to store
330 pounds weight carrying capacity
Multi-functional and versatile ladder
Cons
Might be considered expensive by some users
Buy Now From Amazon
---
How to safely use an Xtend and Climb (Telescopic) Ladder
I will highlight some ways you can safely and easily use a telescopic ladder and still retain its durability and functionality.
When using a telescopic ladder, make sure to wear closed-toe shoes. Close-toed shoes do not slide off the feet, making it harder to cause accidents
While it is best to purchase a telescopic ladder with anti-slip plastics designed on the rungs, realistically, not every ladder would have this and if your ladder does not have this then it is advisable to use the ladder with work gloves for better grip
Inspect your ladder before and after use to ensure the ladder is in a good working condition
When trying to collapse the ladder, you need to ensure your fingers are not in between any of the rungs before collapsing
If you have to carry some items up the ladder, then you have to use a belt hook or a lanyard so your hands are not filled with the items you need
Buyer's Guide
When purchasing a telescopic ladder, some specific important factors should be taken into consideration and they include;
Height
Telescopic ladders, when fully extended, can be as long as 16 feet, the rungs of the ladder can also be extended separately and individually to be used at shorter heights.
Duty
The duty rating of the ladder is what will inform users of the weight-carrying capacity of the ladder. The existing duty rating for every ladder type is listed below;
Type III: This can hold up to 200 pounds
Type II: This has a maximum weight capacity of 225 pounds
Type I: This has a weight capacity of 250 pounds
Type IA: This can hold up to 300 pounds
Type IAA: This has a maximum capacity of 375 pounds
Stability
The feet of the ladder are largely what determines how stable the ladder will be and some ladders also come with anti-slips designs for added safety for users.
Portable Design
Every telescopic ladder is designed to be portable and lightweight, because of its aluminum materials. They are also easy to store away in small spaces because of their retracting and collapsible design.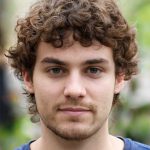 Joseph is the owner of LadderGeek. He is a home remodeling enthusiast. He has created this blog to share some of his knowledge on Ladder and accessories.