Lowe's is one of the 500 fortune companies that deal with sales of hardware appliances, home and bathroom equipment, building supplies, and other items.
Recently, they ventured into the rental business and one of their most asked-about rental services is Lowe's ladder rental services.
They rent out a lot more tools than what we can cover, so we are going to be focusing a lot more on their ladder rental.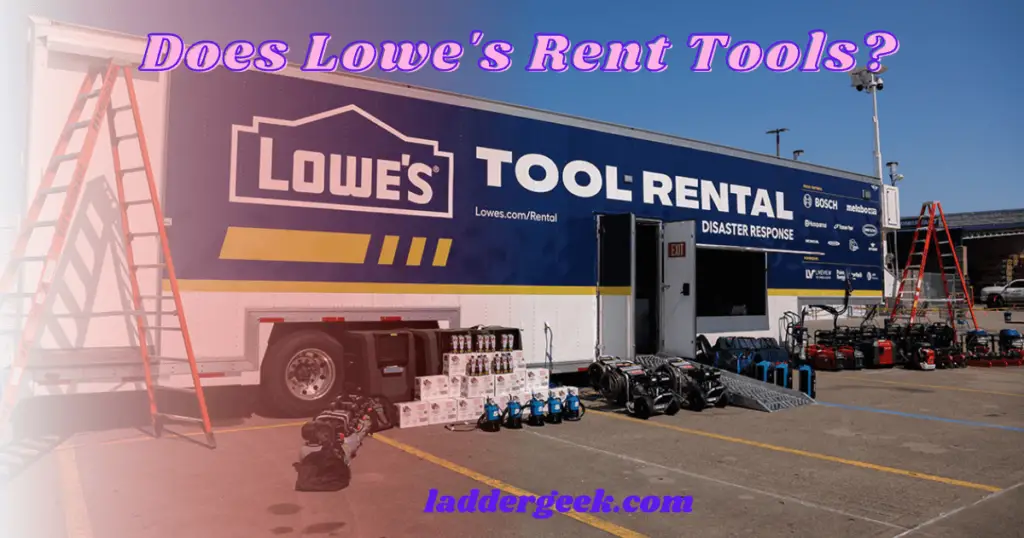 Lowe's Tool Rental
Although Lowe's tool rental is a new development, not all the Lowes stores have embraced this development because a lot of their stores still do not offer rental services.
Beyond that, there is only a limited list of tools that can be rented out. The only equipment that can be rented across all their stores is carpet cleaners. The unlimited tool rental service will soon be adopted across all their stores but the dates may vary from state to state.
This new rental program they are about to launch will allow customers to rent any tool or equipment that can also be bought in the stores.
Can You Rent a Ladder from Lowe's?
Lowe's are well known for their provision of building materials and household tools for sales. With the new rental plan that is about to be adopted, as far as the store sells ladders then ladders can be rented.
Right now, the rental program has not been implemented but as soon as it is then the Lowe stores will rent out ladders to customers.
Lowe's hopes to harness the market public that does not have the money to buy a new ladder or only require the use of a ladder as a one-off thing.
The rental program is a strategic move that will not only help this set of customers to save money while renting, it is also a means of more revenue generation for the stores.
What Tools Can You Rent at Lowes?
Other than the ladders, here is a list of some of the things that can be rented in the Lowe stores;
Chainsaw
Moving dolly
Mitre saw
Auger
Concrete mixer
Tile saws
A 3000 watts generator
Floor staplers
Roof and frame nailer
Paint sprayers
Hole jigs
Battery drills
AC port tents
Lawnmowers
Automotive oscilloscope
Floor sanders, etc.
Lowe's Ladder Rental Price List
The price of renting ladders at the Lowe stores is dependent on the duration of the rent period, the type of equipment itself, the material used to manufacture the ladder e.g., fiberglass or aluminum, the location of the Lowe store, and the size or length of the ladder.
Of course, there are terms and conditions that apply as well but we will discuss that as we progress. Generally, at Lowe's their tool rental price ranges between $25 – $60.  
Now, let's take a look at the price list for some of the ladders that they offer in the rental program;
Extension ladders – Extension ladders can cost about $35 to rent per day, to rent it for a whole week may cost about $400 – $420
Step ladders – Step ladders cost about $28 per day and about $300 – $350 per week      
A step ladder with a weight carrying capacity of 300 pounds made with fiberglass materials can be rented for about $35 – $75 weekly. This type of step ladder would typically have a size between 6 – 12 ft.
Ladders that above over 30 ft. cost between $170 – $200 per week.  
Lowe's Tool Rental Location
Remember I said that not every Lowe store has adopted the new rental program but they do still rent out some other equipment. Let us take a look at the states that rent out tools.
These stores rent out cleaning tools, power tools, and drilling tools. The states in the U.S with Lowe store that rents out tools and equipment is shown in the picture below.
| | | | |
| --- | --- | --- | --- |
| Alabama | Alaska | Arizona | Arkansas |
| California | Colorado | Connecticut | Delaware |
| Florida | Georgia | Hawaii | Idaho |
| Illinois | Michigan | Minnesota | Mississippi |
| Missouri | Montana | North Dakota | Ohio |
| Oklahoma | Oregon | Pennsylvania | Virginia |
| Indiana | Iowa | Kansas | Kentucky |
| Louisiana | Maine | Maryland | Massachusetts |
| Nebraska | Nevada | New Hampshire | New Jersey |
| New Mexico | New York | North Carolina | Rhode Island |
| South Carolina | South Dakota | Tennessee | Texas |
| Utah | Vermont | Washington | West Virginia |
| Wisconsin | Wyoming | | |
Lowe's Tool Rental Location
Yes, it's the entire 50 states in America. The Lowe stores have a store in the whole 50 states across America.
You can rent a wide range of tools and equipment in any of these stores new you and with the new rental program about to launch, customers will be able to rent any tool the stores also have available for purchase.
Lowe Store Rental Procedure
Before you can rent in any of the Lowe stores you would need to go online first and reserve the tool or equipment you intend to rent online.
This can only be done after you must have created a rental account online, then go to the store with an identification card and payment for the reserved item. The procedure is pretty straightforward and easy.
Go to their website and create a rental account
Reserve the tool you intend to rent online
Go to their physical store anywhere near you
Present an identity card to confirm it is indeed you who reserved the item
Pay for the tool
The rates and cost of the rental are listed on their website and the ratings can be broken down hourly, daily, weekly or monthly.
What this means is that if you only intend to use the tool for an hour and return it to the store within the hour, then the rate of the tool will be different from someone who wants to rent a tool for a whole day or a whole week.
There is the option of picking up the tool or dropping off the tool after use when you do not want to into the store. The Lowe stores rental services also offer parking lot pickup and drop-off services.
The parking lot instructions and guidelines have to be followed. Specific spots are reserved for these pickup and drop-off services.    
Can You Extend the Rental Period in Lowe's?
Yes, of course. An extension of rental service is available in any of the Lowe stores.
All you have to do as the renting customer is to contact the store and inform them that you require the use of the tool beyond the stipulated return time or date.
The store will move further to extend your return date or time and the charge rate the extension will incur on your reservation info.   
Who Is Responsible for Damaged Tools at Lowe's?
In cases where you have already rented the tool and then discovered that the tool or equipment is damaged through no fault of yours, then you are required to return the tool back to the store and inform the attendant.
The tool will be replaced and considering it is not your fault you may not be required to pay for damages.
However, if the tool gets damaged while it was being used by you, you must return it to the store, they will replace it with another tool and inform you of additional costs to cover damages to the first equipment.
Terms and Conditions of Lowe's Rental
I know I have already talked a bit about some of their terms and conditions like the rental extension and damaged tools policy.
There are others I must not fail to mention, a customer has to be 18 years or above to be able to use their rental services.
Their terms and conditions are applied to the supply of any of their goods and services including the renting of tools in any of the Lowe stores.
They have credit conditions for customers who pay for their purchases or rentals with credit.
They have conditions for hiring customers, they also have conditions for any agreement or arrangement entered in any of the Lowe stores, the arrangement is subject to the supply of fuel in circulation and the schedule of tools rental in the Lowe store where the arrangement was made.          
Conclusion
One major advantage the tools rental service offers to customers is the 'Lease to Own' service option it provides.
The lease-to-own option is a purchase of a tool even without credit and with only a deposit of $80.
However, you do need to provide your social security number or your Tax ID number, and you need to be 18 years or above to enter this agreement.
The lease agreement will include the cost of the tool, the lease cost, and any other tax that may be included. In 90 days, the tool will be available for leasing.
If this seems more than fair to you then it would be one good advantage offered by the Lowe stores.
This service is also great for customers who may not be able to afford the one-off cost of purchasing the item. The lease-to-own service allows customers to pay for the item completely within a whole year.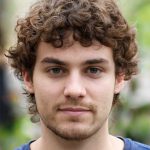 Joseph is the owner of LadderGeek. He is a home remodeling enthusiast. He has created this blog to share some of his knowledge on Ladder and accessories.