The importance of treestands in hunting cannot be overstated. This equipment help hunters seek out prey from an advantageous position while remaining safe and secure. Generally, ladder treestands available on the market come in different styles, shapes, and sizes, and are suitable to be used by different kinds of hunters.
Most ladder treestands cater to the needs of short and tall hunters with average weights excellently well, but what about the big guys? Well, not to worry. We have compiled a list of ladder treestands that serve to accommodate and cater to the needs of big hunters. 
Before we list out some products that are great for big guys, we first have to look at the features that would make any ladder tree stand a great option for a big hunter. These features are super crucial as they give you an idea of important aspects of ladder trees to pay attention to if it is intended for a big guy. 
Buying Guide – Things to Consider Before Buying the Best Ladder Treestand for Big Guys
To be able to say that any ladder treestand is great for a big guy, what qualifications and features must they have? Can a big guy just pick any ladder treestand, install and proceed to climb? Not! Apart from being very inefficient, pairing a big guy with just any ladder can lead to fatal accidents while hunting. Here are some features to prioritize;
Comfortability 
No doubt, a big guy is going to take up a lot of space when seated in a treestand. One of the most important factors that will guarantee a successful hunting expedition is that the hunter is comfortable up in the air.
The measurements of the treestand must be appropriate for a big guy and must include sufficient legroom, armrests, and some wiggle room on the seat. An uncomfortable treestand will not only alert the prey of your presence as a big guy but will prevent you from getting a decent shot off.
Weight Capacity
The first thing that should come to your mind when selecting a ladder treestand for a big guy is the weight capacity of the treestand and if it will be able to support the weight of any hunter that may use it.
On average, treestands with a maximum weight capacity that is less than 300 lbs should be immediately scrubbed from the list. It is much easier to pick out a ladder treestand that is specifically made to support the weight of a big guy, or pick out a general treestand with an impressive weight capacity that is over your weight. 
Build Quality 
Not a lot of thought goes into the building design of many treestands on the market. This has led to a lot of equipment damage and accidents.
And so, when you are selecting a ladder treestand that is appropriate for a big guy, you must consider the nature of the build of the ladder. A ladder treestand constructed with quality materials will add to the amount of weight that the treestand can support. 
Ease of Use
Let's face it, it would be difficult for a big guy to use a complex treestand, especially one that requires a special set of instructions and skills to assemble. Instead, treestands that are easier to use will provide more comfort for hunters, also making them even more efficient.
Durability 
All ladder treestands must be able to withstand the test of time if they are to be useful long-term. Even more so, a suitable treestand for a big hunter must be durable enough to support heavy weights after consistent use over some time.
Apart from the damage caused by poor weather conditions, constant usage also causes minor cracks and dents to your equipment, causing it to develop major faults over time. 
Related: Is 12 Feet High Enough for a Tree Stand
Review of the Top 5 Best Ladder Treestand for Big Guys
So let's get into the review of the top 5 best ladder tree stands for big guys.
Best Climbing Treestands for Big Guys
A climbing treestand is a piece of equipment that consists of two distinct parts; the standing platforms and the seating platforms.
Hunters can get up the tree by moving the seating platform up the tree using their bodies and then proceeding to secure it in place. They now move the standing portion with their feet to the desired height and then proceed to secure it in place.
Summit Viper SD Climbing Treestand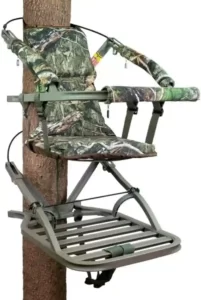 Best in Durability
Buy Now From Amazon
Review
Weight Capacity 
As a big guy, you must know how frustrating it can be not knowing if a particular piece of equipment or tool is fully equipped to support your weight. This could result in you not being able to move freely or clenching the tree at the slightest indication of the treestand giving in.
Luckily, there's a solution. As we earlier stated, the weight capacity of any treestand meant for big guys must be able to support weights over 300 lbs. The Summit Viper treestand adequately meets this criterion. And now, big guys no longer have to worry about the treestand not being able to fully support their weight.
Build Quality 
When you trace the reason for the impressive weight capacity of the Summit Viper treestand, its build quality stands out. It is made using aircraft aluminum which not only gives it a strong and sturdy frame but also makes it comfortable. 
Durability 
Durability is an important part of any outdoor equipment. As a result of the reinforced aircraft aluminum used in its construction, this treestand can withstand various unfavorable conditions thereby providing worthy value for its cost.
This stand is resistant to rust and corrosion and so you don't have to worry about water droplets from the leaves causing your equipment to slowly corrode. 
Lightweight 
Apart from being able to support heavy weights, the weight of the whole treestand unit is relatively light. This lightweight feature is due to the aluminum frame of this treestand.
Now, you don't have to carry more weight than is in your physical capacity, and you don't have to utilize an extra pair of hands to lift, transport, and install this treestand. 
Pros
Capable of supporting heavy weights up to 300 lbs 
Super lightweight and easy to install 
Constructed using durable and quality aluminum
Quickdraw retention system improves safety
Includes Rapid Climbing Stirrups
Cons
The seat is narrow and as such, uncomfortable for very big hunters
Buy Now From Amazon
---
Summit Titan SD Climbing Treestand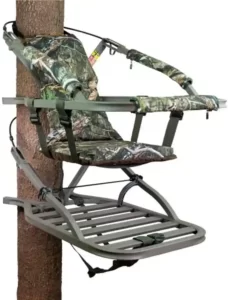 Best in Easy use
Buy Now From Amazon
Review
Durability 
When it comes to quality climbing treestands, not many brands can go toe to toe with the Summit brand. This ladder is made from quality aircraft-grade aluminum and so is resistant to corrosion and corroding effects as a result of poor weather conditions. 
Weight Capacity 
This Titan climbing treestand is a breath of fresh air for big hunters struggling with finding the perfect tree stand that can support an incredible amount of weight. With this treestand, larger guys can feel more relaxed sitting high up in this treestand. This treestand can support up to 350 lbs. 
Comfortable
This treestand includes certain features that improve its comfortability, especially for larger users. Its seats have been padded with foams to ensure enough cushion for hunters who may spend long hours hunting. There is also sufficient legroom and a backrest that you can rely on for back support.
Pros
Comfortable padded seats and sturdy backrests
Capable of supporting heavy weights up to 350lbs effortlessly 
The ladder stand can withstand harsh weather conditions 
Durable
Cons
The Treestand unit weighs 25 lbs which is relatively heavy to lift
Relatively pricey
Buy Now From Amazon
---
Best Ladder Treestand for Big Guys
As the name implies, hunters utilize the attached ladder to climb up the platform. Both the ladder and platform are usually fastened to the tree using secure straps. 
Rivers Edge RE665 TWOPLEX 2-Man Ladder Treestand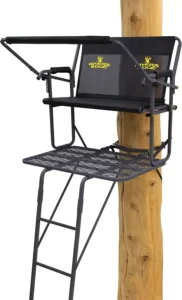 Best in Stability
Buy Now From Amazon
Review
Comfortability 
For a ladder treestand such as this, it is easy to fit so many features and accessories and forget about the overall experience of the user. This ladder treestand includes a Tear Tuff mesh seat with a flip-up mechanism that is suitable for really big hunters or two normal-sized hunters. It also includes a wide platform that measures up to 40″ enough room for standing shots and sufficient leg room.
Strength and Stability 
There are so many things to love about this ladder treestand, one of which is the added features and mechanisms that improve the overall stability of the ladder treestand. It includes a pair of tree blades and ratchet straps that function as stabilization tools for the treestand. These straps ensure that this stand does not wobble or squeak when you move to aim at prey.
Weight Capacity 
Seeing as this treestand is a two-man ladder treestand, it is no surprise that it is capable of supporting up to 500 lbs of weight without crashing. This is great news for big guys, apart from being confident in the ability of your treestand to support your weight, you also have sufficient space to work with.
Pros
Shooting rail can be easily adjusted in two ways 
Suitable for both sitting and standing shots
Entire platform measures about 40″ and a platform measuring 26 inches
Treestand is suitable for either gun or bow hunting 
Cons
Buy Now From Amazon
---
Best Hang on Treestand for Big Guys
A Hang on treestand is designed in such a way that the stand is secured firmly to the tree. Hunters must then devise a means to get on and off these treestands. Many hunters commonly utilize sectional ladders for this purpose.
Millennium Hang on Treestands M150 Monster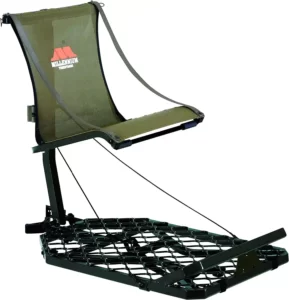 Best in Quality design
Buy Now From Amazon
Review
Quality Design
It is important to check out the level of sophistication in the design of your treestand before purchasing. A well-designed product will not only improve your efficiency in hunting but will also ensure you are safe and secure throughout the process.
The manufacturers of this product have indicated that the unique design of this product is so that the user enjoys an amazing experience. With an adjustable seat to adequately accommodate hunters of all sizes and a frame made with rugged aluminum, you are guaranteed great value with this product. 
Comfortability 
With features like ComfortMax seat, adjustable seat, and backrest, this treestand scores high on the comfortability scale.
Easy to Set Up
This is another aspect of this product that makes it a great option for big hunters. Not only is the process of setting up this treestand super quick, but it is also seamless as a result of its lightweight feature. 
Pros
Capable of supporting up to 300 lbs of weight
Adjustable seats and backrests for added comfort
Sufficient room to accommodate a big hunter
Quiet and easy to assemble
Comfortable
Cons
The chair could hinder standing shots 
Ratchet straps could pose some difficulty during usage
Buy Now From Amazon
---
Rivers Edge RE556 Big Foot TearTuff XL Lounger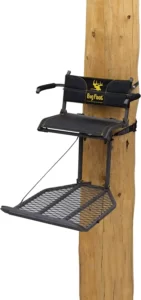 Best in Comfortability
Buy Now From Amazon
Review
Comfortability 
Oftentimes, when you decide to get a treestand with this level of comfortability and stability, you are asked to pay exorbitant costs. With this product, however, you can now enjoy adequate comfort at a reasonable price.
With extra room to allow for twists and turns while you aim, as a big guy, you won't feel trapped in this treestand. You can rest your feet on the footrest, as well as utilize the armrest and backrest to maintain a comfortable and stable posture.
Durability 
You don't need to worry about damage from external factors as this stand is capable of holding its own even in the face of some of the most unfavorable conditions. You don't also need to worry about damage to individual parts as each part of the treestand is reinforced and tightly held together. 
Stability
When buying this treestand, you have the option to either opt for shorter straps, or longer straps which will ensure you are properly fastened and secured to the tree when climbing.
Pros
Super comfy seats, with backrest, footrest, and armrests for optimum comfort
Sufficient space for aiming
Includes a full-body harness
Includes a flip-up seat mechanism for different shot positions 
Cons
At 24 lbs, the entire unit can be too heavy to lift alone
Non-adjustable footrests
Buy Now From Amazon
---
Final Words
If you intend to hunt from a unique vantage point in the wild, then getting a great tree stand is very important. Irrespective of your size, you must ensure you are getting great value before putting up money for any product.
Every product listed in this post will go a long way to ensure you have a safe and comfortable experience. All you need to do now is ensure you select one that is most adapted to suit your needs.
This review will also help guide you on what features to prioritize as a big guy taking an interest in hunting. You can now get your desired treestand and enjoy an amazing hunting experience without any hassle.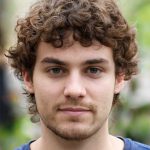 Joseph is the owner of LadderGeek. He is a home remodeling enthusiast. He has created this blog to share some of his knowledge on Ladder and accessories.