Trampolines are truly fun apparatuses that must be suspended off the ground to provide a maximally fun experience. This also makes getting on them a little difficult for adults, and near impossible for children.
To solve this, you must invest in a trampoline ladder which will not only make it easier and safer to get onto a trampoline but also makes it a lot more comfortable. But how do you know the right trampoline ladder to buy? Here's a buying guide to help.
Buying Guide – How To Choose the Best Ladder for Trampolines
Here we're going to look at important factors to look out for before putting up the big bucks for a trampoline ladder. Before we begin, it is important to point out that the safety and security of any trampoline ladder is the paramount thing to look out for. You must ensure that your trampoline ladder is safe to use both for you and your children.
Dimensions 
When it comes to trampoline ladders, the main dimensions to consider are their width, height, and pipe diameter. 
Width: The width of any trampoline ladder is measured by how wide the steps are. The wider the steps, the easier it is for adults to climb and offer support to users. Children on the hand may be a little uncomfortable climbing wide steps.
Height: Trampoline ladders come in a variety of heights. It could be anywhere from 32 to 42 inches, with even longer ladders existing on the market. When selecting a trampoline ladder, you must choose one that is compatible with your trampoline. The ladder must make a 70 to 75-degree angle with the trampoline to ensure optimal use. It should be indicated on the trampoline ladder, the best ladder height to be used on the trampoline. In the case that it isn't, you can carry out a little research by going through reviews to determine the trampoline height it works best with. 
Weight Capacity 
The weight capacity of the ladder must also be considered before a purchase is made. Some ladders are just suitable for children and people with lighter weights. If a heavier adult uses the ladder, it will begin to buckle and may cause an accident. You must buy a trampoline ladder that can support up to 250 to 350 pounds.
Number of Steps
While it might seem like a trivial detail, the number of steps on a ladder will determine the ease at which young children will climb it. The rule is that the more steps, the easier it is to climb. Typically, trampoline ladders have about 2 to 4 steps with custom ladders having even more.
Accessories 
It is usually a great idea to invest in a trampoline ladder with additional accessories. One very common accessory is a mesh net that you can hook onto the frame of your trampoline. It provides a great temporary storage option for your phones, water bottles, shoes, and other belongings while you go and have fun. In other cases, the right trampoline ladder may come with loop stakes that firmly secure the trampoline's feet to the earth.
Step Types
There are two typical options when it comes to trampoline ladder steps; flat and round.
Flat ladder steps are usually referred to as the better option. Flat steps are made using tough plastic materials and are typically known for their large areas. These factors cause users to have even more traction while they climb and reduce the likelihood of falling or slipping and are more suitable for all ages.
Round ladder steps usually are extended metal sides. They are cheaper to manufacture in bulk but may feel uncomfortable while climbing. They also conduct heat quicker unless they are insulated by plastic or a non-conductive coating. 
Best Ladders for Trampoline
There are numerous ladders for trampolines out in the market. Picking the best was not an easy task. The best ladder for a trampoline is one that incorporates a lot of the factors listed in the buying guide. The best option is the N1Fit Trampoline Ladder – 3 Step Wide Universal Trampoline Ladder. It is a super durable ladder that is equipped with heat and weather-resistant materials. Its three-step structure is designed in such a way that users get maximum stability and safety. 
Best Ladder for Springfree Trampoline 
Although Springfree trampolines are not super common, they also require quality ladders. The best ladder on the market for this type of trampoline is the Springfree Trampoline FlexrStep V2 Ladder Accessory. It includes a wide variety of features and useful accessories that make it a must-have for your Springfree trampoline.
Top 3 Best Trampoline Ladders
1. N1Fit Trampoline Ladder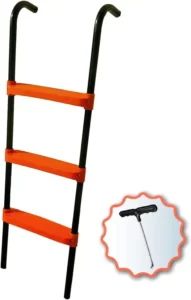 Best known for its versatility
Buy Now From Amazon
Review
Quality Materials 
A trampoline ladder needs to be made with quality materials as it is not always easy to pack up your trampoline into storage and so, it is most likely that your trampoline ladder would be left out under unfavorable weather conditions for a while.
This ladder is made using galvanized steel with high durability. The steps are insulated using heavy-duty plastic to ensure comfort while climbing. This ladder is also weather and heat-resistant and so suffers little to no damage when it is left out.
Versatile
Apart from being weather and heat-resistant, this ladder is suitable to be used by different types of trampolines. This comes in handy if you are not sure about the specifications of your trampoline or the ladder that would be a perfect fit.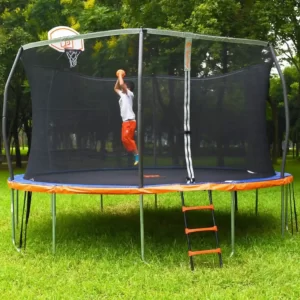 Weight Capacity
This ladder can support a maximum weight of up to 330 pounds. However, this ladder should not be made to support such heavy weights for very long. Ideal weight of 200 to 250 pounds can climb the ladder regularly with no risk.
Safe and Comfortable 
This three-step ladder is much safer to be used by children. It also is comfortable to climb and so kids can use this ladder without having any issues with comfort. 
Pros
Quality material
Safe and suitable for kids
Can be used by all types of trampolines
Weather and heat resistant 
Cons
Might be vulnerable to heavy weights
---
2. Zoomster Trampoline Ladder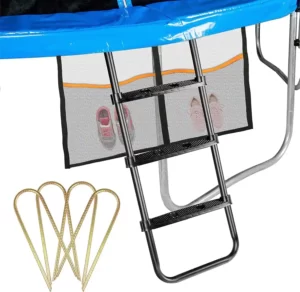 Best known for its extra/added accessories
Buy Now From Amazon
Review
Accessories 
It is always amazing to have a few added accessories that will not only improve the efficiency of the product but will also improve the user experience. This trampoline ladder is equipped with a wide safety bag for the storage of personal items.
Safety and Security
This trampoline ladder includes four loop stakes that help in securing both the ladder and the trampoline firmly to the ground. 
Easy to Use
This ladder is suitable for kids as it is both easy to install and climb. Kids do not require any assistance when climbing this ladder. This is due to the sturdy nature of the ladder and the anti-slip nature of each step.
Quality Material 
To ensure durability and longevity, this trampoline ladder is manufactured using quality galvanized steel. This not only ensures strength and resilience, but also a long lifespan.
Pros
The ladder is sturdy and secured firmly 
Equipped with necessary accessories to improve the usage
The ladder is safe for use by children 
Cons
The ladder is not suitable for specific trampoline types
---
3. JumpTastic Trampoline Ladder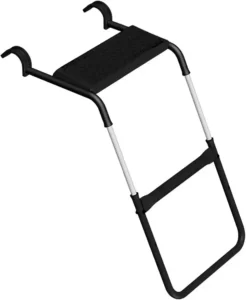 Best known for its easy installation
Buy Now From Amazon
Review
Impressive Design
The overall height of this trampoline ladder is about 43.3in. It is suitable for trampolines of all sizes, whether 10ft, 12ft, 14ft, or even 15ft. Also, each ladder step is about 10.5 inches apart. 
Safe and Comfortable 
As we stated, each rung is about 10.5 inches apart, this makes it super comfortable for children to climb.
Rust-Resistant Material
To prevent the accumulation of rust, this ladder is made using UV-resistant materials. Apart from being weather resistant, this ladder is also fewer from solar wear. 
Ergonomic Ladder' Step
To even buttress the safety of this ladder for kids, the steps have been infused with an anti-slip technology that not only makes it difficult for children to slip off but also is comfortable underneath their feet. 
Easy Installation 
This ladder comes with installation materials such as 2 hook tubes, 1 U-shape tube, 4 straight tubes, and 3 steps. The installation process is pretty straightforward with most of these parts just needing to be assembled. They can be easily assembled without the use of any special tool or skill. Ensure the spring bolt pops out first before using this ladder. 
Pros
Super impressive universal design
The installation process does not need any prior tools or skills
Comfortable for kid's use 
Rust and weather resistant 
Cons
---
Conclusion 
When considering the right ladder to buy for your trampoline, you should also consider where the trampoline is located- whether indoors or outdoors. For indoor trampolines, you will need a ladder that has a unique method of remaining firm and attached without it wobbling. While for outdoor trampolines, the ladder can easily be planted into the ground for added stability. 
Additionally, you must ensure that you follow proper installation instructions for these ladders, and if you are unsure about your trampoline specifications, you should get a multipurpose ladder that is suitable for all types of trampolines.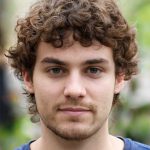 Joseph is the owner of LadderGeek. He is a home remodeling enthusiast. He has created this blog to share some of his knowledge on Ladder and accessories.