Homeowners are recently taking designing their own homes into their hands. Gone are the days where jobs like painting or carrying out simple construction in a home were strictly left for professionals.
Now, with the right set of equipment, there are no limits to the possibilities in both interior and exterior home decor.
How to Hold Paint While on A Ladder
Ladders have become very invaluable equipment that you can use for painting. From painting your ceiling or roof to painting really high walls, ladders have a wide range of applications.
It's not enough to just purchase the priciest ladder for your painting jobs, you also need to know how exactly to use the ladder efficiently to obtain the best results and avoid spilling paint or worse, an accident.
In this post, we are going to look at how to handle some tools and equipment that you use in painting. What we hope to achieve is to educate you on the safest way to handle painting on your ladder using a roller.
How to Paint with A Roller While on An Extension Ladder
The most challenging aspect of using a paint roller while balancing on a ladder is how to balance the paint bucket or tray. To increase your efficiency while painting and avoid climbing up the ladder repeatedly, pour a significant amount of the paint into an empty bucket.
Ensure you use a bucket that is wide enough to accommodate the roller completely. Proceed to hang the bucket on one of the rungs of the ladder that is most suitable for you using an S hook. Place a shortboard into the bucket of paint to use while painting.
Dip the roller into the bucket and roll out any excess paint on the board. Do not hold the paint tray with your other hand as this will hinder you from balancing properly on the ladder using your free hand.
Ensure you are properly balanced on the ladder at all times to avoid mistakes or accidents while using your roller.
How to Attach a Paint Tray to An Extension Ladder
Attaching a paint tray to your ladder is a very easy thing to do, but at the same time can be technical and if not done correctly could have untold consequences. There are several techniques you can use to ensure your paint tray is properly attached to your ladder.
However, here is one technique that has proven effective over the years.
It is completely safe and simple and only requires basic materials like; a metal paint tray (you may need to get the gallon size, depending on what works best for you), a lightweight chain measuring about 6 feet (you can use a jack chain), and some basic tools like a drill and pliers.
1. Proceed to Drill Small Holes in The Paint Tray.
You must begin by first drilling a small hole through each corner of the paint tray by the upper edge of the tray. In case you don't have a drill, you can create a small hole using a nail or center punch.
2. Insert the Tip of A Chain Link Through Each Hole.
Pick up your pliers and force open a chain link and insert it through the previously drilled hole. Then, clamp on the chain quickly so that it does not undo. Bend open the other link end and create a hook. Do the same for the other side.
3. Pass the Chain Through the Ladder Rung.
Pass the remaining part of the chain through one of the rungs on the ladder. Depending on your preference, you may then attach it to the second rung above where the tray is going to rest.
4. Proceed to Attach Your Tray to The Ladder
Gently attach the paint tray on the extension ladder to begin painting.  Ensure the chain is properly hooked on either side of the tray and the whole setup is steady.
5. Finished
Begin painting using the tray for optimum results.
Read More: Do You Need Someone To Hold A Ladder
How to Use a Ladder Safely While Painting
Whether you're a professional painter or not, safety is the most important thing to look out for while painting.
There are however several things to look out for while painting in order to guarantee safety. They include;
1. Pick out The Perfect Ladder
Many people describe this process as a science rather than an art. Specific kinds of ladders are used in specific situations, and it takes an expert to figure out which to use and when.
For most interior painting, step ladders measuring 6 feet are most commonly used. This means that step ladders are most suitable when you want to paint indoors.
Whereas if you are looking to paint the exterior of your home or your roof, then long extension ladders are most suitable.
However, that goes without saying, expert painters must select their perfect ladder depending on the height of whatever it is they intend to paint. Read our guide on what ladder do you need.
2. Ensure the Ladder Is neither Taller than The Target nor Shorter
When you select your preferred ladder, ensure that it is not shorter than the target point where you intend to paint. If the ladder is short of reaching the target, the risk of a fatal accident is more imminent.
To guarantee your safety, select the equipment that is just right for your painting job. If you go with an overly long ladder, you might end up increasing the difficulty of the entire activity as it is more difficult to move from one point to another. This is why using a ladder that is just right is most important.
3. Clear the Path, and Ensure the Way Is Not Obstructed
Before you even begin with painting, ensure you clear out the way and make for free passage. This will help you avoid coming down the ladder to move an object or being obstructed by anything during the paint job.
Decluttering the area you are painting is important. It helps you remain focused throughout the job and also helps you achieve perfection.
If you employ the help of professionals, ensure you eliminate trash from the room before they begin their work.
4. Ensure Your Ladder Is Properly Set Up
In the event where you are painting the exterior of your home and you are utilizing an extension ladder for the job, setting it up properly could be the difference between the painting ending successful or an accident occurring.
To reduce accidents that result from the painter slipping and falling, the ladder must be set at a right angle that will ensure stability and safety. Ensure the floor of the area where you want to paint is dry and smooth so that the ladder does not trip or slip and result in injuries.
If you are a beginner painter, ensure that you ask somebody to help you hold the ladder in place while you climb to paint the roof or the walls. This will not only stabilize the ladder but prevent you from feeling scared and wobbling at the top of the ladder.
5. Ensure You Keep a Three-Point Contact on The Ladder
To avoid accidents, there have been several techniques that experts have advised that you employ. One of them is in how you climb the ladder. Climbing a ladder wrongly can cause a shift in the displacement of your weight and cause you and the ladder to fall.
To avoid that, when climbing the ladders you must ensure you maintain three contact points with the ladder. This includes one hand and two feet or using two hands and one foot. This ensures your safety when you climb the ladder and when you come down.
6. Inspect Your Ladder at All Times
As you are aware, damaged ladders cause accidents. This is why you must ask yourself the important questions before you go up the ladder. Is this ladder in prime working condition? Are there cracks or holes anywhere on the ladder?
Also, during an inspection, ensure you check the ladder for rust or missing/damaged rungs, loose screws, and poor fitting. If you notice any of these abnormalities, refrain from using the ladder. You can either get it fixed, take it to the experts, or purchase another one.
Related: How to Paint an Old Wooden Ladder
Conclusion
Getting the right painting gear is important. If you are the hands-on type when it comes to designing your home, you must be willing to invest in quality rollers, paints, and ladders to achieve the best results or at the very least, a presentable job.
If you have no prior experience in painting, it is always good to opt for hiring a professional to bring his own tools and equipment and carry out the job. If you must do it yourself, ensure you follow the safety guidelines that direct you during the process of painting using a ladder.
Apart from inspecting the ladder for damages, cracks and abnormalities, ensure you also inspect other accessories like the paint bucket, the paint tray, and rollers to ensure they do not get destroyed while you are up there painting.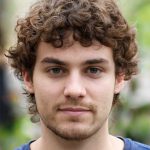 Joseph is the owner of LadderGeek. He is a home remodeling enthusiast. He has created this blog to share some of his knowledge on Ladder and accessories.