Before we begin, it is important to note one universal truth; all ladders are useful, but having the right ladder for a particular job makes the work a lot easier. Now, let's review two ladders that are at the top in terms of usefulness.
Murphy Ladder vs Little Giant
Murphy Ladder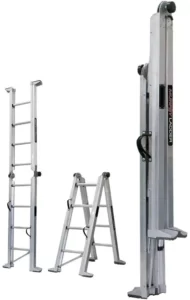 If you are in the market for a sturdy, reliable, and efficient heavy-duty ladder to use around the house or your RV, then the Murphy ladder is just right for you.
With its easy-to-carry structural features and lightweight advantage, the Murphy ladder stands tall amongst other conventional ladder options.
This Murphy ladder is certified with IAA and ANSI ratings and has a weight capacity of about 375 lbs. Several unique features make the Murphy ladder stand out even more. Like its sideways folding feature that is absent from other conventional ladders. 
So, if you need a strong ladder that has several unique features, is lightweight, easy to take down and store, and still won't burn a hole in your pocket, then look no further. Here are some key features that the manufacturers of the Murphy ladder boast of.
Capable of easily maneuvering through obstacles 
Possesses feet that do not easily mar
IAA and ANSI heavy duty rating
Fully compact and sturdy design
Has a 375 lbs load capacity 
Advantages of Murphy ladder 
There are so many impressive advantages of the Murphy ladder that makes it a must-buy for homes, work areas, RVs, etc.
Fully compact and sturdy design
The Murphy ladder is arguably the most compact ladder available on the market today. If you do not have a large storage space, buying the Murphy ladder is a great idea. The ladder can be folded quite easily from two sides and can be transported and stored efficiently without any worry about safety. 
With the Murphy ladder, you do not have to worry about the ladder not being able to support your weight when you climb it. With a weight capacity of about 375 pounds, the Murphy ladder is safe for you.
3-in-1 multi-position ladder
The Murphy ladder comes in a unique 3-in-1 option, which is a huge advantage for factory workers. This simply means that the ladder comes in three different versions that you can easily use for work. Also, the heights of all Murphy ladders are very efficient for work and user-friendly. 
How many times have you left your ladder out in the rain or sun just because it was too difficult to carry, well, no more! With the Murphy ladder's lightweight feature, you can easily pick up your ladder after use and store it in a more ladder-friendly environment. 
Easy to set up and a hassle-free takedown
If you do not want the stress of needing extra help to assemble or set up, then the Murphy ladder is just perfect for you. With an easy setup process and an even easier takedown, you can carry out minor and major jobs around your house all by yourself. 
Protection against marring of the foot
Most ladders often are not protected against marring which can easily occur during use. This is another area in which the Murphy ladder edges out the competition. It includes protective premium-grade plastic that ensures that the foot of the ladder is not marred in any way during use. It prevents dents, scratches, or even damage to floors while carrying out indoor jobs. 
Additionally, this protective plastic ensures that your ladder has enough traction when working on the uneven or sloppy ground. You could alternatively decide to get a leveler if you are faced with uneven terrain to prevent falls and accidents. 
Guarantee of up to 5 years
Manufacturers of the Murphy ladder offer a guarantee of up to 5 years which is like no other in the ladder industry. 
Disadvantages of the Murphy Ladder
As with all work equipment, the Murphy ladder possesses some notable disadvantages. They include:
You may experience a little discomfort trying to balance on the rungs of the ladder
When the ladder is folded and stored in an open space, it might return to its open position after a while. This is why it is most advisable to store your Murphy ladder in a closed space or tie it in place with a strap to make sure it does not lead to any trip accident 
The ladder may not fit in the trunk of most normal cars for transportation
It May be difficult to find an online store or physical shop to purchase one
Specifications of the Murphy Ladder
| | |
| --- | --- |
| Ladder rating | IAA, ANSI rating |
| Weight capacity  | 375 pounds |
| Rung material | Aluminum  |
| Number of rungs | 8 rungs  |
| Weight of the ladder | 25 pounds |
| Maximum reach of height | 14 feet |
| Position height of step ladder  | 4.5 feet with a reach of about 9.5 feet  |
| Storage width | 9 inches |
| Ladder-type | Multi-positional |
| Height of single ladder position | 9 feet with a reach of 12 feet |
Specification of Murphy Ladder
Read More: Murphy Ladder vs Gorilla Ladder
Little Giant Ladder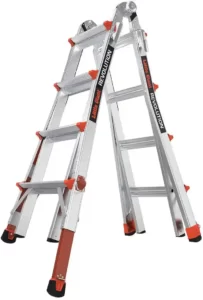 If you know your way around ladders, you must be familiar with one solid fact; not all ladders are the same. This could not be any truer for the Little giant leveler ladder.
This multipurpose ladder is just what you need for different types of work around the house. It possesses several ladder modes that you can utilize in getting the job done seamlessly. Listed below are some of the key features of the little giant leveler ladder. 
Utilizing the ratcheting Levelers will enable you to effectively position the ladder on uneven ground while reducing the risk of falling
Type 1A, with a load capacity of 300 pounds
Its rapid lock and hinge lock fasteners will ensure that all adjustments are locked in securely
The multi-position design of this ladder enables it to work as a straight, stepladder ladder, and even scaffolding base with the ability to handle slopes and stairs
Stepladder mode allows for adjustments like 5' to 9'
Straight ladder mode allows for heights like 11' to 22'
Moving the ladder is now easier with Tip & Glide wheels
This ladder is suitable for a wide range of working conditions as a result of its 33 unique configurations
Advantages of the Little giant leveler ladder 
Durability
The manufacturers boast of a unique design that enhances the durability and reliability of the ladder. It is made from aluminum and so can withstand some extreme working conditions.
Ease of transportation 
This ladder is particularly heavy and so may become an inconvenience when it is time to transport it. Luckily, the manufacturers thought ahead and included a set of wheels that will help transport this bulky ladder.
Granted, this ladder is not the heaviest out on the market, but still, the wheels are a welcome addition. They are also moderately effective on grass and highly effective on hard, smooth surfaces. 
These wheels come in extra handy when you are carrying out an indoor job. You do not have to worry about lifting it over short distances. All you need to do is tilt the ladder, anchor it in a comfortable position, and roll it to wherever you may need it.
Multi-position ladder
Like most useful ladders, the little giant leveler comes with a multi-position design that can be effective in different modes:
Stepladder mode: With this mode, you can use your ladder in a more versatile manner. You are provided with 3′ 11″ to 6′ 8″ working heights. The ladder is significantly more stable in this mode with about four points of contact rather than two. Although you may struggle to get to the ladder level using this mode in slope, once you do you will have more stability 
Straight ladder mode: If you ever need to carry out work at high points or do any other tall work, you can utilize the straight ladder mode. In this mode, the Ratchet Levelers will help you achieve an exceptional level of surface 
Scaffolding mode: With this ladder and additional bracket, you will be able to distinguish the inner and outer frames which will be your bases to utilize the scaffolding mode of this ladder. All you need to do is ensure that the scaffold plank is at the height you need
Disadvantages of the Little giant leveler ladder 
It is relatively particularly heavy, weighing 44 pounds
The ladder may not be able to fit in small areas for storage
You will require a specific kind of vehicle for transportation 
Specifications of the Little giant leveler 
| | |
| --- | --- |
| Storage height  | 5′ 7″ |
| Load capacity  | 300 pounds  |
| Height range for A-Frame | 5′ – 9′ |
| Range for straight ladder | 11′ – 22′ |
| Configurations  | 33 |
| ANSI heavy duty rating  | Type 1A |
| Weight | 44 pounds |
| Material  | Aluminum  |
| Warranty  | Lifetime |
Specifications of the Little giant leveler 
Conclusion 
From the comparison, it is clear that both ladders possess very good qualities. It all depends on what job you need them for. However, if I was to give a slight edge to one, it would be the Murphy ladder as a result of its many structural and functional features.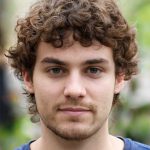 Joseph is the owner of LadderGeek. He is a home remodeling enthusiast. He has created this blog to share some of his knowledge on Ladder and accessories.