Ladders are very useful tools to have around, especially if you plan to execute a few tasks around the house or if you work in or around tall buildings. However, you should not just walk into any store and buy the first ladder you find.
You must first gain knowledge of the equipment before you make any purchase.
Murphy Ladder vs Gorilla Ladder
Here's what you need to know about Murphy ladders and Gorilla ladders that will help you make an informed decision.
Murphy Ladder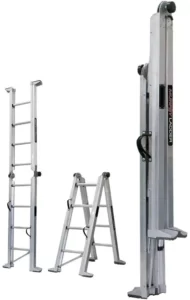 Ever since the manufacture and wide distribution of Murphy ladders hit the market, the ladder community has not remained the same.
There are so many benefits and features that the Murphy ladders possess that sets them apart from other ladders in their price range. First and foremost this ladder is known for its high load-carrying capacity. It is capable of carrying loads up to 375 pounds.
Murphy ladders do not suffer the fate of other high load-bearing ladders in which the overall weight of the latter constitutes a great nuisance during storage or transportation. Murphy ladders are manufactured using Aluminum material and as such are extremely lightweight and sturdy. 
Murphy ladders are a step ahead of their time. With sideways folding features that aren't found in other multi-positional ladders, Murphy ladders are extremely easy to store. They can be stored under your bed or in any compact space. With a piece of binding rope, you could easily store these ladders in an open storage area.
Unique features of the Murphy ladder 
Sturdy and reliable structural design
Can be stored in small spaces
High maneuverability features 
Can support a load of about 375 pounds
Durable and efficient over a long period
Advantages of Murphy ladder
Here are some advantages of using Murphy ladders; 
Multi-positional features.
Murphy ladders possess multi-positional features that aid a wide range of outdoor jobs. You do not need to purchase separate ladders for different positions as one Murphy ladder could serve multiple functions. 
Lightweight and easy to store
Murphy ladders can be easily taken down and stored after each job is completed, usually by a single worker. Its lightweight structural design is a huge advantage if you would be working alone and may not have anyone to help you.
Most lightweight ladders usually break under immense load. This is one of the main selling points of the Murphy ladder. It can support a weight of up to 375 pounds. 
Manufacturers of Murphy ladders boast of the ladder to withstand extreme dents and scratches over a long period. Its feet are also protected with a plastic material that prevents marring. This plastic material also ensures there is sufficient traction during usage.
Disadvantages of Murphy ladders 
Most online and offline stores may not stock Murphy ladders in bulk. You would have to purchase the ladder from the manufacturer's site
Users may feel some discomfort while climbing the ladder as a result of the nature of the rings
The ladder must be stored in a closed space. If you must store it in an open space, you must ensure you use some binding rope to prevent accidents 
Some issues with balancing
It may be difficult to find an online store or physical shop to purchase one
Specifications 
| | |
| --- | --- |
| Storage width | 9 inches |
| Weight capacity  | 375 pounds |
| Maximum reach of height  | 14 feet |
| Ladder-type  | Multi-positional  |
| Weight of the ladder | 25 pounds |
| Rung number | 8 |
| Position height of step ladder  | 4.5 feet with a reach of about 9.5 feet  |
| Ladder rating | IAA, ANSI rating |
| Material | Aluminum  |
| Height of single ladder position | 9 feet with a reach of 12 feet |
Specifications of Murphy Ladder
Gorilla Ladder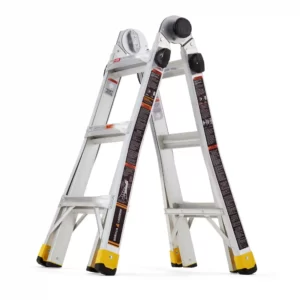 Now, we will carefully analyze Gorilla ladders and how they can be used effectively. The company responsible for Gorilla ladders is an authority when it comes to the manufacturing of ladders. The most marketable quality of the Gorilla ladder collection is that they are versatile and can be used in several situations.
For instance, in the Gorilla ladder collection, some ladders are suitable for household use and ladders used for outdoor jobs, there are heavy-duty steel ladders and there are aluminum super light ladders, there are ladders that are multi-positional and ladders that are just used for the platform. 
All the ladders in the Gorilla ladder collection have sturdy and unique designs that are durable and safe to use. The ladder also utilizes a multi-positional feature with an adjustable height.
One of the ladders in this collection; the Gorilla ladder 26 introduces us to a ladder design with perhaps the best multi-positional feature on the market. In addition, this ladder has an impressive load capacity of 375 pounds and so is suitable to be used by overweight people. 
Another spectacular ladder in this collection is the Gorilla ladder 23. A cursory glance at the review for this ladder will reveal its impressive durability and reliability. Although this ladder is shorter than the Gorilla ladder 26, it makes up for its height with 28 adjustable telescopic levels.
Depending on the work you need to do, you can convert this ladder to an extension wall, double side, or even a step ladder. As a result of its aluminum frame, this ladder is lightweight and so can easily be transported from one location to another.
Another important point to note is the stability and safety of this ladder. Apart from being able to evenly carry your weight, this ladder can also be used as a scaffold base. 
Related: Gorilla Ladders vs Little Giant Ladders
Unique features of the Gorilla ladder collection 
High load-bearing ability of up to 375 pounds
Multi-positional ladders that are effective in several scenarios 
Can be used as a base for a scaffold
Sturdy and reliable
Aluminum material makes some ladders in the collection lightweight 
The stable nature of the ladder is useful in uneven terrain
Advantages of ladders in the Gorilla ladder collection 
These ladders are versatile and offer a wide range of features for different jobs
The design of the ladders supports safety and stability 
Multi-positional ladders can be used in different modes
The robust nature of ladders helps to prevent breakage and protects users from falling 
Ladders in this collection are durable and so can last a long time 
Helps you access areas that are hard to reach as a result of its sturdy design
Rungs are sturdy with treads that provide sufficient grip when climbing 
Useful in areas with uneven floors 
Disadvantages of Ladders in the Gorilla ladder collection 
The most obvious downside of some ladders in this collection is the heavyweight. While some are light as a result of the aluminum material used in manufacturing, other varieties of multi-positional ladders are much heavier 
These heavy ladders may not be easy to transport and as such are not considered portable 
---
Related: Werner vs Gorilla Ladders
---
Conclusion 
These ladders share several useful similarities which is the main reason why they are widely sought after. There are however some reasons to pick one of these ladders over the other. Such as; pricing, availability, height requirements, nature of the flooring, type of job, nature of storage space, etc. You must ensure that the features that the ladder offers are just what you need to get the job done.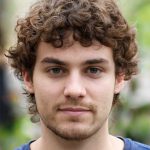 Joseph is the owner of LadderGeek. He is a home remodeling enthusiast. He has created this blog to share some of his knowledge on Ladder and accessories.