In today's market, there's a wide range of ladder types to choose from. They are often categorized in terms of sizes, designs, or types, and selecting a particular one from the many can be overwhelming. In a bid to get the right one, it is easy to get lost in the different brands and types of ladders available on the market.
How do you select the ladder that is just right for you? We have narrowed the many options down to just two brands—Little Giant and Gorilla Ladders. These two brands are some of the market's best ladder manufacturers you can find today. We would go through a breakdown of everything you need to know about these two ladder brands to choose the right one. 
Are Gorilla Ladders as Good as Little Giant Ladders?
Gorilla ladders are generally high-performing, quality ladders that are available in several categories, thereby offering users different functions in different situations. These categories include Household, Multi-functional, Heavy-duty steel, Dual platform, etc.
Little giant ladders are also high-performance ladders that offer users added stability and sturdiness that makes them stand out from ladders from other brands. They also come in different categories like Stepladders, Extension, Multi-functional, Combination, Step stools, and Safety cages. 
Now, if you were to compare Little giant ladders and Gorilla ladders, Little Giant is considered the better of the two brands.  However, if you are in the market for a brand with very lightweight ladders, then you should consider Gorilla ladders.
The Gorilla ladder brand is known for producing exceptionally lightweight aluminum ladders that are super useful around the house, industries, and construction sites. However, when you compare the strength of Gorilla ladders with Little Giant ladders, you will find out that Gorilla ladders are not quite as strong, sturdy, or reliable as Little Giant ladders.
What Is the Difference Between a Little Giant Ladder and A Gorilla Ladder?
Every brand typically includes a trademark feature to their product as a way for customers to easily identify them from the herd. However, with Little Giant ladders and Gorilla ladders, there is very little difference that exists.
Ladders from both brands are usually set with the same configurations, they include a lock tab at both the main hinge and steps. These lock tabs ensure that that part of the ladder is held in place.
One noticeable difference between both ladder brands is that there are significant differences in the structural integrity of Gorilla ladders as opposed to ladders made by Little Giant. The price difference between ladders from both brands is probably the most significant yet. 
Related: Murphy Ladder vs Little Giant Ladder
Are Little Giant Ladders Rust Proof?
When you own a Little Giant ladder, the chances you plan to use it outdoors are very high. You may also decide to use this ladder under various environmental conditions. From rainy, sunny to even snowy conditions, Little Giant ladders have proven effective in reaching tall and difficult-to-reach areas.
It makes sense that you may worry about its ability to resist rust and corrosion. Little Giant ladders typically are made from Aluminum and Fiberglass materials. This means that Little Giant ladders are resistant to rust by natural elements. 
In addition, Little Giant offers customers several warranty options for different products. For instance, models such as Epic, Velocity, Revolution, Xtra Lite Plus, and Jumbo Step come with a limited Lifetime Warranty.
While models such as King Kombo, Dark Horse 2.0, Dark Horse, King Kombo 2.0, Conquest, Sentinel, Flip-N-Lite, Safety Step, Airwing, Mightylite, Hyperlite, Cage Adjustable, Sumostance, Cage-Compact come with a 1-year warranty. The 5-year warranty is reserved for the Skyscraper model.
Can I Leave Little Giant Ladders Outside?
Now we have covered the fact that Little Giant ladders are resistant to rust, now the question of whether it is advisable to leave them outside overnight. The simple answer is no. While your Little Giant ladder may not rust or corrode, leaving this ladder outside for a long time can greatly increase the chances of wear for that ladder. 
Ladders generally require proper storage methods to maintain their structural integrity for a long time. Here are a few tips you can employ to store your Little Giant ladder to ensure it lasts a long time:
Properly store your Little Giant ladder indoors in a temperature-regulated, dry, and safe place. Ensure the area is protected against moisture or extreme temperatures. This will ensure the structural integrity of your ladder is maintained without it wearing out a lot quicker.
Ensure you store your ladder in the right position that will prevent damage. This is usually flat in a clutter-free space or made to lean against a solid wall.
It is important to ensure that the area or method in which you store your Little Giant ladder should be in such a way that it cannot be damaged by heavy objects or run over by vehicles. A great option is to use a rack designated for Little Giant ladders. Hanging the ladders on the rack will get it off the floor and out of the way of any impending damage.
When you lean the ladder on the wall or flat on the floor, ensure that it doesn't constitute a trip hazard. Constantly bumping into the ladder or tripping over the ladder may lead to dents or cracks.
If you plan on storing your Little Giant ladder at home, ensure that the area is free from kids constantly climbing or damaging the ladder when playing with it.
Are Little Giant Ladders Made in The USA?
The ladder market in the U.S. is one of the largest in the world. Little Giant dominates this market by producing a large portion of ladders on the market from a 250,000-square-foot factory, located in Springville.
This factory employs about 250 skilled and unskilled workers and is equipped with eight state-of-the-art double-sided robotic welding machines that were manufactured by Fanuc Robotics America Corp. and Lincoln Electric Co.  
Who Makes Little Giant Ladders?
Little Giant ladders are manufactured by Brennan Equipment & Manufacturing Inc. from their factory in Springfield. 
How Heavy Is the Little Giant Xtreme Ladder?
We have all seen the Little ladder infomercial on TV. Apart from being very popular, Little Giant Xtreme ladder lives very true to its model name. It is versatile, sturdy, and effective in improving work. The only disadvantage one might find with using this ladder is the bulky weight. This ladder weighs about 34.5 lbs which are heavier than other ladders in its price range. 
How Tall Is the Little Giant M22?
Not many ladders on the market can match the durability and efficiency of the Little Giant Ladder. With a maximum height of about 22 feet, this ladder offers you everything you need in a new-age ladder.
For safety at such heights, this ladder includes safety rails that are capable of extending horizontally when the ladder is placed in the standoff position. This also gives you added stability and reliability when you climb to the very top of the ladder. You also have the option of using these safety rails as a walkthrough when the ladder is used vertically. 
Additionally, these safety rails have a non-marring feature that adds to the overall durability of the ladders. If you intend to use these ladders around windows, these safety rails can then be placed horizontally so that it assumes the stand-off position. This allows the ladder to span a distance of about 7 feet.
Also, utilizing Ratchet leg levelers help you adjust the ladder effectively to accommodate uneven terrain. The accessory ports for their integrated dual-functionality will help improve the ladder's usability with most Little Giant accessories that you can get on the market.
This ladder is also certified by OSHA and ANSI, meeting and surpassing their standards. It is rated as a Type IA ladder and is capable of holding up to 300 lbs.
Advantages of Little Giant Ladders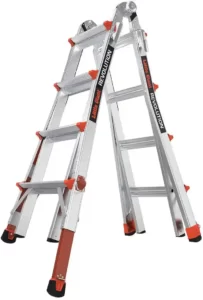 1. Durability
If you intend to use your ladder for a long time, then the durability factor must be prioritized. Luckily, Little Giant ladders are known for being durable and maintaining structural integrity for a long time. It is chiefly made from aluminum and fiberglass materials which means the ladder can survive being used in extreme working conditions. 
2. Ease of Transportation 
Little Giant ladders come equipped with a unique set of sturdy wheels that makes transportation a lot easier. The wheels will mean that you alone can transport the ladder without needing extra help to get it from one point to another. 
These wheels are even more useful indoors when you use them for jobs around the house. You simply slide it to the next area you sent to work without having to lift it off the ground.
3. Multi-Functional Ladder
Like most modern ladders on the market, Little Giant ladders are capable of being used in different positions. Its design allows for use in different modes such as; Stepladder mode, Straight or extension ladder mode, and Scaffolding mode.
Disadvantages of The Little Giant Leveler Ladder 
Some Little Giant ladders may be considered relatively heavy, weighing as much as 44 lbs.
You may also have difficulty storing these ladders in small areas.
Transportation will also be a hassle as you will require a special kind of vehicle to safely transport these ladders. 
Related: Murphy Ladder vs Gorilla Ladder
Features of Little Giant Ladders 
It also includes features such as rapid and hinge locks that will ensure your ladder is properly secured.
Type 1A ladder, capable of supporting up to 300 lbs. of load.
With your ladder in Stepladder mode, you can make adjustments like 5′ to 9′.
You can work on this ladder in various modes thanks to its multi-functional design.
You can easily move and transport the ladder as a result of its quality Tip & Glide wheels.
When you properly utilize your Little Giant Ratchet Levelers, you will be able to successfully balance your ladder on uneven terrain.
With your ladder in the Straight ladder mode, you can make adjustments like 11′ to 22′.
Advantages of Gorilla Ladders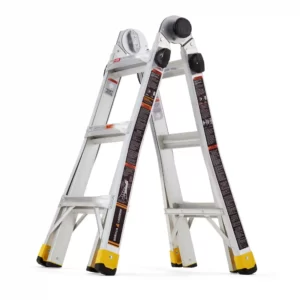 1. Versatility
Gorilla ladders are generally referred to as versatile and useful ladders for all types of tasks and jobs. This is because they offer a wide range of unique features that come in handy when tackling different jobs.
2. Unique Design
Gorilla ladders are also equipped with unique designs that promote the ladder's stability and overall safety.
3. Multi-Functional Ladders 
This means that you can use most Gorilla ladders in various modes. This also ascertains the claim of the ladder's versatility. 
4. Protection Against Damage
The nature of most Gorilla ladders is responsible for the protection against cracks and dents. Thereby also protecting users from accidents.
5. Durability
Gorilla ladders are regarded as super durable ladders that remain useful after a very long time.
6. Sturdy Design
You can access difficult or higher areas as a result of the sturdiness of Gorilla ladders. Additionally, the rungs of Gorilla ladders are sturdy, having treads that aid in you having a firm grip when you climb. 
Disadvantages of Gorilla Ladders 
Gorilla ladders may require extra support from friends when it comes to transportation as a result of their size.
Also, storage could be a huge issue with Gorilla ladders.
Features of Gorilla Ladders
Multi-functional features of Gorilla ladders make them useful in various situations 
IAA and ANSI rated.
Gorilla ladders can also be used effectively as a base when you are scaffolding 
Capable of bearing loads up to 375 lbs.
Seeing as the chief material of most Gorilla ladders is aluminum, the ladders also include a lightweight feature.
---
Related: Werner vs Gorilla Ladders
---
Conclusion
Both Gorilla ladders and Little Giant ladders excel amazingly based on their merit. The kind of job you intend to ladder for may end up being the main determinant as to which brand to purchase. It is important you follow ladder safety regulations, you could also buy any ladder accessory that will guarantee your safety while you use the ladder. It never hurts to be extra careful.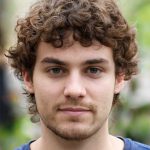 Joseph is the owner of LadderGeek. He is a home remodeling enthusiast. He has created this blog to share some of his knowledge on Ladder and accessories.