Sitting up or rolling to the side on a bed requires some level of upper body strength and agility. In the absence of this- as is the case of the physically challenged, bed ladders are employed to improve the quality of life.
These ladders can help pregnant women, those recovering from injuries, and physically challenged people become more independent. They can sit up in bed all on their own with the help of bed ladders. We are going to look at the intricacies of bed ladders for the physically challenged- the buying guide you should consider, and a few notable products.
Buying Guide – How To Choose the Best Bed Ladders for Disabled
The nature of the disability and its severity is the first factor to consider when shopping for a bed ladder for the physically challenged. Specific types of bed ladders are capable of catering to specific types of disabilities.
However, there are some universal factors that you must consider when dealing with bed ladders for the physically challenged. Prioritizing these factors will help you pick out the best fit for any specific situation. 
Stability and Strength
Knowing that ladders are meant to offer assistance, using a bed ladder that does not guarantee safety defeats the purpose. It is important that despite whatever disability the person may have, utilizing this bed ladder will help them remain safe and secure. 
Usage 
Getting the perfect bed ladder for any disability will depend on the ability of the user to use it properly and safely. Bed ladder usage should be simple enough to be handled by people without adequate use of all limbs. 
Versatility 
An efficient bed ladder is always a great thing. When that ladder becomes even more useful in more than one situation, you get even more value for your money. A bed ladder that is capable of being used for different purposes solves more than one problem for a handicapped person. 
Length
Ladders generally come in different lengths. With disabled users, a very long bed ladder that is not a great fit for the bed will cause more harm than good.
Apart from being difficult to use, these overly long bed ladders can also cause accidents as it will be almost impossible to use them accurately. And so, considering the length of any bed ladder is important when searching for the perfect bed ladder to help with any disability. 
Easy Installation Process
A great bed ladder should be easy to install by just anyone. It should also be suitable to be attached to just any bed frame without the use of any complex tool. The ladder should also be easy to remove whenever needed with any assistance from an external party. 
Comfortable Non-Slip Handles
Covered with a soft EVA foam, the three-bed hoist handles provide a comfortable non-slip grip. Each nonslip handle is five inches in length to provide an easy and secure grip. The three handles are spaced 10.5" apart for optimal incremental assistance while rising.
Review of The Top 3 Best Bed Ladders for Disabled
Leetye Mei Bed Ladder with Handles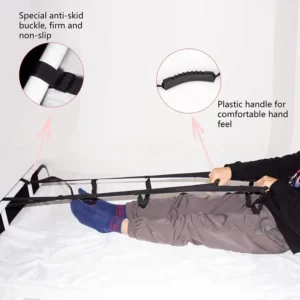 Best known for its supportive design
Buy Now From Amazon
Review
Function
This bed ladder functions efficiently in providing support and assistance to those with disabilities and injuries. This bed ladder is suitable for injuries affecting the spine, lower back, people with general weakness, pregnant women, etc. 
Easy to Use
This bed ladder can be bought, installed, and used by physically challenged users without any hassle whatsoever. It is also suitable for most types of beds on the market including beds as wide as 2m.
After a seamless installation process in which the ladder is attached to either the side of the bed, the middle, or by the bed's edge. However, if possible, it is always advisable to ensure that the ladder is attached to the bed frame easily before it is used.
Adjustable Ladder Length 
Different bed types and sizes require different ladder lengths. With this bed ladder,  you do not need to buy several ladders in search of the perfect length. You can get it right the first time.
With its adjustable strap, this ladder is the perfect fit for all bed types. To adjust the strap, all you need is to lie straight down and pull the handle up to waist level. Then tighten the strap on the ladder to lock it in place. 
Top Handle Design
Physically challenged people without full control of their lower limbs will require even more stability when pulling into a sitting position on the bed. Luckily the manufacturers thought of this beforehand and included a quality handle that will provide extra stability making the ladder much easier to use.
Pros
Can support up to 300 lbs of weight 
Includes a unique handle design for added support
Can be installed without any tool
Multi-purpose ladder
Suitable for a variety of disabilities 
Cons
Maybe considered too pricey
---
Read More: Bed Ladders for Elderly
---
FunCee Bed Ladder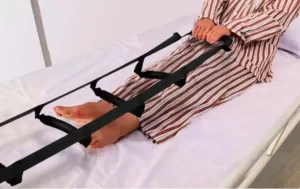 Best known for its versatility
Buy Now From Amazon
Review
Stability and Safety
It is easy to see why this bed ladder from Funcee will do a great job in helping the physically challenged sit up or roll over independently. It includes two Tri-Glide adjustable buckles with a non-slip design at one end. By utilizing the buckles in fastening the strap to the bed frame, this bed ladder will be more stable for handicapped users and will help them maintain balance while pulling up. 
Easy to Install
This ladder can be easily installed without any hassles. It is capable of being used with most bed frames. Additionally, the installation can be done independently by the user without any special skill, extra support, or complex tool. 
Versatility
If your bed does not include bed frames, or the bed frames available are not reliable, you can utilize anchors that are attached to the end of the bed and then attach the ladder. Most ladders are not suitable to be used with anchors and so will be useless in these conditions. 
Pros
Larger and comfortable handrails for added support
Lightweight 
Secure and stable
Equipped with adjustable buckles 
Can hold weight up to 300 lbs
Cons
Not enough time on the warranty 
---
Vive Bed Ladder Assist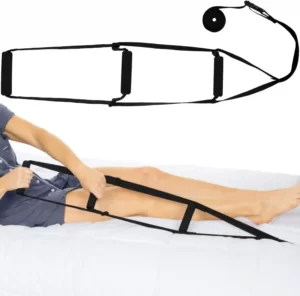 Best known for its great pricing
Buy Now From Amazon
Review
Easy Usage
While it may be difficult for physically challenged people to possess great use of their upper bodies, with a little assistance from a bed ladder, rising to a seated position can be possible. This bed ladder is easy to use and does not require any special fitting before it can be used as support. 
Durability 
This bed ladder is constructed with the best material available on the market. This gives it its reputable strength. It can support up to 300 pounds of weight. It is now a lot easier for those recovering from career-ending injuries to sit up independently thanks to this sturdy bed ladder.
Tool-Free Installation Process 
Not many bed ladders can be installed "tool-less". And so, this ladder stands out for this particular reason. It can be easily installed on most before frames by using a secure and safe composite buckle. If it ever needs to be moved, it can be easily detached and then reattached when needed.  
Adjustable Ladder Length
The strap of this bed ladder is easily adjustable depending on the size of the user or the bed.  Users can easily set the length to the desired amount after installing by moving the strap to ensure the handle of the ladder reaches the waist of the user when they lie down.
Soft Non-Slip Handles
The handles of this bed ladder are covered using soft foam. These handles on the ladder will provide support and anchor during the process of pulling up. To ensure that the handles don't slip out of your hand during the process, a non-slip design is utilized for the handles. The space between each of these three handles measures about 10.5" apart for the best result.
Pros
Capable of supporting a load up to 300 lbs
Easy to install without any tools
Easily adjustable ladder length
Durable and efficient
Cons
Is not suitable for some types of disabilities 
---
Conclusion 
While some people believe that frail people should abstain from using ladders altogether, medical professionals have posited that it is relatively safe for physically challenged people to utilize the right type of bed ladders as long as it isn't used for extended periods and it doesn't interfere with recovery or quality of life.
The level of independence that bed ladders can offer disabled people is enough to get it properly considered. If after a period of using any of these bed ladders they develop any pain as a result, then it is advisable they seek external help as constant struggle to utilize the ladder may lead to muscle strain and injuries.
While each product listed here has been proven to be effective, it is still necessary to pay close attention to the specifications of each bed ladder before paying the big bucks for it.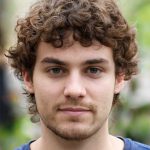 Joseph is the owner of LadderGeek. He is a home remodeling enthusiast. He has created this blog to share some of his knowledge on Ladder and accessories.