An A-frame ladder is one of the most sorted after ladders in the industry. It is a very stable and reliable ladder that is used for a wide range of activities including household tasks and commercial purposes.
A ladder can only be termed an A-frame ladder when it has two sides of ladders angled and conjoined at the top. When viewed from the side, it has to have an A shape.
A-frame ladders usually have another type of supporting structure positioned between both sides of the ladders to add more stability and it also acts as a conjoiner for both sides of the ladder.
Due to its popular demand, users often wonder what the best type of A-frame ladder they should purchase. No one wants to waste money on a ladder they would hate at the end of the day.
In this article, I will go over some of the best tallest A-frame ladders I have ever used and give a detailed review on them but first, let's talk about the types of A-frame ladders.
Classes of A-Frame Ladders       
In my books, I would classify A-frame ladders into two types.
The step stools are relatively very common and they are short and used to reach heights that are a few feet higher than what we can reach normally. They are usually used around the house, like in kitchens.
Then we have the tall A-frame ladders, these are the ones that can reach high heights. Some of them are as tall as 21 feet and can be used for commercial and industrial purposes.
This just buttresses how diverse and varied their functionality is. In any case, the focus of this article is on the best tall A-frame ladders, so more of our focus will be on the taller types of this ladder.     
Tallest A-Frame Ladder Reviews
Let's look into some ladders available today for this purpose. By the end of my detailed review, you will be able to decide which ladder you should purchase.
1. The Louisville FS1408hd Fiberglass Ladder
Best known for its SHOX system design and Type IAA feature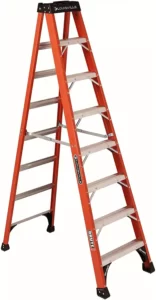 This ladder is ANSI, OSHA, and CSA certified as most Louisville ladders are, their ladders often exceed the standards set by these bodies.
It is a Type IAA ladder with a weight carrying capacity of 375 pounds, if you know ladders well then you know this is the most a ladder – any ladder – can carry. The ladder is designed with a SHOX system, this is a Louisville exclusive system that offers added promise of durability to the ladder.
The SHOX system works to protect the ladder against abuse and resist any form of mismanagement.
The ladder is one of the strongest I've ever tried and reviewed, it is made with reliable and strong fiberglass materials, aluminum angle feet to protect the ladder from slipping while being used, and the rungs are lined with thick rubber threads protecting users against slips and falls.
The ladder is also designed to have a ProTop equipped with tool space to keep your space and magnet. This ladder is definitely among the best as far as tall A-frame ladders are concerned. 
Pros
Type IAA ladder with 375 pounds weight carrying capacity
It has a maximum height of 8 feet
It has the SHOX system for extra durability
Strong and sturdy
The ladder is designed to have slip-resistant rungs and ladder feet
Made with superior, non-conductive fiberglass materials
It has a ProTop to keep working tools
It has a folding feature
OSHA, CSA, and ANSI approved
Cons
The ladder is on the expensive side at $300 – $350
Buy Now From Amazon
---
2. HOMCOM Aluminum Telescopic Extension Ladder
Best known for its telescopic, foldable feature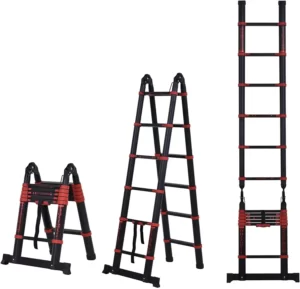 This ladder is a 12 feet multifunctional ladder, what this means is that it can function as an extension ladder, as well as an A-frame ladder.
The HOMCOM ladder has a weight carrying capacity of 330 pounds, the manufacturers were very safety conscious while designing and producing this ladder because they designed the feet of the ladder with a non-slip material to protect the ladder and user from falling while being used.
The ladder was also designed to have wide steps for comfortable and safe climbing. They are EN131 safety code compliant.
Although the full height of this ladder when fully extended in form of an extension ladder is 12 feet, when it is fashioned into an A-frame ladder or a step ladder it becomes half of that, naturally.
However, it is still ranked amongst some of the best tall ladders in the market. This product is quite popularly used in a varied number of places, both indoors and outdoors.
It is made with high-quality aluminum materials that are not heavy, making the ladder easy enough to carry around and store away when required.   
Pros
It has an ergonomic foldable design feature
Made with premium telescopic aluminum materials
Durable ladder
Safety procedures were considered; EN131 safety code
Multifunctional ladder; extension ladder, twin step ladder, A-frame ladder
Portable and easy to use, carry around, and store away
Minimal, classy design   
Cons
It may not be easy to maneuver into different positions
The segments lock may be tricky to latch on 
The ladder has some plastic parts and could make the ladder flex when in use  
Buy Now From Amazon
---
3. ARCHOM Telescopic Aluminum Ladder
Best known for its aluminum-alloy highly resistant material and foldable feature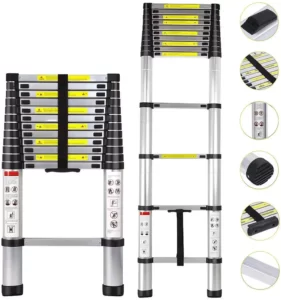 The ARCHOM telescopic ladder is a 12.5 feet extension ladder that has a foldable feature. The ladder is telescopic, and like every telescopic ladder, it is multi-functional.
That is, it can be fashioned into different types of ladders, including the A-frame ladder. The A-frame ladder has a load capacity of 330 pounds, this capacity is inclusive of tools and gears the user may be carrying and wearing.
The ladder has a protective foot cover to prevent the ladder from slipping while being used. The foot protection is also resistant to wear and damage, increasing the durability of the ladder. I guess ARCHOM takes the protection of their ladders very seriously.
It is a retractable ladder that can be adjusted by increasing the rungs of the ladder by 1 foot each. The ARCHOM ladder is EN131 ladder safety code compliant, the ladders are safety compliant and environmentally friendly.
The ladder is made with strong and durable telescoping aluminum alloy material. It can be used in and out of the house, and it can be used for heavy construction work. Its folding telescoping feature makes it easy to move around and store away properly, it even comes with a carry-on handle and a heavy-duty closure belt, making it easier to move around.
The only bad experience I had with this ladder is that it felt wobbly and unsteady when I climbed to the middle of the ladder. Even though it states that it can carry 330 pounds, I'd advise you to load it with a maximum weight of 200 pounds.
You also have to be very VERY careful when collapsing the ladder, they can cause an accident with your fingers if you are not careful. The manufacturers even made it a point to mention it repeatedly.
Pros
It is a strong and durable ladder
The load-carrying capacity of 330 pounds
It has an ergonomic folding feature
It is easy to move around in your car
It serves as a multi-functional ladder
It is compliant with the EN131 safety code
The ladders are environmentally friendly
Affordable; between $150 – $180
It comes with a carry-on handle and a heavy-duty belt
Cons
You may need to keep the weight on the ladder to a maximum of 200 pounds
Collapsing the ladder can lead to finger accidents if you're not careful
Buy Now From Amazon
---
4. The Jiahe Aluminum Telescopic Ladder
Best known for its great warranty feature and weight carrying capacity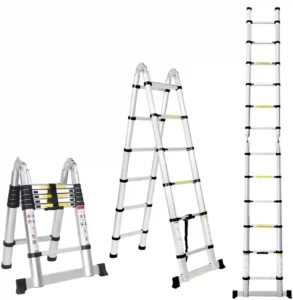 The Jiahe aluminum ladder is a telescopic ladder with amazing foldable features that has a weight carrying capacity of 330 pounds. The ladder is a 25-foot ladder when extended to its fullest height as an extension ladder.
When it's fashioned into an A-frame ladder, its height is 12.5 feet, it can also be compacted to a very small and compact size that is easy to store away when the rungs of the ladder are collapsed. The ladder is designed with an inward sliding latch that is used to adjust each of the ladder rungs.
The slide latches help users to collapse and extend the ladder to its fullest height as easily as possible. This ladder is light and very easy to move around, it is often used in the house for cleaning, painting, decorating, and other tasks around the house.
It is made with good quality aluminum materials and the ladder is strong enough to be very durable.
However, you have to use it for the specific reasons its manufacturers stipulate it can accommodate. The warranty feature of the telescopic ladder is for 12 months and has a 30 days return policy. The ladder itself weighs about 25 pounds and it could get a little bit heavy but it is easy to lift and carry about.
Being a telescopic ladder, it can also be collapsed to become a compact ladder with the much-needed advantage of easy storage. This A-frame ladder is also great for two simultaneous workers.
Although this ladder is advertised as a multifunctional ladder, I prefer it simply as an A-frame ladder. The full-extension length of the ladder can be quite scary for first-time users who may find it wobbly. 
Pros
A strong and sturdy ladder
Durable 
Ladder feet has an anti-slip protective design
Inward slide latch
Great warranty feature
330 weight carrying capacity
Compact and easy to move
Amazing telescopic feature
Premium aluminum materials
Great for workers using the ladder simultaneously 
Cons
New users may find it wobbly as an extension ladder
The ladder is a little bit bulky and heavy at 25 pounds
Buy Now From Amazon
---
5. The Louisville Ladder FS1412hd STEP Ladder
Best known for its superior quality and strength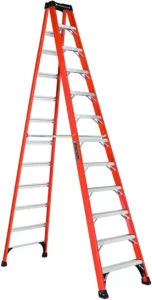 This Louisville brand ladder has a 375-pound weight carrying capacity and it has an amazing pro top that comes in handy for workers who need to keep their tools while they work using the ladder.
This ladder was specially designed and produced to be strong and superbly safe for users. The ladder is designed with a full metal boot and its feet are angled and made with aluminum and threaded with quality rubber to protect the ladder from slipping.
The ladder is also designed to have braces inside its rails made with fiberglass. These braces are spreader braces and they protect the ladder from mismanagement and rough handling, this feature ensures the ladder is durable and long-lasting for users.
The ladder is designed with a SHOX system for added protection and durability. It is made with premium non-conductive fiberglass materials, this is a feature that construction and electrical workers love because it ensures that they are protected from electrocution when they have to work with electrical tools or materials.
As you would expect any ladder bold enough to take on a 375-pound weight, this Louisville ladder is OSHA and ANSI-approved, even beyond their standards. The only issue I probably had with this ladder is the pricing.
The price is right up there amongst the most expensive ladders you'd find on this list. If you really want to get this ladder and let's be honest, why wouldn't you? It is better to get a premium ladder that will serve you for a longer time than to buy a cheaper one that will give way under your weight.
You will have to save for a while if $550 – $600 is way above your budget. 
Pros
The ladder is OSHA and ANSI approved
Super strong and sturdy 
Protective spreader braces in fiberglass rails
Pro-Top feature with hardware tray, magnetic tray, tool slots, etc.
Designed with a SHOX system for added protection and durability
Very durable
Ladder footings threaded with thick rubber treads for anti-slip protection
Made with premium fiberglass materials 
A weight carrying capacity of 375 pounds 
Lightweight ladder  
Cons
Between $550 – $600, it may be too expensive for some users 
Buy Now From Amazon
---
Best Tallest A-Frame Ladder/Editor's Choice
First off, I'd like to point out here that all the ladders reviewed here are all amazing in their capacity, but I have a favorite.
My favorite this time is the Louisville FS1412hd step ladder, this ladder is really good. It is easy to use and it functions great in several tasks and working environments.
It has a SHOX system that is limited only to Louisville ladders, the SHOX system provides extra durability and protection to the ladder. It has a weight carrying capacity of 375 pounds and it is equipped with a pro-top that houses the user's tools, the pro-top comes with a magnetic tray, a hardware tray, a drill, a curved front, and tool slots.
It also has spreader braces installed inside the fiberglass rails. The non-conductive fiberglass materials it is made with are also very advantageous and protecting of certain jobs and environments.
The ladder is both OSHA and ANSI approved and even exceeds their set standard for what a heavy-duty ladder should be like. It is lightweight and easy to move around.
I really liked it when I worked with it and I hope you like it too.    
Related: Double Cleat Ladder
Buying Guide for The Tallest A-Frame Ladder
Before you decide on the A-frame ladder you would like to purchase, there are certain factors you have to consider and think about. These factors would help you decide on the right type of ladder for your needs. 
Budget
In this list, I highlighted some very inexpensive ladders and some expensive ones as well. However, your budget will ultimately determine the type of ladder you buy, if you need to get one that is out of your reach budget-wise, then you will need to save up a bit more.
Functionality
The functionality of the ladder is also very important when deciding the ladder you want to buy. If you need a ladder for some construction work, then you'd need to get a ladder that can accommodate that kind of work. It would be pretty unwise for you to purchase a ladder that can only be used in the kitchen or to clean the gutters. 
Ladder-type
The ladder-type is also another important decision point to think about as there are different types of ladders in the market. We have the A-frame ladders talked about in this article, there are extension ladders, step ladders, platform ladders, etc. 
Size
Size is a big deciding factor when purchasing a ladder, in ladder language, size is the same as height in foot or meters. The height of the distance you intend to reach using a ladder will influence the size of the ladder you opt to buy. 
Strength and durability
Strength, sturdiness, and durability are very important factors to consider. The sturdiness of a ladder determines if the ladder would wobble under your weight, break, or even fall. The strength of a ladder is also very important and how long will the ladder serve your needs. No one would like to buy a new ladder every 6 months.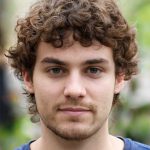 Joseph is the owner of LadderGeek. He is a home remodeling enthusiast. He has created this blog to share some of his knowledge on Ladder and accessories.