Working with ladders at mind-altering heights already comes with its fair share of danger and adrenaline rush. There's no need to increase the risk or danger by using the wrong ladder around electrical wires.
The danger of electrocution is one every Electrician is aware of and actively tries to avoid by following safe work procedures, and by using the right tools and equipment. 
When it comes to the best ladder for electricians, we first have to rule out aluminum and metal ladders as they are great conductors of electricity and could constitute a health hazard. Instead, when we talk about the best type of ladder to be used around electrical wires, we refer to fiberglass and wooden ladders which are great for several reasons.
Apart from offering insulation against electrocution, fiberglass ladders are sturdy, durable, and safe. Before we look at the product review, we first have to analyze a few things to watch out for before buying any insulated ladders. 
Buying Guide – How To Choose the Best Ladder for Electrical Work
There are several factors that you need to consider before putting money down for fiberglass or wooden ladder. You must ensure that you look out for these features before entering any long-term decision. 
Size 
Before buying any ladder properly measure to know the suitable height you need in a ladder and ensure the ladder you intend to buy perfectly fits that criteria. If you are unsure about the height of the ladder to get, it is always advised that you buy a taller ladder rather than a shorter one.
This is large because with shorter ladders, the tendency for you to overreach is high, and you are in danger of falling off. Additionally, you need to consider the intended storage space for that ladder. Ensure you prepare for transport if the need arises, and storage.
Note; the platform height is also the same as the height of the highest step from the ground. While the working height is how high a person of average size will be able to reach from the highest platform. You should pay attention to the step and platform size as they increase comfort and stability. 
Construction 
As we have stated, the best bet electricians have to be able to safely work around electricity is to use wooden and fiberglass ladders. They do not conduct electrical currents like metal and aluminum ladders, instead, they keep you insulated and safe. Before you make your choice here are a few details regarding the different types of ladder materials.
Fiberglass ladders provide strength, stability, and security to users while retaining their lightweight properties which makes them significantly easier to use. Also, these fiberglass ladders do not rust or corrode and are dent-resistant. They are ideal to be used outdoors as they can offer the most durability and longevity. 
As an insulated ladder option, fiberglass ladders offer the utmost protection against electrocution. Even if your fiberglass ladder is fitted with metal or aluminum elements to add to its strength and durability, the fiberglass serves as a short circuit to ensure electric current still does not flow through the ladder. 
Wood is a poor conductor of electricity which is what makes it a great option for electricians. The main disadvantage of working with wood is that if wet, your wooden ladder may conduct some electricity.
Weight
As an electrician who will spend some time in transit with your ladder from one location to another, you must be concerned about the weight of the ladder you intend to purchase. You must ensure that the ladder's weight is manageable and won't constitute that much of a nuisance when transporting.
Heavier ladders usually include wheels for easy transport, but still, require an extra pair of hands to lift into vehicles or onto racks. Additionally, you should never exceed the registered maximum load capacity every ladder is given.
This will not only compromise the safety of the ladder but also compromise the safety of the user. Also consider the weight of the paint buckets, power tools, and materials that you will take up the ladder with you. 
Safety
Some of the fiberglass ladders used around electric wires feature leveling feet to maintain a firm, sturdy grip on uneven, rocky terrain. The steps or rungs of some ladders are also equipped with anti-slip technology which ensures that you do not slip when climbing. You should also adhere to the manufacturer's safety guidelines for a safe experience using the ladder.
Review of The Best Ladder for Electricians
Louisville 6′ Fiberglass Step Ladder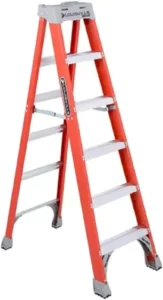 Best in Insulation protection
Buy Now From Amazon
Review
Construction 
The non-conductive step ladder is made from heavy-duty fiberglass which makes it great for climbing and yet portable enough to be suitable for home use. This ladder features a smooth, classy and elegant finish that gives it a great and inviting look. This ladder is capable of supporting weights of up to 300 lbs without any hassle. 
Safety
Each of the steps of this ladder is wide and provides additional grip for your feet. The ladder also includes heavy back braces at the bottom that provides additional strength to the bottom of the ladder. When you transport this ladder, the inside spreader braces help keep the ladder safe and secure.
Adapted to Your Needs
One of the most underrated features of this ladder is its adaptability to your work needs. It possesses a tray holder at the top that can hold your gadgets and tools while you work. This not only saves time but also energy. Handymen can also get a kick out of this ladder as the top includes a molded tool slot for different types of tools. 
This lightweight and sturdy step ladder will not only keep you from electrocution, but the plastic feet and rubber treads will ensure your ladder is kept firmly in position.
Pros
Heavy-duty fiberglass construction
Capable of supporting a load of up to 300 lbs
Insulted rails that protect up to 30000v
For both commercial and domestic use
Lightweight and easy to store 
Anti-slip treads
Cons
The top cap only bears 25kg
Buy Now From Amazon
---
Werner 6008 Type I Fiberglass Step Ladder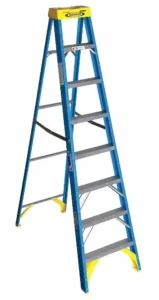 Best in Safety
Buy Now From Amazon
Review
Safe
Not many ladder manufacturers give special attention to advanced safety measures when it comes to ladders for electricians. Luckily, Werner Co. does. With slip-resistant traction tread steps, you are guaranteed you won't fall when you climb. Additionally, the top step, horizontal side, and second step are equipped with braces that guarantee strength and stability. 
Weight
This ladder weighs 25.4 lbs and can support a weight of up to 250 lbs. This allows you to store your power tools, materials, and equipment on the tray at the top of the ladder while you work.
Multifunctional Use
This ladder includes a Lock-In system that safely attaches your tools to your ladder which improves your productivity while you work.
Pros
Safe to be used around electricity. 
Durable and long-lasting
Weather resistant 
Made from heavy-duty fiberglass material
Holds power tools in place while working
Cons
The ladder is often bigger than most transport vehicles 
Buy Now From Amazon
---
Gblue Solid Wood Folding Ladder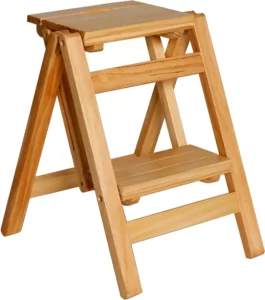 Best in Convenience
Buy Now From Amazon
Review
Construction
The unique method of construction of this ladder makes it suitable for use around electrical wires in the home. It is super portable and easy to transport and store. The space between each step is wide enough to enhance comfort while climbing. Also, the method of assembly of the individual parts guarantees their stability and reliability. 
Standard Materials
The ladder is made from high-quality pine wood that is not only aesthetically pleasing but also able to stand the test of time. The texture of the ladder is smooth and clear and will remain that way for a long time. 
Multifunctional Use
The step ladder can also be used in several ways including placing it in front of the dining table or bar. You can also utilize this ladder in fixing wires on the roof or changing a light move.
Convenient Use 
While this step ladder can be used in several ways, it is convenient and easy to use when used for electrical work. You can easily transport, use, or move the ladder from one place to another making it the best option if you are planning to carry out localized electrical work around the house.
Pros
Can support a maximum weight of 150kg 
Multifunctional use
Poor conductor 
Easy to move and store
Cons
Too low for some high electrical wires 
Buy Now From Amazon
---
Gardening Courtyard Long Fiberglass Telescopic ladders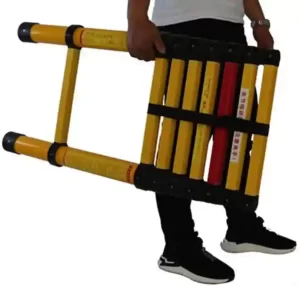 Best in Multipurpose use
Buy Now From Amazon
Review
Convenient and Portable 
This lightweight and compact ladder redefines what a portable ladder is all about. With its size and ease of transport, you don't have to worry about being in an uncomfortable situation with this ladder.
Multipurpose Use
This ladder is great for the construction and maintenance of power lines, maintenance of electrical lines in and around the home, etc.
Quality Construction and Material
Throughout your utilizing this ladder, you are never going to have to worry about individual parts falling apart or being damaged. This ladder is made from quality insulation fiberglass which makes it corrosion-resistant, durable, and strong. 
Safe 
In addition to being durable and strong, this ladder is also safe. The Extend and Locking Mechanism this ladder possesses is equipped with Thumb Buttons. The design is so that you do not hurt your fingers in an attempt to either close or open the ladder.
Pros
Multipurpose ladder; suitable for home, office, and factory use
Easy to operate
Lightweight and efficient
Can support a maximum load capacity of 330 lbs
Safe and secure
Cons
May be too heavy to lift alone
Very expensive 
Buy Now From Amazon
---
8 Tread Fibreglass Ladder for Electricians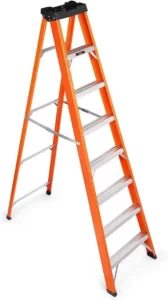 Best in Height
Buy Now From Amazon
Review
Insulated Protection 
While all the ladders listed above all are capable of protecting against electrocution, this fiberglass ladder can insulate up to 30,000V, offering total protection against major shocks. 
Weight
This durable fiberglass ladder weighs approximately 30.9 lbs while being able to support up to 330 lbs of load. That means this ladder can support more power tools on its platform without cracking.
Comfortability 
The distance between each rung is 30cm which is comfortable enough for climbing. You won't feel like your feet are trapped between each rung. Also, the wide step (75mm) promotes stability and comfort. Your feet will be able to rest comfortably on each ladder without feeling like you're not on solid ground. 
Safety
If you are worried about the ladder slipping when you are high above the ground, you can find solace in the non-slip feature of this ladder's feet. However, you must ensure the feet are perfectly planted into the ground before you climb. 
Pros
The ladder includes a 2-year warranty 
Protective anti-slip technology for ladder feet
Comfortable ladder steps 
Capable of supporting a heavy load
Insulation against the current of up to 30000V
Cons
Bulky and difficult to transport 
Buy Now From Amazon
---
Conclusion 
When you take a look at the ladders we have covered in this review, one thing is obvious; they all vary in design and size. This variety and design are necessary to ensure you find a ladder that best suits all your needs.
The common factor between all these ladders however remains; they will provide you with the best protection against electrocution. To be able to safely use these ladders, you must adhere to all the ladder safety guidelines set by OSHA at every given time.
You must be wary of exposed electrical wires when you climb and ensure that you only use the right tools and equipment for the right task. 
Although fiberglass is a poor insulator, it will transmit electric shocks when in contact with the most powerful source.
The best way to prevent an accident like this is to ensure there's nowhere for the current to go. You do this by ensuring the ladder is clean and dry before you begin climbing. Ensure you maintain 3 points of contact with your ladder at all times to guarantee your stability.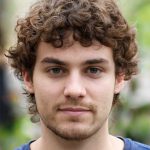 Joseph is the owner of LadderGeek. He is a home remodeling enthusiast. He has created this blog to share some of his knowledge on Ladder and accessories.