Crossbow hunters no longer feel comfortable hunting from trees that they have to hang on to for stability. Many have now switched to the sturdier and safer option in ladder stands. Ladder stands have become the more popular option as a result of the ease, comfort, and space it affords hunters.
Hunters now feel safer and more secure strapped in their ladder stand rather than hanging onto a tree branch which often results in accidents.
More good news regarding ladder stands is that many ladder stands that are highly rated that we have included in this review will not cost you an arm and a leg. Apart from being moderately priced, these pieces of equipment are built to stand the test of time and offer great value in the process.
Buying Guide – How To Choose the Best Ladder Stand for Crossbow Hunting
All ladder stands reviewed in this post are of top quality and would be efficient in crossbow hunting. However, some ladder stands are better suited for certain scenarios than others. What makes some ladder stands better suited to serve your needs are their specifications and compatibility with your other equipment and gear.
Let's now analyze a few factors that will guide you in selecting the product that is most compatible with you for that specific activity.
Sturdy Construction 
Apart from being safer, sturdy ladder stands are more effective in crossbow hunting. Using noisy equipment while hunting will scare off any game you intend to hunt, causing a lot more harm than good.
To remedy this, select a ladder stand that is stable, compact, and without any squeaky parts. Some ladder stands have tightly bolted frames that make them noiseless and efficient for hunting. 
Easy to Climb 
Ladder stands can be dangerous, especially during the process of climbing. This is why the right ladder stand for your crossbow hunting activities should be easy enough to climb safely without endangering yourself in any way.
There should be enough room for you to be able to place both feet on the ladder stand and balance comfortably. You shouldn't go for a ladder stand with minimal legroom as it may cause you to become unstable. 
Ease of Assemble
The assembly of your ladder stand should only require simple and basic tools. This is important because you may not have access to complex or advanced tools when you go hunting.
You also shouldn't need an extra pair of hands to be able to put your ladder stand together as you may be all alone when you go for your hunting expedition. The assembly also should be done by simply following straightforward steps, and should not require any special skills or knowledge.
Locking Mechanism 
Safety is absolutely important when you are performing any activity a couple of feet into the air. A great ladder stand will offer you maximum protection by locking to the tree before you climb. It must include features that securely fasten the stand to the tree both at the top and bottom to ensure enough protection.
Advanced Features 
While you need to stick to a ladder stand with a simple and minimalistic design to be efficient, you must not compromise on important advanced features when dealing with ladder stands. These features can range anywhere from cup holders to foldable seats that offer you more room when you decide to stand.
Review of the Top 5 Best Ladder Stands for Crossbow Hunting
BIG GAME Treestands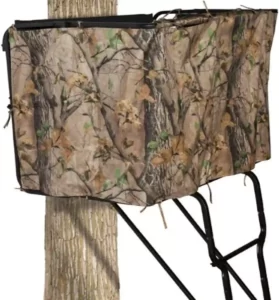 Best in Quality Material
Buy Now From Amazon
Review
Sturdiness
Its sturdy frame is crossbow user-friendly and provides you with a shooting rest that perfectly accommodates a crossbow. You also do not have to worry about the stability of this ladder stand as it utilizes a distinct metal support system for stability and security. 
Comfortability 
This is one of the most significant aspects of The Big Game ladder stand that many consider its greatest advantage over other ladder stands in its price range. It includes a comfortable seat measuring 100 inches long, and 32 inches high. The platform also includes sufficient legroom to accommodate larger hunters which have been a problem with many other ladder stands for some time now. 
Easy to Assemble
You don't need complex processes or tools to install this ladder stand. It comes with fastener ties that help hold the ladder stand in place. Its assembly instructions are straightforward and can be done without any prior knowledge or skill. 
Construction Material 
This ladder stand is constructed using reinforced metal and so is durable enough to last a very long time. You also do not have to worry about the effect of the weather on your ladder stand as it is weather and heat-resistant. 
Pros
Includes a full-body harness for extra safety
Equipped with extra concealment to further hide you from game
Easy to grip 
Quick assembly time
Strong and durable
Includes fastener ties
Standard camo design
Cons
Concealment may obstruct the hunter's view
Buy Now From Amazon
---
Hawk 2-Man Ladder Tree Stand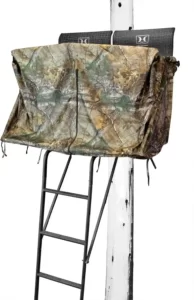 Best in Ease of use
Buy Now From Amazon
Review
Easy to Use
Many erroneously believe the more complex a ladder stand is, the more efficient and useful it is going to be. Apart from being too confusing and difficult to understand, complex equipment is also dangerous to use. This is why the 2-man ladder stand from Hawk stands out from the rest in its price range. From its installation to usage, you are guaranteed to not encounter any challenges even if you're a beginner to ladder stands. Climbing onto this ladder stand is super easy. Getting off the stand is equally hassle-free.
Standard Construction Materials
It is often a herculean task to find the right ladder stand that can withstand the worst conditions and still maintain its structural and aesthetic quality. This ladder stands perfectly fits into that category. Made from weatherproof materials, this ladder stands in the harshest of weather conditions if it's left up on the trees. 
Safety and Security 
Ladder stands must be firmly secured to prevent terrible fall accidents that could prove fatal. The stand is formally fastened to the tree with racks and bolts that not only ensure you don't fall but also that you don't wobble when you're high above the ground.
Pros
Includes up to 1-year warranty for any damage after purchase
Equipped with extra concealment gear
Lightweight construction 
Durable and rip-resistant 
Capable of supporting up to 300 lbs of weight
Cons
You have to purchase the ladder separately
Buy Now From Amazon
---
Muddy Stronghold Ladder Stand for Big Game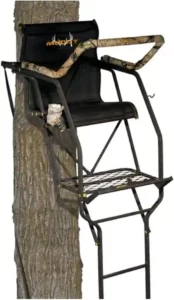 Best in price
Buy Now From Amazon
Review
Durability 
You can now ambush your game from a comfortable height with this rock-solid ladder stand from Muddy. It is coated with RST and DXT steel which ensures this stand will not wear over time and will maintain its structural integrity over the years.
Comfortability 
This ladder stand includes a Zero gravity 24″W Flex-Tek seat that helps in contouring your legs for even more comfort while crossbow hunting. The armrests on this stand are also padded for comfort, the shooting rail can be adjusted to suit your length preference, and the D-Force metal can also be expanded depending on just how much room you need. And the platform is equipped with a flip-back footrest.
Solid Structure
You can't ever go wrong buying a strong and reliable ladder stand for your hunting expeditions. If you've ever used a wobbly ladder stand, you will appreciate this 18-inch ladder stand that offers you a rock-solid platform for hunting game. It includes a padded shooting rail that can be adjusted or flipped out of the way depending on what you want. It also includes a noiseless feature that you can rely on whenever you require the utmost stealth.
Advanced Features
The Muddy MLS1150 comes equipped with silencers like spacers, nylon washers, and caps. You get several features when you opt for this ladder stand like its double 1-inch ratchet strap and double 1-inch stabilizer strap that ensure you are properly fastened to the stand while hunting. This ladder stand also includes a Suspension Relief Device (SRD) and a full-body harness.
Pros
Super durable and comfortable 
Flip back footrest and shooting rail
Constructed using recoated steel
Includes a zero gravity flex-tek seat
Sturdy platform 
Cons
The tedious and time-consuming assembly process 
Buy Now From Amazon
---
Guide Gear 2-Man Ladder Tree Stand for Hunting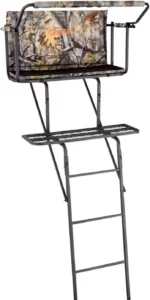 Best in Comfortability
Buy Now From Amazon
Review
Comfortability 
Seeing as this is one feature that not many 2-man ladder stands can offer you, it is impressive to see the manufacturers of this ladder stand pay a little more attention to the comfortability aspect of this ladder stand. With padded seats and sufficient legroom on the platform, you and your hunting buddy will feel right at home. 
Easy to Assembly 
When you're out in the wild, the last thing you need is equipment that is super difficult to set up and install. Apart from drawing unwanted attention to yourself, a ladder stand that is difficult to set up will shorten the time left to hunt.
And if you are not properly equipped with tools to aid in setting up, you may not be able to install the ladder altogether. Luckily, the Guide Gear ladder stand is super easy to install, and does not require any special tools or technical 'know-how'.
Strength
For a stand meant to carry two people at a time, strength is an important part of this ladder stand. It is capable of supporting a maximum weight of 500 lbs.
Pros
Padded seat to improve comfortability
The stand can support weights up to 500 lbs
Equipped with braces that grip around the tree
Comes with a 1-year warranty
Cons
The front arm rear may be too high
Buy Now From Amazon
---
X-Stand Single Person TreeStand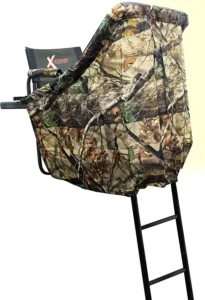 Best in Durability
Buy Now From Amazon
Review
Durability 
Most of the common challenges experienced by ladder stand owners usually revolve around the inability of the ladder stand to stand the test of time. This is largely due to the materials used in construction, and the foolproof measures put in place. Apart from being waterproof, the manufacturers of the X-Stand ladder stand also take pride in the fact that the materials used are rust-proof, do not easily scratch, and do not come apart easily after only a short time.
Ease of Installation 
The last thing you want when setting up your ladder stand is to struggle with each part or to make mistakes during installation. This could lead to equipment failure and accidents. Luckily, you do not have to worry about that with the X-stand single tree stand. With a well-detailed instruction manual with simple steps, assembling your equipment is more fun than work. 
Advanced Features
If you hunt frequently, you can attest to how difficult it can be to blend in when you're up in the trees. You run the risk of being easily spotted by wary game, and leaving yourself open to disruption by birds. This stand is equipped with full dzx camo coverage that offers you extra protection and concealment from your game. 
Pros
 Water-resistant 
 Super durable and efficient
Affordable 
Equipped with dzx camo coverage
Measures about 18 x 15 x 10 inches and weighs 10.2 ounces
Cons
The stand is not very quiet
Buy Now From Amazon
---
Related: Best Ladder Treestand for Big Guys
Conclusion
Crossbow hunting can be a very fun or dangerous activity, depending on the nature of the equipment used. Ladder tree stands can provide you with several features that will make the process of hunting easier and safer, as well as suit the different crossbow hunting styles.
While the general idea that there is a particular ladder stand for every need is factual, having a ladder stand that caters to a wide range of needs, and hunters of all shapes, and sizes is necessary.
The products listed in this review have been tested and approved as being versatile, comfortable, sturdy, and durable and are suitable to be used in any form of crossbow hunting. These stands also offer a higher level of safety and security that other substandard products won't provide.
With so many suitable ladders stands on the market for you to choose from, we recommend you select one that is suitable to your hunting needs. If you intend to hunt with a buddy, you must buy a double stand and ensure that your combined weight does not exceed the maximum weight capacity of the ladder stand.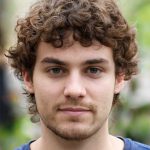 Joseph is the owner of LadderGeek. He is a home remodeling enthusiast. He has created this blog to share some of his knowledge on Ladder and accessories.