For many, deer hunting has become more than just a casual hobby. So much so that they require only the best equipment to engage in this activity during hunting season. This post focuses on the best ladder stands that can help you improve your deer hunting game.
Before we begin, we must point out that although the choice of ladder stand for deer hunting may be subjective, some common areas must remain a priority and influence the overall selection process. 
Buying Guide – How to Choose the Best Ladder Stands for Deer Hunting
As we have pointed out, the best way to improve deer hunting is by getting the best equipment and tools. This includes getting the right ladder stand that will not only improve your dexterity in deer hunting but will also ensure your safety. This guide will instruct you on just what to focus on when shopping for the right ladder stand. 
Comfortability of the seats 
The degree of comfortability of the ladder stand seat will determine how long you can spend on it and how well you can practice good form while hunting. This is why you must ensure you get the right ladder stand that has just the right seat for you. Here are a few things you must prioritize. 
The seat must have a wide cushion to properly accommodate you, while still giving you enough room to aim or shoot.
A seat made with comfortable material. A metal seat will be a great inconvenience.
The seat must be capable of folding flat against the tree, creating more space for you if the deer comes up in your range.
The backrest of the seat should be comfortable enough and not hurt your back after resting on it for a while.
Addition of a footrest to the ladder stand
You may think that a footrest on a ladder stand is not a priority, but when you're hanging a couple of feet in the air without support for your feet, you will change your mind. Purchasing a ladder stand that does not include a footrest can cause foot fatigue, which I can assure you, you do not want to happen while you're waiting for your game.
Size of the platform
Before committing fully to any ladder stand, it is important you deliberate on if the size of the platform that the ladder stand will offer you is large enough for you. Checking if you would be able to lean, stand or bend on the platform is crucial to selecting the right ladder stand.
The best-case scenario you should aim for is a ladder stand that extends towards the direction of the tree, as close as possible so you don't fall off.
Height of the ladder stand
A common flaw many ladders on the market possess is their short height. A good and effective ladder stand should provide you with an ample height of at least 20 feet to keep you out of sight of deer. When it comes to deer hunting, the element of surprise is everything.
A ladder stand with an impressive height will give you just that and prevent you from being seen by the game before you can take the shot.
The quietness of the stand
The necessity of a quiet ladder stand often gets slept on. Also, as far as deer hunting goes, stealth has always been a priority. Nobody wants to encounter the perfect game and have it scurry away because of the squeaking or clanking of your ladder stand. You should not opt for a squeaky or loud ladder that might inform your prey of your presence thereby scaring them off.
A good stand should not only be quiet when you're sitting to aim but also when you're climbing it to get into position. 
Stability
I'm sure you agree with me that you wouldn't want to fall off while hunting for a game. This is why you must prioritize the overall stability of the ladder stand. Your ladder stand should feel sturdy and comfortable while you are climbing it, or trying to get down.
You should not pick a stand that sways or wobbles when you climb, sit, or get down from it. You must select one made with quality materials, and can support a weight of up to 300 lbs for a single stand and 500 lbs for a double stand.
Ease of installation 
Select a ladder stand that you do not find too complicated to install. While most of these stands come with an informative manual, you can't always rely on the manual to be accurate or easily understood. And so, you must be sure you buy a ladder you can easily install with or without an instruction manual. Preferably, choose one that can be done by just one person, especially if you plan to hunt alone.
Review of the Top 5 Best Ladder Stands for Deer Hunting
1. Muddy Skybox Deluxe Tree Stand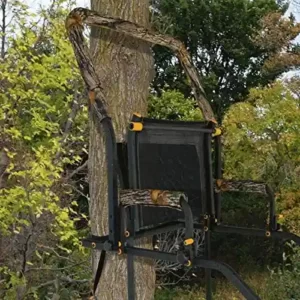 Best known for its durability
Buy Now From Amazon
Quality design
Although this ladder stand's height just met the qualification to be regarded as effective, it is one of the most durable ladders you can find on the market. Made from black steel material, the manufacturers guarantee that this piece of equipment will last a long time. 
Quiet
This stand includes Silencer technology that ensures you hunt unnoticed irrespective of how you move on the stand.
Efficient seat
The seat of this stand measures up to 22 inches wide, 19 inches tall, and 17 inches deep. That means you will never feel cramped up sitting on this stand. If you ever need to stretch your legs or assume another position to aim, you could easily lift the seat. The backrest is also comfortable with its modern lumbar support technology that just treats your back right.
Load capacity
The platform stands at an impressive size, so it's no surprise to see that this single stand can support a weight of up to 300 lbs.
Easy to install
As we have stated, the hallmark of any 'easy to install' ladder is that it can be installed by just one person. This ladder fits that criteria perfectly. However, you should note that the overall weight of the ladder is about 60 lbs and so you may require extra help to transport it from one location to another.
Pros
Sufficient room
Impressive load capacity
Camo design to help blend in
Super easy installation process
Flip-up chair
Cons
Heavy and difficult to transport alone
Difficulty in disassembling
Buy Now From Amazon
---
2. Rivers Edge RE656 Ladder Stand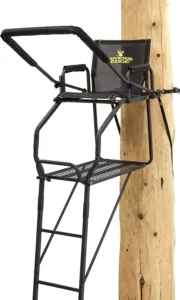 Best known for its Comfortability
Buy Now From Amazon
Space 
The flip-up features of this ladder stand mean that you will have more room to be able to move comfortably. Additionally, it is about 26 inches deep so you have enough room to adjust and aim.
Quiet
The individual parts of this ladder are not squeaky and so do not ruin your hunting sessions.
Comfortable seat
This stand is known for having one of the most comfortable seats among other stands in the business. Its armrests are padded to ensure maximum comfortability while hunting. Its mesh includes a flip-up feature to create more room when you need it. This footrest on the stand is also a flip-up to ensure you get maximum comfort and prevent sore muscles. 
Easy to install
It comes with an instruction manual that you may not need in the installation process as a result of its simplicity. 
Safety
This stand comes with a safety harness that prevents fall accidents while hunting. It includes straps to hold your seat in place and ensure you don't move unnecessarily while hunting. 
Quality design
This ladder stand is made with quality steel and so you are assured of its durability. The manufacturers also include an anti-corrosion coating to protect it against natural elements.
Pros
Easy to install
Impressive safety features
Quality construction 
Comfortability all round 
Shooting rail can be adjusted 
Cons
The instruction manual is full of errors
Buy Now From Amazon
---
3. Millennium Ladder Tree Stand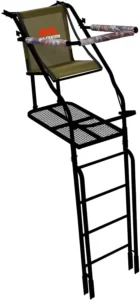 Best known for its Height and Sturdiness
Buy Now From Amazon
Dual railing system 
This ladder includes a dual railing system that ensures the ladder remains sturdy while you proceed to climb it. That way you won't wobble or fall off while climbing. 
Tall ladder stand
If you want a ladder stand with an impressive height, then you should strongly consider this one. This stand measures up to 21 feet at full length and 8 feet at folded length. 
Comfortable footrest
You can now say goodbye to foot fatigue and exhaustion as this ladder stand includes a comfortable footrest that will ensure your feet remain comfortable while you hunt. 
Adjustable rails
As a deer hunter, the adjustable rails on this equipment will come in handy. The rail keeps you at the level and form you need to take the perfect shot. 
Pros
Foldable footrest
Enough room to exploit
Sturdy and stable 
Quiet and stealthy
Impressive height
Easy to install
Cons
Unmovable seat 
Very pricey
Requires more than one person to set up
Buy Now From Amazon
---
4. Guide Gear Jumbo Ladder Tree Stand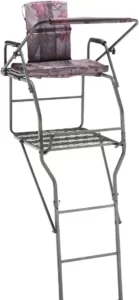 Best known for its affordability (Ladder stand under $200)
Buy Now From Amazon
Comfortable padded armrests and seats
With the level of comfort this ladder stand gives you in the form of padded seats and armrests, you sure will be hunting better in no time. The armrests are just the perfect height to protect you and at the same time provide you with ample space to hunt.
Efficient shooting rail
The shooting rail on this stand comes with a flip-up feature that creates even more room when not in use. You can easily slide down the rail when you intend to use it.
Quality material
When it comes to a ladder stand, the quality of the material is everything. Not only will it affect the longevity of the equipment, but also ensure your safety. And so, although this stand won't burn a hole in your pocket, it sure stands out in terms of the quality of the material used. This stand is constructed with rugged steel which makes it durable and sturdy both for climbing and use. 
Pros
Adjustable flip-up seat
Durable and long-lasting 
Great height
Flip-up footrest
Wide platform area
Includes two straps for stabilization 
Cons
Poorly constructed manual
Small seat size
Poor paint job
The chair may become noisy
Buy Now From Amazon
5. The Jayhawk Two Man Ladderstand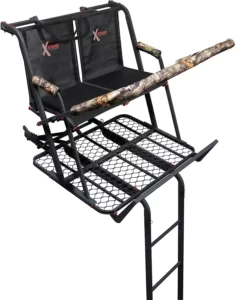 Best known for its Dual Functionality
Buy Now From Amazon
Load capacity 
This ladder stand satisfies any criteria you may have regarding the load capacity of a two-man ladder stand. It is capable of supporting weight up to 500 lbs which means it can carry two people without any damage being done to the stand.
Safety
For a ladder stand of this nature, safety is an absolute necessity. This ladder includes a locking system that guarantees the safety of both hunters on the stand. 
Quiet
This is another important aspect of any two-man ladder stand. It could get really loud with two people on a ladder stand. Both hunters may find it difficult to be comfortable and settle in when they first climb up. This is why the manufacturers of this ladder stand included Silencing technology that prevents the hunters from being spotted when they try to aim.
Accessory features 
Hunters also get accessory features on the ladder stand that come in very handy while spending a long time being suspended. It includes drink holders, accessory hooks in case you need to hold on to more gear, basket, etc. These features help you maximize comfort and prevent useful objects from falling off while you hunt.
Pros
Impressive load capacity
Durability with a long lifespan
Accessory features
Very quiet 
Comfortable for two hunters
Cons
It may be too pricey for some hunters
Buy Now From Amazon
---
Conclusion 
With different aspects of the ladder stand to consider, it may be a little difficult making your choice. However, you must remember that only the aspects of the ladder stand that directly affect the effectiveness of your hunt, or your safety must be prioritized.
In the case of a two-man ladder stand, ensure both seats are fitted with comfortable features and enough room to avoid frequent bumping while hunting.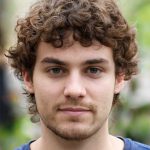 Joseph is the owner of LadderGeek. He is a home remodeling enthusiast. He has created this blog to share some of his knowledge on Ladder and accessories.