People like investing in the right tools to help them work around their house. They indeed look for high-quality stuff for their homes such as comfortable furniture, and high-quality items for their garage or yards.
Having such items is one thing and storing them is another. Such challenges are what has led to a question like how to hang an extension ladder in a garage, on the wall, from the ceiling and more.
An extension ladder is generally long and doesn't bend. It has two bars and rungs in the middle. The name means that this type of ladder can be adjusted to make it longer. An extension ladder leans against the wall or the house to keep it straight.
So then let's review various ways of storing such a big object like an extension ladder.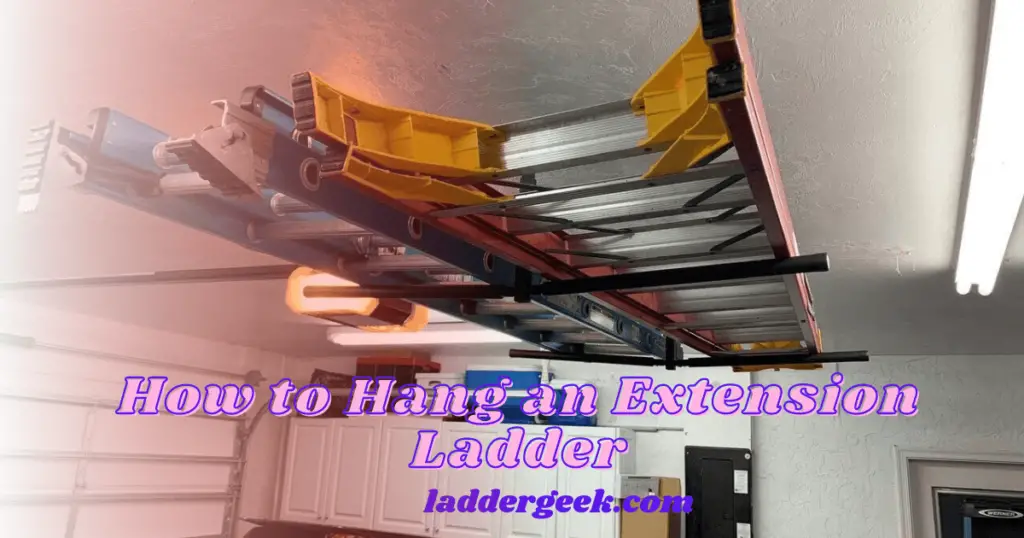 How to Hang an Extension Ladder from The Ceiling
The space on top of your head is sometimes ignored yet it can offer ample storage when you have the right types of hooks.
U shaped overhead hooks are a perfect choice for creating a storage space on the ceiling of your garage. Use a step-ladder or stool to reach the ceiling and screw the hooks.
The advantage of overhead storage is that it helps you to take advantage of the unused space in your garage. This creates more room on the floor for other items that can't be hung from the ceiling.
On the other hand, hanging a ladder on the ceiling is counterproductive for shorter people because they will always need to step on something to reach the ladder. 
How to Hang an Extension Ladder in Garage
Having perfect ladder storage in your garage can make a big difference. It makes it easy to grab it when you need it. However, some people bury theirs in a corner underneath bikes or boxes. This makes it hard to reach when you need to change a burnt-out bulb or something else.
It's also dangerous to have a stray ladder somewhere in your garage because you can trip and get hurt. Here is how you can hang an extension ladder in the garage.
Start by screwing ladder hooks into the walls or ceiling. These hooks can either have separate screws or screw built-in to one side or end.
Screw the hooks into the wall in such a manner that the ladder will be stored vertically. The one or two hooks should be a few inches apart based on their shape.
The best hook for this position is Racor PSM-1R because they can hold bulky items such as a ladder, are black powder-coated steel and are durable. Still, two standard hooks placed a few inches apart can keep your extension ladder straight.
This position is perfect for a big garage that can store an extended ladder vertically. It's also an ideal method especially when there is a room with an exit door into your garage and not the main garage door. Actually, you can use this space to mount your ladder vertically.
Such a place is otherwise unused, totally out of the way and still accessible whenever necessary. It's more advantageous to hang your ladder there than putting it on the floor and putting a huge labyrinth of stuff on top of it.
You can also use the vertical orientation to store a small ladder in a tiny garage.
How to Hang Extension Ladder on Wall
Wall-mounting your extension is a great option based on the size of your garage or the manner in which you plan to use the space on your walls.
In fact, you don't need to worry about how to hang an extension ladder because you can do it in the following ways.
Vertical orientation:
You can screw hooks a few inches apart and hang your ladder vertically especially in a situation where you want to use your garage to store other stuff.
Putting things or clutter in front of your mounted ladder makes it hard to access it whenever you need it. However, storing it vertically provides a smaller footprint around the area in front of it.
Horizontal orientation:
Mounting your ladder along the walls tends to take up a lot of space especially when you intend to hang other tools or items.
Still, it's the best position for a large garage and when you don't intend to pile up things in front of it. It's the most suitable position for your extension ladder in a smaller garage because it doesn't ruin the alignment when putting it back up or taking it down.
Best Way to Hang Extension Ladder in Garage
There are several methods of storing an extension ladder in the garage. However, they depend on the size of your garage.
For instance, the vertical storage method mentioned above is not ideal for small garages. Thus you can't store your extension ladder comfortably using it.
However, you can amount your extension ladder horizontally on the wall. In fact, you can screw the hooks at an angle and hang your ladder horizontally but in a slanting manner if you would like it that way.
Such an angel can create more room for hanging other tools on the upper or lower part of the wall.  
You can also use a ceiling rack.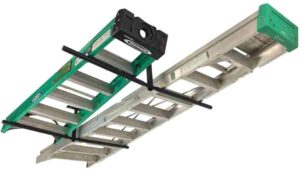 Buy Now From Amazon
Another advantage of this method is that you can store the ladder on the inside or outside of your garage. This depends on how secure your yard is but it allows you to use your garage space to the maximum.
How Do You Store an Extension Ladder?
A ladder should be kept out of the way. Here are tips for storing your extension ladder.
Keep it off the floor:
Hang your ladder using a hook in a more secure place such as on the wall or ceiling. However, avoid leaning it against the wall inside or outside your garage without fastening it on a hook.
Put it in an easy-to-access space:
Avoid putting items in front of your ladder because this is a tool that you should keep on hand not behind piles of stuff.
Opt for heavy duty ladder hooks:
Pick wall hooks for heavier ladders and the appropriate orientation. There are hooks and hangers for vertical and horizontal directions. Interchanging them can cause your ladder to fall.
Security and safety:
You can store your ladder vertically or horizontally. However, the horizontal direction is safer and secure even when the support system fails than when stored vertically.
Location:
Mount your extension ladder in an area that fits its dimensions. It should be a spot away from people to prevent them from bumping into it.
How to Hang Heavy Ladder in Garage
Creating ladder storage using wall hooks is a perfect solution. However, you should only use heavy-duty ladder hooks to secure a heavy ladder in the garage. Always reserve short hooks for lighter jobs such as hanging simple tools.
Further, use the right hooks in the right direction. That is, vertical hooks should never be used to hang the ladder horizontally. This will cause the heavy ladder to fall off.
Some of the heavy-duty hangers and hooks are little giant ladder racks, Tornado ladder hook and Racor ladder and wheelbarrow hook.
Which Are the Best Ladder Hooks?
A ladder can be hung from the ceiling or the wall. These ways help to create storage in unused spaces in the garage. The safety of the vertical or horizontal storage of your extension ladder is pegged on the type of ladder hooks you pick for this purpose.
Still, it depends on the size of your garage; that is the amount of space on the walls or ceiling and how easy it's to access the ladder. The weight of your extension ladder is a factor that can't be ignored when picking the best hooks and hangers.
Here are popular types of hooks.
The Racor Ladder & Wheelbarrow Hook (PSM-1 R): The Low Profile Sleek Ladder Hanger
It's powder-coated steel which gives it long-time stability and enhances its durability.
It's corrosion-resistant thus offering rust-free storage.
The heavy-duty hook can hang other heavy tools such as lawn chairs, wheelbarrows, bikes, garden suppliers and more.
No assembly is required with Racor organizers, available in multiple colors and you can install it in any style in your garage.
The ladder fits snugly on the metal rungs and can't slide around.
Buy Now From Amazon
Tornado L2000 Ladder Hook – the Package Has Two Ladder Hooks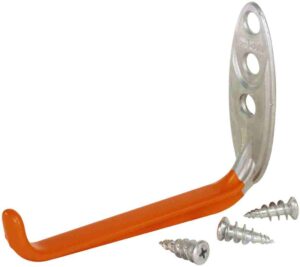 It's a multi-use hook that you can use to hang your hoses, ladder, and other bulky items.
The Tornado fasteners are versatile and can work drywall or stud applications.
The extended length plate design distributes weight evenly, thus durable. When mounted into drywall the hook can carry up to 40 lbs. However, mounting it into a wood stud but with drywall over top increases its hold capacity to 60 lbs. and 70 lbs. when fixed into a wood stud by itself.
It's easy to install using a screwdriver.
Can be used for outdoor projects because of its zinc and rubber components which are weather safe.
Buy Now From Amazon
Others are little giant ladder rack, gladiator deep hook, Rubbermaid FastTrack ladder hook and more.
Conclusion
The article has told you how to hang an extension ladder. This is a long ladder that you can extend to achieve the desired height. You can mount it on the ceiling, vertically or horizontally on the wall.
It's important to use heavy-duty hooks and hangers when storing your ladder to prevent it from falling. This can hurt someone or damage other items stored in your garage.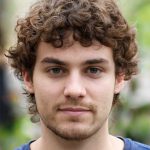 Joseph is the owner of LadderGeek. He is a home remodeling enthusiast. He has created this blog to share some of his knowledge on Ladder and accessories.