Working with extension ladders comes with its fair share of danger. You are constantly exposed to all kinds of risks. This is precisely why you need to invest in the right stabilizer for your extension ladder. This will go a long way to secure your ladder firmly in place while you climb. But how do you know the right one for you? Here's a detailed buying guide that will help with your decision. 
Buying Guide – How To Choose The Best Extension Ladder Stabilizer
All the stabilizers covered in this review have been well tested for their safety, quality, and performance. However, not all these stabilizer models will be perfect for your specific needs. So, you must be careful when choosing a stabilizer for your extension ladder.
Choosing the perfect standoff for your extension ladder can be quite overwhelming, there are several important things that you need to account for. To make this process easier, we have outlined a comprehensive buying guide for you.
Here are the things you need to prioritize:
Build quality and Quality of materials
You must keenly consider the build quality of any stabilizer before you buy it. Check the type and quality of the various materials used in its construction. This will help you avoid a lot of accidents in the future.
Materials like steel, aluminum, and plastic are most popular when it comes to the construction of these standoffs. These materials however have their unique properties. Steel and aluminum extension ladder standoffs are generally regarded as durable, strong, and resilient.
Plastic stabilizers, however, are regarded as being the most lightweight when compared to steel or aluminum-based stabilizers but they are also unable to withstand very high temperatures. And so, you will also need to pay close attention to the kind of weather conditions in the region you intend to utilize the standoff.
If you intend to use your extension ladder in a work environment, and you intend to use the stabilizer regularly while you work, then opting for a model that is made with highly durable, strong, and weather-resistant material is definitely in your best interest. 
Ease Of Installation
Different models of extension ladder stabilizers come in different designs and methods of installation. Some stabilizer models are already assembled when they are bought or do not have any loose pieces that will require you to assemble.
With these models, all that is left for you to do is attach it firmly to your extension ladder. Other stabilizer models may come in separate pieces and will require you to put these pieces together before you can successfully mount them onto your extension ladder.
Buying an already assembled stabilizer model will save you some time in the event you need to climb even quicker. Of course, despite how it comes, mounting any standoff model should be simple and quick. Installation without any tool is most ideal as it means you can install your standoff anywhere, and at any time.
Also, if you do not use your extension ladder in a work environment, and may not use it very often, there is no point in leaving the standoff attached to your extension ladder after using it. This will make your extension ladder even more difficult to store as the standoff will take up more space than usual. To avoid this, get a stabilizer that is just as easy to detach as it is to attach.
Stabilizer's Weight
Before purchasing any extension ladder stabilizer, you will need to ensure you can move your extension ladder around while it is attached to it.  An average stabilizer will add weight to any extension ladder. And so, buying a heavyweight stabilizer will only make your ladder cumbersome and difficult to move around and place against a surface.
A heavyweight standoff might even make your extension ladder difficult for two people to lift and position properly. This is why lightweight stabilizers make a lot more sense when it comes to efficiency in use than heavy-weight ones.
For contractors and factory workers, the weight of the standoff may not be that much of a priority as there are enough hands to help with the lift. As a DIYer however, lightweight standoffs are better alternatives to heavy ones.
Compatibility with your Extension ladder
This is perhaps the most important thing to prioritize before purchasing any stabilizer model. Compatibility plays a huge role when you consider the fact that extension ladders come in different types and sizes and as such, some stabilizers are more suited for more specific extension ladders.
Some stabilizer models are more suitable to be used on fiberglass extension ladders while others are more suited for aluminum extension ladders, with some models suitable for both.  Keep in mind that when it comes to extension ladder stabilizers, "one size fits all" does not apply.
Price and Budget
Lastly, the price of the stabilizers must also be considered before purchasing. If you are not comfortable breaking that bank for a standoff, consider buying one that is just as effective in a comfortable price range.
However, avoid buying very cheap products that may have been manufactured with subpar products and stick to tested and trusted brands.
Review of The Top 3 Best Extension Ladder Stabilizers
Werner AC96 Aluminum Standoff Stabilizer

Best known for its quality build
Buy Now From Amazon
Review
Quality 
This lightweight aluminum standoff is just what you need to maintain stability while you climb your extension ladder. This stabilizer is constructed with quality aluminum material which makes it durable and reliable. It includes mar-resistant rubber caps that help protect your work surface while you work. The span of this stabilizer measures about 48 inches while offering a standoff of 10 inches. 
Ease of installation and use 
This stabilizer is suitable for all types of aluminum extension ladders you can find with rails measuring up to 3-5/16″ x 1-3/16″. It can be easily installed and can be attached to your extension ladder in a matter of minutes.  This standoff comes equipped with hardware for mounting, a paint can hook, and a set of instructions. 
Easy to store
This stabilizer detached seamlessly after the job was done. This means that you can easily detach it and store it separately from the extension ladder. 
Pros
Stable and reliable
Super easy to install
Lightweight 
Durable
A standoff of about 10 inches
Can be used on any aluminum extension ladder
Cons 
Might not be suitable for fiberglass extension ladders 
---
Lockjaw Grip Extension Ladder Stabilizer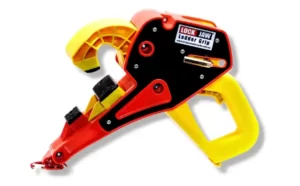 Best known for its easy installation and usability
Buy Now From Amazon
Review
Ease of installation and use
When we talk about stabilizers that are simple, quick, and efficient when it comes to their installation process, the lock jaw grip stabilizer stands out. This standoff can be attached firmly to your extension ladder with just one hand in a matter of seconds and proceed to be unmovable throughout usage.
If you are already on the ladder and need to stabilize it, you can just attach this stabilizer with one hand while the other hand hangs on for support. 
Durability 
This stabilizer is super durable as it is constructed with some of the most durable materials on the market. It is made with durable plastic and metal fittings. Most users comment on how long this product lasts and its condition over the years. 
Safety 
This stabilizer is responsible for preventing most accidents due to ladder falls. It grips extension ladders tightly which ensures that your extension ladder does not slip even when you reach or perform any activity. 
Pros
Straightforward installation process 
Safe and easy to use
Can be easily attached and detached with just one hand
Impressive lifespan
Cons
---
Glesam Stabilizer for Extension ladders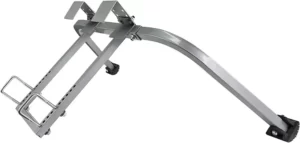 Best known for its quality
Buy Now From Amazon
Review
Quality
The manufacturers of this extension ladder stabilizer put a lot of thought into its design and overall quality. This is why this product is a best-seller among extension ladder stabilizers. Constructed using quality materials, this stabilizer offers users both an elegant design, and also an overall durable product.
Compatibility and use 
This product is compatible with most extension ladders and offers a standoff measurement of about 37″L x 15.15″ W x 15.25″ H. 
Easy to install and use
Another unique selling point of this standoff is its ease of installation and usage. It can be attached to your extension ladder using a U bolt while following straightforward instructions. This stabilizer works reliably by attaching your extension ladder very firmly to a gutter or ridge on the roof.
Pros
Stable and reliable
Super simple to install
Suitable for painting jobs
Includes non-marring rubber caps
Cons
Can't be used with ladder jacks using stages or planks
Conclusion
It is crucial to note that even with a stabilizer for your extension ladder, you should also refrain from performing too many movements while you're up on the ladder. Even while the ladder is secured, try and remain as composed as possible to guarantee safety. If you must get to a point beyond your reach, climb down first, retract the ladder and move it before climbing back up.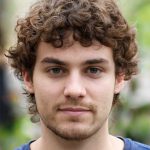 Joseph is the owner of LadderGeek. He is a home remodeling enthusiast. He has created this blog to share some of his knowledge on Ladder and accessories.