There is no better feeling than renovating or making changes to your home. You breathe new life into everything around you, and it's fun at the same time. That being said, many people often look for expensive furniture or storage space options when they do these kinds of projects.
What if we told you that you don't need to spend a lot of money to make your home unique and interesting.
In fact, you don't need anything more than a simple wooden ladder to create solutions that would cost you a lot of money if you went with the conventional route. If you have an old ladder in your garage, you can do a lot with it.
All you need in order to make this work is some creativity and a bit of ingenuity. Now, with that said, here is how to give a new life to old wooden ladder.
Where to Get a Wooden Ladder
Wooden ladders are gradually starting to become antiques. This is because an increasing number of people are beginning to rely on simple aluminum or fiberglass ladders when they are required. That is understandable.
Aluminum ladders, for example, are strong, effective and long-lasting, and, most importantly, safe. However, they are not particularly appealing to the eye and lack the charm and personality that old wooden ladders possess.
Having said that, while wooden ladders are not as common as they once were, you can still get your hands on them quite easily. Some of the places where you can look for a wooden ladder are:
Garage and Yard sales: If you live in the suburbs, you are likely to come across a yard sale. Most people discard old wooden ladders, but if you look hard enough, you might find someone who is selling it
Antique Stores: If you look for a ladder here, you'll most likely find one that has already been repurposed in some way. Furthermore, antique ladders are frequently more expensive than a simple old ladder found at a yard sale
Flea Markets: They will be like a larger version of a yard sale. As a result, if you can't find one in your suburb, there's a chance you'll find one here
Craig's List: If you don't want to leave your house and don't want to spend a lot of money, Craig's List is your best bet for finding a nice old wooden ladder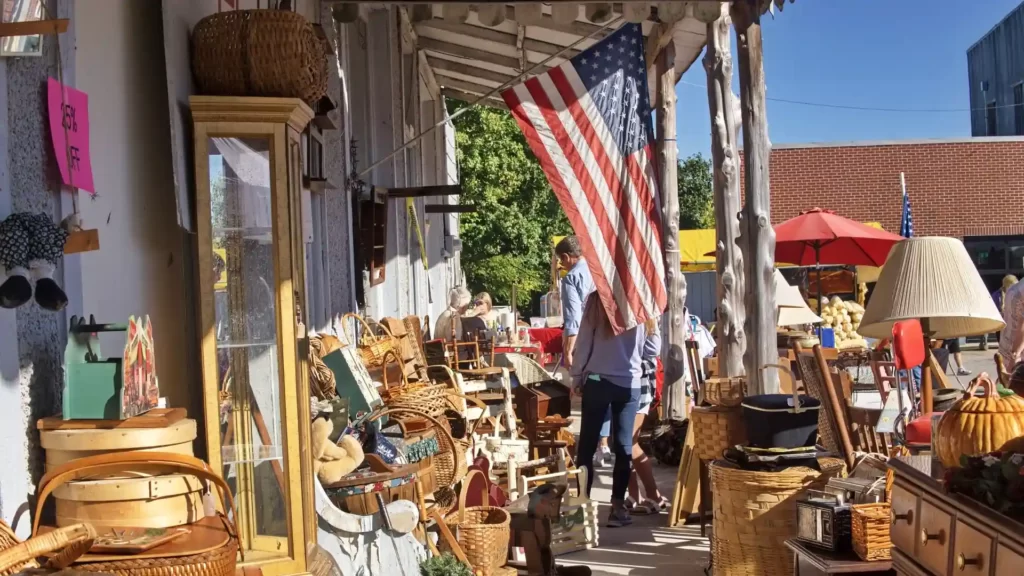 These are just a few of the places where you might come across a wooden ladder. That being said, once you've obtained one, the question becomes, "What can you do with it?" That is what we are here to tell you.
What Can You Do With An Old Wooden Ladder
1. A Towel or Blanket Ladder
A wooden ladder makes it simple and appealing to hang many different cloths on it. If you use it in the bathroom, you can hang your towels on it, and if you use it in your bedroom or guest room, you can keep blankets on it. This is preferable to using drawers. If you hang your blankets instead of stuffing them in drawers, they will last longer and be more pleasant to the touch.
Not to mention that hanging your towels and blankets on a ladder allows you to create some interesting color combinations. Furthermore, there isn't much to it when it comes to installation. All you have to do is sand the wood to remove any splinters that could damage your towels or blankets, and you're done.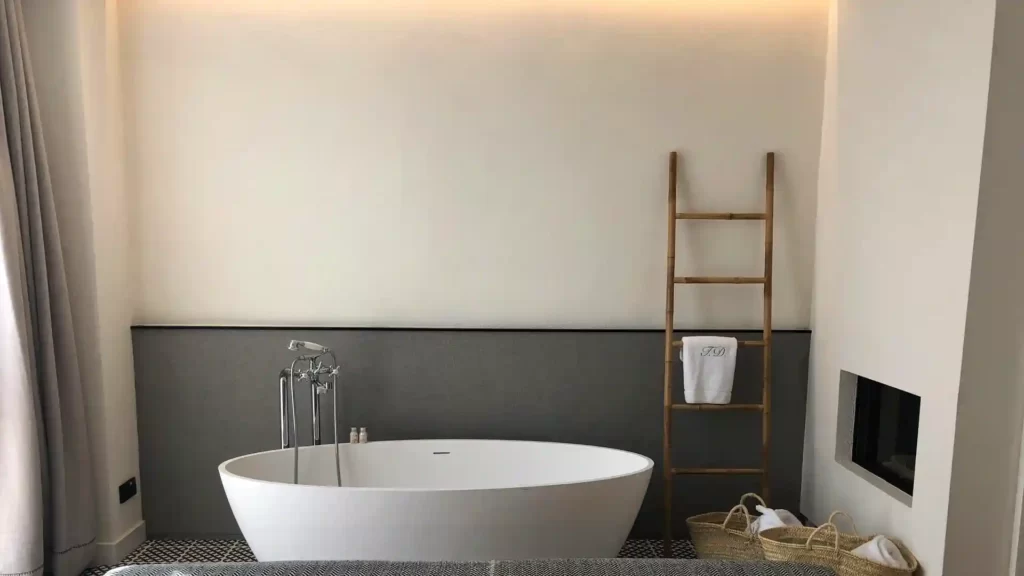 2. Laundry Drying Rack
You can also use a wooden ladder in your laundry room. In fact, if you have a wooden ladder in your bathroom, you can use one end to hang towels and the other to dry laundry. This is an excellent option for people who leave their clothes to dry all over the place. That being said, when it comes to installation, you can do a lot with it.
You can cut the ladder in half or thirds to make it fit better in your laundry room or bathroom. After that, you can hang it by inserting a few hooks into it. However, we must emphasize that you must consider the weight of the ladder before placing it against a wall. You don't want the ladder to come loose from the wall and damage it.
3. Shoe Storage
Nowadays, the average person owns more than four pairs of shoes. This means that if you don't live alone, it can be difficult to find storage for all of your shoes. The problem of shoe storage is real. Fortunately, an old wooden ladder can be a great solution to this problem. Just place a ladder against a wall, and you're done.
You don't even have to do much sanding, painting, or decorating; you can leave the ladder as it is. After that, you can show off all of your fancy footwear to everyone.
4. A Plant Shelf and Rack
Potted plant displays made from old wooden ladders are both attractive and functional. You can place pots directly on the rungs of a stationary straight ladder. Lean the ladder against a brick facade or garden fence for an interesting contrast and strong support.
The natural wood of older ladders contrasts with the bright colors of plants. You can, however, add more colors to make the piece even more unique. However, there are some things to consider when using a wooden ladder for this purpose.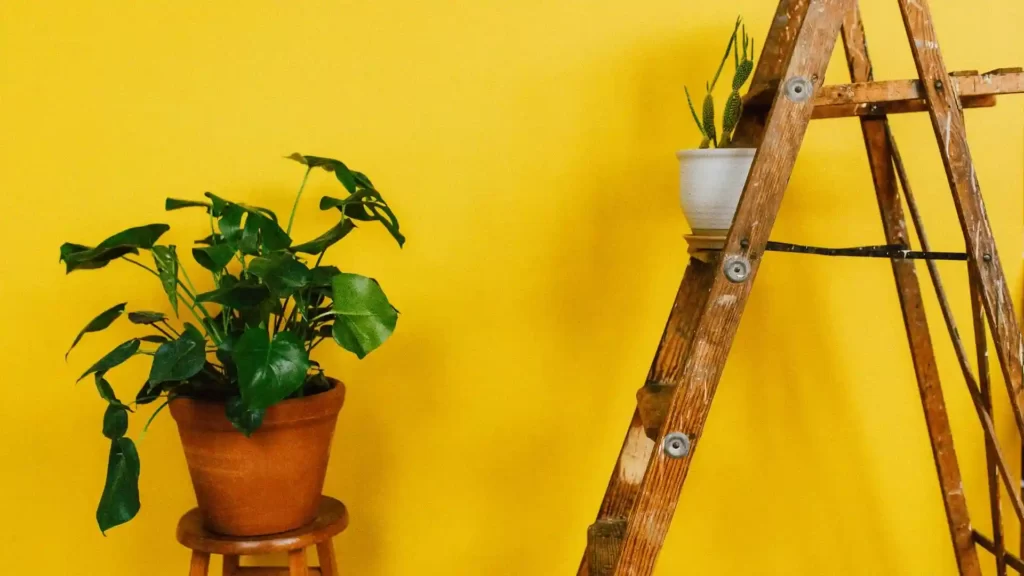 The primary concern will be stability. You should plant the ladder so that it is as stable as possible. If it isn't stable, your pots may fall over and spill dirt all over your floor. The second thing to think about is a protective stain. It's safe to assume that if you water your plants, the wood will get wet. As a result, if you want to keep your ladder from rotting, cracking, or splintering, you need to apply a protective stain to it.
What Would Be the Best Place for Your Old Wooden Ladder
The fact is that wooden ladders are so low-profile and versatile that they can be placed literally anywhere. In addition, your imagination will be the only limiting factor when it comes to utilizing ladders. That being said, here are some of the ideas we have for where you can use a wooden ladder. 
The Living Room
It is a unique and creative way to decorate your living room with a ladder. Nobody expects to see a ladder on the wall in your living room. Your home should have an element of exciting innovation that enhances the enjoyment of the decor. That is why it is a great idea to have a nice, old wooden ladder in your living room.
If your old wooden ladder is wall-mounted and can accommodate picture frames, you can also create some interesting combinations. Hooks on the ladder rungs are an easy way to give it a new look. Wire baskets, jars, wall art, and other items can all be hung from hooks.
Basement
When we say basement, we don't mean an old, wet, and stuffy basement where you store things you don't need. We're talking about using a wooden ladder to convert your basement into a living space. Everything we've discussed thus far applies to your basement as well.
As a result, when selecting furniture, flooring, and lighting for your basement, consider incorporating an old wooden ladder as well. This way, you can decorate the space and make it much more livable and enjoyable to be in. 
The Bedroom
If you feel like your master bedroom is a bit too small or cramped, you'll be glad to hear that a ladder is a simple solution. You can simply hang baskets and containers from the rungs of the ladder. As we've mentioned earlier, you can use them to keep garments and blankets.
You can also hang belts, hangers, and even jewelry on the ladder. A ladder will assist you in keeping items from stacking up on the floor. You may recycle the ladder by painting or staining it to fit your home's décor or a particular space. This will give it a clean and fresh appearance, allowing it to mix in with the rest of your room.
In the Kitchen
Most people see the kitchen as the centerpiece of their homes. You will be making all your favorite dishes and enjoying the whole process. When your friends come over for dinner, you'll be there having fun cooking with the company. For this reason, you want your kitchen to be both attractive and useful. That is why wooden ladders are going to be a great addition to your kitchen.
You can hang them on a wall and hold all of your spices and seasoning there. However, if you have cupboards that are really high up, you can use a wooden ladder to reach all of those high places as well. You can also add hooks to the rungs so that you can hang pots and pans. In addition to that, you can keep your big baskets on top of the ladder for additional storage space. 
Conclusion
As you can see, there are many different ways how to give a new life to old wooden ladder. There is no reason to throw away an old wooden ladder if you have one or to avoid purchasing one if you come across one while shopping. As previously stated, when repurposing wood, all you need is a little creativity and ingenuity to add a lot of personality and charm to your home.
---
Image credits – Photos by Khashayar Kouchpeydeh, Liana Mikah, John Cameron, Robert Linder on Unsplash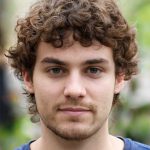 Joseph is the owner of LadderGeek. He is a home remodeling enthusiast. He has created this blog to share some of his knowledge on Ladder and accessories.