You don't need to be scared for your safety when working with ladders. There are ladder accessories that can improve the stability and steadiness of your ladder thereby keeping you safe. One of such accessories is the ladder stabilizer. Ladder stabilizers, much like their name sounds, offer extra support and stability when using a ladder. This reduces incidences of ladder accidents or falls. 
Now we've covered what ladder stabilizers are about, we will now delve a little deeper into their functions, safety requirements, and the proper way to use them. Then we will look at some of the best ladder stabilizer products in the market which will help you make the right choice when you decide to buy one. 
Buyer's Guide – Things to Consider Before Buying the Best Ladder Stabilizer for Roofs
As you may very well know, you should never compromise on safety. It is not enough to just decide to get a ladder stabilizer. You have to pay enough attention to the selection process to get the best product.
Seeing as ladder stabilizers play a crucial role in maintaining safety, it makes sense that there are numerous factors to watch out for when deciding on which product to buy. Here are some of those factors that will help you make a rational decision.
1. Material
Firstly, this factor will determine the overall strength of the ladder stabilizer. You must pay close attention to the nature of the material used in manufacturing the ladder stabilizer before buying as this will determine the durability of the product, and the strength it would possess in stabilizing your ladder, and holding your weight.
Most ladder stabilizers are manufactured using steel or aluminum materials with rubber or plastic caps at each end.
2. Adjustability with your type of ladders
Before purchasing a ladder stabilizer from the market, take a look at your ladder. The type of ladder you intend to use the stabilizer on will determine the type of stabilizer to get.
Only after a cursory examination of your ladder or consultation with an expert do you then pick a stabilizer that would be a perfect match. You must also be informed about the different types of brands that offer the best quality.
3. Ladder safety
Safety and stability are the primary features of any good ladder stabilizer. And so, when you are in the market for a ladder stabilizer, it is important you pay close attention to its ability to offer maximum stability and safety.
To consider this, you can inspect the design or side extensions of the stabilizer. Purchase one that is strong and can support the ladder for a long time. Also, ensure you select the stabilizer with a wide mouth opening as this will provide the necessary steadiness to the whole structure.
4. Installation
The installation of any good stabilizer must be easy and quick. The installation process should not require too many tools or skills to carry out. This will ensure that it can be done as quickly as you may need it to be at any given time.
You should go with a product that comes equipped with the hardware necessary for easy installation. The lesser the hardware, the shorter the time it will take to complete the process. You should also buy a product whose installation process falls directly into your wheelhouse.
You can select the one with the most acceptable installation styles available. In case of any confusion, you can also consult the instruction manual at any point during the installation process.
5. Use
If you intend to use your stabilizer for anything more than just repairing roofs, then you should probably pay more attention to the specifications before you purchase it. While some stabilizers will work well on straight walls, others may not be as effective.
Some stabilizers require more gripping than others. So, you must purchase the stabilizer that best fits your needs.
6. Weight
Although this may not be considered a deal-breaker for many roofers, it could impact your work. Heavier ladder stabilizers may be more difficult to install and transport.
Portability is a major reason why most people prefer lightweight stabilizers to heavier ones. It is easier to transport from one location to another and can even be installed by just one person. 
Review of The Best Ladder Stabilizer for Roofs
1. Ladder-Max Stand-Off Stabilizer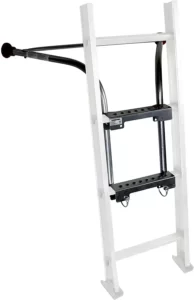 Best in value for your money
Buy Now From Amazon
Review
Durable material 
This ladder stabilizer is made from one of the most durable materials on the market. This stabilizer includes a zinc-plated steel construction that not only supports the weight of the person on the ladder but also provides maximum stability. Its load capacity peaked at 375 lbs.
Efficient design
This stabilizer is designed in such a way that its arms are placed on the roof thereby offering the most support. It is also important to note that this stabilizer is given the highest duty rating in any type 1AA ladder. 
User friendly 
This product covers two of the ladder's rungs to improve the stability of the ladder. It offers a 19-inch standoff distance. This measures from the ladder to the roofing and walls. And so, it is capable of protecting the gutter, paint finishes, and even roofing materials. With this stabilizer, you can work in a natural and unstrained position.
You also don't have to worry about damage to the surface where the standoff would rest as it includes plastic orange tips with a non-marring effect that will protect the surface efficiently. 
Versatility in usage
This stabilizer suits most wood, fiberglass, and aluminum extension ladders of brands like Howard, Little Giant, Gorilla, Green Bull, Werner, Louisville, and others.
Pros
Durable and rust-resistant product 
Lightweight. Weighs only about 7 lbs
Equipped with necessary accessories 
OSHA compliant
Able to support up to 375 lbs
Cons
---
2. Little Giant Ladders Wing Span/Wall Standoff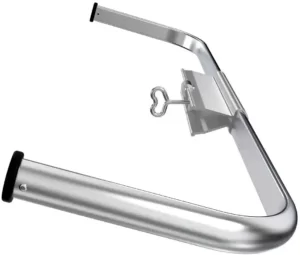 Best known for its affordability
Buy Now From Amazon
Review
Safety
One of the most important features of any ladder stabilizer is safety. Luckily, the manufacturers of this stabilizer prioritized safety in its design. Now this standoff can easily attach to your ladder, giving you the room to work around the rain gutter, windows, overhangs, or any present obstacles without any safety concerns. This is mostly due to its fixed width of about 50 inches. 
Design
This standoff includes a tasteful design that gets the job done very well. With its lightweight aluminum construction, you don't have to worry about portability issues or rust. 
Versatility in usage
This standoff can be used by the most popular ladders on the market. It includes wide contact points that generate even more control on high rungs. This in turn provides more vertical and horizontal stability. Its overall standoff measurement is about 12 inches. This covers the distance from the ladder to the work surface, providing enough room to execute other jobs quickly.
Pros
Extremely stable. No wiggle room
Super easy to install 
Highly durable and efficient 
Rust resistant 
Lightweight 
Affordable
1-year warranty
Cons 
Can't be used in small spaces
Requires some assistance to move the ladder after it has been installed 
---
3. Werner AC78 Quickclick Stabilizer

Best known for cleaning gutters
Buy Now From Amazon
Review
Great design
This ladder stabilizer is one of the most recommended products on the market, for good reason. It includes a great design that can keep ladders stable and safe while working on the roofs, all the while protecting work surfaces. This standoff is designed in such a way that it can be used by ladders up to 40 ft. Its quick-release pins used for attachment connects the arms of the stabilizer to the body
Versatility in usage 
This stabilizer is suitable for all fiberglass and Werner aluminum extension ladders available on the market. 
Simple installation 
This stabilizer employs a super simple and quick installation process. It includes a spring-loaded latch which can be used to attach and detach the standoff easily. This whole process is easy and quick to execute. It also does not require any additional tools and so is preferred in many homes.
User friendly 
This device spans about 44 inches and offers users a standoff of about 10 inches. It also includes mar-resistant rubber end caps which protect the work surface from any form of contact damage. If you want to paint tall areas, this stabilizer is the perfect fit for the job. It includes a paint bucket hook straight from the manufacturer which will make the job significantly easier.
Pros
Easy to assemble and install
Ideal for home painting jobs
Strong and reliable 
Does not require any tools in the installation process
Super easy and quick to attach and detach from the ladder
Cons
Not suitable for all Werner ladders, only extension ladders
Not suitable for 225 lbs type 2 fiberglass extension ladders
---
4. Ladder Stabilizer Standoff Brackets with Silicone Elbows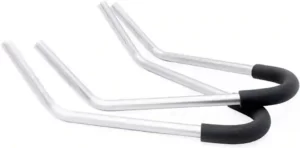 Best known for its efficient design
Buy Now From Amazon
Review
Versatility in usage
Not many ladder stabilizers in this price range can boast of being suitable with most aluminum and fiberglass extension ladders. This standoff however is one of the few. It utilizes either open D-rung or O-rung holes in the outer part of the rail. Each hole must have at least a 1-inch opening or more along with a total standoff clearance of 15 to 16 inches.
Simple installation 
The installation process of this standoff is super straightforward, to say the least. All you need is to simply compress both bracket ends and then insert them into the different holes and let go. To detach them, just compress the ends, pull out, and release.
Design
This standoff offers a unique and simple design. It is designed in such a way that it easily grips different surfaces firmly preventing slippage from the sides. The distance for this standoff from each ladder edge is about 12 inches. 
After successfully installing it, the brackets offer up to a 1-foot standoff distance which measures from the surface. This protects the gutters, walls, windows, and the paint finishes on the walls. It is OSHA and ANSI compliant for a type 1A heavy-duty device with a load-carrying capacity of 300 lbs.
Pros
Easy to slip on and off
Lightweight and durable
OSHA and ANSI compliant 
No extra tools are required for installation
Up to 2 years warranty 
Efficient design
Cons
Not wide enough to cover large windows
---
5. Ladder max Multi-Pro Stand-off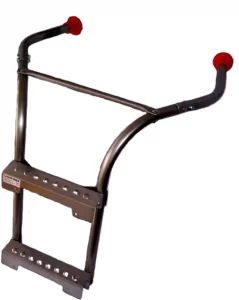 Best known for its adjustable design
Buy Now From Amazon
Review
Versatility in usage
This highly rated standoff is known for its unique adaptability. It can easily fit 4-foot windows, corners, etc. You can also use it easily with all-aluminum, wood, and fiber extension and articulated ladders. Another feature that makes this standoff stand out is its ability to be customized to suit your requirements. 
Safety
It is certified by ANSI and so safety is guaranteed. Using this standoff is no stress at all. It is super convenient and can be used in several different situations. 
Simple installation 
The installation of this device is relatively easy and does not require any special skill. It takes seconds to attach and detach this standoff from the ladder. Although the assembling process is easy, you must be careful with its sharp edges.
Quality
In addition to being easy to install, the quality of this standoff is impressive. It was constructed using super durable and strong materials which means it will last a long time. 
Pros
ANSI certified
Durable and long-lasting
Easy to assemble
Convenient and safe
Includes corner extensions
Adaptable to different situations
Cons
Heavy
Edges are very sharp and could cause injury
Some accessories need to be purchased separately
---
6. Werner AC96 Aluminum Standoff Stabilizer

Best known for its construction usability
Buy Now From Amazon
Review
Quality design
There's so much to love about this standoff at first glance. Taking a cursory look at the benefits you stand to gain will cause you to love it even more. One of its best selling points is its design. It measures about 47 inches and offers users about 10 inches of a standoff. It includes mar-resistant rubber caps for the ends that ensure that the work surface is left in good condition.
Simple and quick installation 
Its breathtaking design can be attributed to its simple and quick installation process. Installation does not require any special skill, and you can do it all by yourself. 
Sturdy build
The reason why this stabilizer is great for construction workers is because of its sturdy and reliable build. This also adds to its safety as there is no chance of ladder slippage.
Use
This ladder standoff is very useful in guaranteeing stability and reliability while climbing the ladder. It can be used for special jobs that require extra balance and support. Construction workers get the most kick out of using this stabilizer because of its ability to be used in different types of walls.
Pros 
Sturdy and reliable build
Easy to install
Lightweight
Can be used on all major surfaces 
Includes protection against work surface damage 
Safe for construction work
Cons
Uninstallation may be a little difficult 
Its bolts require extra reinforcements
---
7. Qualcraft 2470 Corner Buddy Aluminum Ladder Stabilizer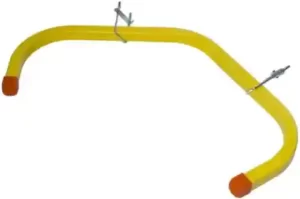 Best known for its wall usage
Buy Now From Amazon
Review
Quality design
Much like the previous ladder stabilizer we covered, this standoff is suitable for construction work. It also comes with a sturdy build that can support an impressive amount of weight for a long time. It is super steady with almost no chance of horizontal or vertical slippage while climbing.
Material
This standoff is made from superior aluminum which makes it lightweight and durable. Its ends are covered with red rubber to ensure safe placement over walls, roofs, etc. 
Use
The opening of the standoff measures about 28.75 inches which makes it suitable for most situations. This standoff can easily be attached to different kinds of walls and form a firm grip in the process. This is why it is the most popular among builders and construction workers.
Safety 
It also comes with U-bolts which ensure that the ladder is locked in place thereby making it safer. For even further safety, you can properly secure the standoff at the center using a metal-like panel.
Easy to install 
The installation of one unit takes more minutes and can be done without any prior installation knowledge or skill. 
Pros
A wide opening of about 28.75 inches
Sturdy design
No extra tools are needed during an operation 
Can be used in almost all situations include for construction 
Easy to install
Cons
The clamps require additional reinforcements
---
Can You Use a Ladder Stabilizer on The Roof?
The answer is yes. Being able to stabilize a ladder on the roof using a ladder stabilizer is an aspect of roof projects that most roofers don't take for granted. This is because working on the roof can be very dangerous and so it is always advised to invest in tools and equipment that not only make the job easier but a lot safer too.
How Do You Anchor a Ladder to The Roof
As a roofer, before you can begin any task on your roof, you first have to get there. This may seem easy enough with a ladder until you become aware that improperly anchoring your ladder to the roof will result in you ending up in the emergency room. Not to worry, here are some steps you can follow to properly complete this activity safely.
With the help of an assistant, move the ladder to the part of the roof where you want to work on. Set the ladder on firm, solid, and level ground. This will prevent the ladder from slipping or sinking into the ground as you begin the climb. 
Ensure at least three feet of your ladder protrudes from the edge of the roof after anchoring it.
To get the best position to anchor your ladder, measure the length of the ladder from the roof edge to the ground. This will guide you on how to position the base of the ladder.
At every four feet of length, you measure, place the ladder's base one foot farther from the edge of the roof. You can divide the ladder length measurement by 4, which will be the distance between the ladder's base and the edge of the roof.
Pro tip: If you are unable to measure the ladder length using a measuring tape, you can approximately determine the length of the ladder by counting the steps or rungs of the ladder which usually are placed one foot apart.
Begin the climb by standing on the last rung with both hands firmly gripping the ladder. Press firmly with your feet into the ladder to ensure it is properly secured into position and climb to the edge of the roof.
While on the roof, attach one end of a bungee cord to the tip of the gutter, and begin wrapping the cord around the leg of the ladder and the whole ladder in a full circle. Attach the other end of the cord to the gutter after doing this.
Are Ladder Stabilizers Safe?
Absolutely! Ladder stabilizers offer users additional safety when installed properly. You must however ensure you purchase the right ladder stabilizer for your ladder. Purchasing a stabilizer that is not compatible with your ladder and then forcing the installation could result in a severe accident. 
You must also ensure that you do not exceed the load capacity limit for each stabilizer. Pay more attention to the specifications of each stabilizer before even picking the most suitable one for your needs.
Should I Use a Ladder Standoff?
Ladder standoff is another term for a ladder stabilizer. It offers the same safety features and protection as a stabilizer. It is essentially a metal bracket that is attached to the rungs of a ladder to ensure it is properly secured. Its metal hooks secure the ladder into place with its protruding feet balancing the ladder against the wall. If you want to reduce the risk of your ladder slipping or moving out of position when climbing, investing in a good ladder standoff is the way to go. 
How Do You Stabilize a Ladder on A Slope?
It is never a good idea to use a ladder on uneven ground. The dangers attributed to ladder climbing automatically double when it comes to uneven terrain. And so the best way to prevent accidents is to not climb your ladder when you notice a slope. However, it is not always convenient to avoid climbing as a result of the slope, so it is expedient that you find a workaround. Here are some ways you can stabilize your ladder while you climb even on sloping grounds.
Lashing the ladder
This might not be a foolproof solution, so you must still exercise caution even after lashing the ladder. This method involves using a rope, cord, or ladder lashing kit to bind the ladder to a secure point, preferably one close to the area where you are working. This binding should be done at three different focal points – at the top, middle, and ground level. 
Ladder leveling feet and cleats
In most cases lashing the ladder to a secure point may still leave you feeling unsafe. This is why you must explore other ways in which you can secure the base of the ladder, even more, securing its position. Utilizing ladder leveling feet will help you improve the positioning of your ladder on sloped or uneven ground.
You can compensate for the slope by properly angling your ladder using this ladder leveling foot. You could also utilize cleats that will be attached to the ladder leveling feet to increase their stability. These cleats usually are added by 2×4 wooden blocks to the feet of the ladder, to prevent slipping.
Constructing a work platform
This is perhaps the most consuming method in terms of time and resources but is often referred to as the most guaranteed way of securing your ladder on a slope. It involves building scaffolding or a work platform for the uneven ground.
You can do this by constructing a small platform made of wood, and specifically designed to fit the sloped ground in question. Supports are also added to further ensure there is zero risk of slippage. These platforms must serve as level surfaces and should not rotate, tip, or slide when kept in place. 
How to Stabilize a Ladder on A Tile Roof
You shouldn't have to worry about safety when working on a tile roof. You must ensure your ladder is firmly secured at all times. Here are some ways you can stabilize your ladder on a tile roof.
Ensure that the ground is level, firm, and stable before mounting a ladder. Also, inspect the base of the ladder to ensure that the safety feet of the ladder are intact.
As you make your way up the ladder, you must reduce the tools and equipment you take with you. This will not only add to the overall weight of the ladder but may also constitute an inconvenience as you climb. Ensure you check the load capacity of the ladder before climbing. 
To stabilize it, secure the top part of the ladder by firmly attaching it with a wire, rope, or ladder hooks. Doing this will ensure that the ladder does not move easily.
If the tile roof does not have a firm spot or gutter for attachment, you can utilize a ladder stabilizer. The stabilizer can be attached to the top of the ladder making that exact region wider, therefore offering more stability to the entire structure. 
You can also utilize a ladder stabilizing tool that functions to hold the ladder firmly. This stabilizing tool consists of a structure with arms that are suitable to balance on a flat upward surface like a building.
You can adjust the arms of this equipment to a suitable extent for there to be an inward retraction and outward extension. 
Do All Stabilizers Work on Extension Ladders?
Ladder stabilizers are invaluable tools for ladder work both at home and in the workplace. They can be easily mounted on every type of extension ladder available. This enables them to straddle wide windows and roofs or stand a little farther from the building letting you reach deep eaves easily while maintaining a steady and reliable workstation. Following the steps listed above, you easily attach these stabilizers to extension ladders and work more effectively on your roof.
How Much Standoff Is Suitable for The Stabilizer?
Different ladder stabilizers offer different levels of standoff during ladder work. And so the answer to the question of how much standoff is suitable largely depends on the type of ladder work you intend to carry out. However, on average, most ladder stabilizers offer anywhere from 10 inches to 19 inches of a standoff. 
Which Material Is Best for The Ladder Stabilizer? 
The nature of the material any ladder stabilizer is made from will determine its durability and function. This is why you must pay attention to the kind of material it is constructed with when buying a ladder stabilizer. Aluminum ladder stabilizers are by far the most durable and lightweight. They offer the most support to the ladder without being too cumbersome when it comes to transportation or storage. 
Metal ladder stabilizers on the other hand are significantly heavier and more difficult to transport or install. However, they are also sturdy, reliable, and durable.
Conclusion
In a bid to prioritize safety when working with ladders, ladder stabilizers have become the next big thing in the ladder community. Most of the ladder stabilizers that were listed above are manufactured by some of the best brands in the business. You are guaranteed quality when you purchase any of them.
However, you must ensure that you take your needs into account when selecting the right one. To do that, do some research on the ladder you currently own and find out the nature of the standoff that is most suitable for that ladder. This will help you narrow down what it is you are looking for, making your cursory look through the list a lot more profitable.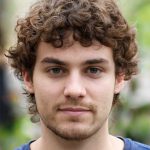 Joseph is the owner of LadderGeek. He is a home remodeling enthusiast. He has created this blog to share some of his knowledge on Ladder and accessories.